Blake Shelton Admits He Stares at Shakira, Feels Threatened by New 'The Voice' Coach Usher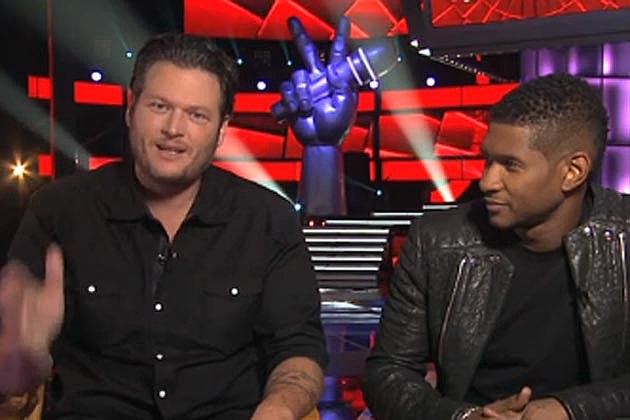 Blake Shelton may be the back-to-back winning coach for Seasons 2 and 3 of 'The Voice,' but he is not resting on his laurels or coasting on past successes this time around. If anything, he is going for it in Season 4, since a threat looms large — and its name is Usher.
Shelton dishes that doesn't fear fellow new coach Shakira, because he is too busy staring at her. But Usher? That guy is dangerous.
The R&B crooner is stepping in as a coach this season and it scares the bejesus out of the country stay, since Usher is responsibly for finding and mentoring that pop superstar known as Justin Bieber. So while Usher may not have a season of the show under his belt, he has some serious and seasoned real world experience and that has Shelton shaking in his cowboy boots.
"I pay more attention to Shakira, because I stare at her a lot," the country singer, who is dropping 'Based On a True Story…' on Tuesday (March 26), says in a new video interview with People. "Usher? He stepped into this thing already having basically won 'The Voice' already. You discover and work with and mentor Justin Bieber? We are all going, 'Oh crap, this isn't fair.' He already did it once and it drives me crazy. Even as he is sitting there, see the look on his face? How cocky and confident he is? It drives me up the wall."
He adds, "It's one of the reasons I stare at Shakira so much and look past him."
Of course, we're sure staring at her has nothing to do with Shakira's dynamite Latin beauty…
Source:
Blake Shelton Admits He Stares at Shakira, Feels Threatened by New 'The Voice' Coach Usher