Townsquare Pet Patrol
I would like to start off this week by thanking our contributing agencies for the biggest and best Pet Patrols to date. We had 14 animals featured last week, by far more than any other week. Friends Furr Change and Rainbow Bridge Can Wait both had successful adoption events last week, though Rainbow Bridge's event was hampered by Saturday's cold weather. Stephens County Humane Society hosted a successful outing in the park this past Monday. Finally 5 of our features from last week found their fur-ever homes since last Wednesday.
There are many organizations throughout Southwest Oklahoma dedicated to pets and pet adoptions. From shelters to foster and adoption groups, there are many different options when you are looking to add a new four-legged member to your family.
Every week Townsquare's Pet Patrol will be highlighting adoptable pets from throughout the Southwest Oklahoma area, hoping to find furr-ever homes for shelter pets from throughout the region.
This week we are highlighting animals from 12 shelters, and hope to add more as momentum builds for this project. We will also be featuring information on upcoming events at our local shelters, as well as bringing you information on upcoming fund raising activities for these organization.
Please remember to spay and neuter your pets, and of course to adopt, not shop!
SUCCESS STORY
Do you remember Abby, the Chihuahua? Just a few weeks ago Abby was looking for her Fur-ever home with help from Friends Fur Change in Chickasha. We are happy to report that Abby has recently been adopted and is living happily ever after with her new family in Lawton! Way to go Abby!!
And a double success story this week in Duncan as thanks to the great folks at the Stephens County Humane Society, both features from last week, Athena & Rocky found their fur-ever homes over the past week. A double shout-out this week to Athena & Rocky, way to go guys!!!
FOUND
This strapping young lad was found in Carnegie and we are trying to find his family. He is a brindle pit male mix, medium size, definitely a young adult. If any one knows where he belongs, please call the Carnegie Animal Control at 580-654-1004.
HELP NEEDED

Rainbow Bridge Can Wait has recently lost several of their foster families and is currently looking for temporary homes that can take in one or two animals while they search for their fur-ever homes. If you can help Rainbow Bridge out and become a foster families, please contact them at their their Facebook page.
The Stephens County Humane Society is looking for a new team member to join them. Main responsibilities will be working with dogs, cleaning, assisting clients and being support staff. Heavy lifting is required as is a good attitude and willingness to learn. Pay is minimum wage and hours are part time. If interested, please come by 714 Martin Luther King Ave in Duncan for an application. No phone calls please.
 UPCOMING EVENTS
Rainbow Bridge Can Wait is holding an adoption event on Saturday, March 25th at PetSmart in Lawton. Come on in to the PetSmart at 1806 NW 82nd St, that's the Target Shopping Center at 82nd and Quannah Parker Trailway in Lawton from 11a.m. to 3p.m. and find your next family member. For more information, she Rainbow Bridge Can Wait's Facebook page.
Rainbow Bridge Can Wait is holding their Pennies For Puppies event from March 15 through the 29th, raising funds to help support the non-profit organization. For more information, please check their Facebook page. Classic Chevrolet will be the first to host the event, so make sure you stop by to donate your extra pennies for the paws.
Friends Furr Change Animal Rescue and PetSense will be holding a national adoption event on Saturday May 6th at PetSense in Chichasha. All 132 PetSense stores will be holding an adoption event on the same day. For more information, please call Erin at PetSense (405) 222-7006.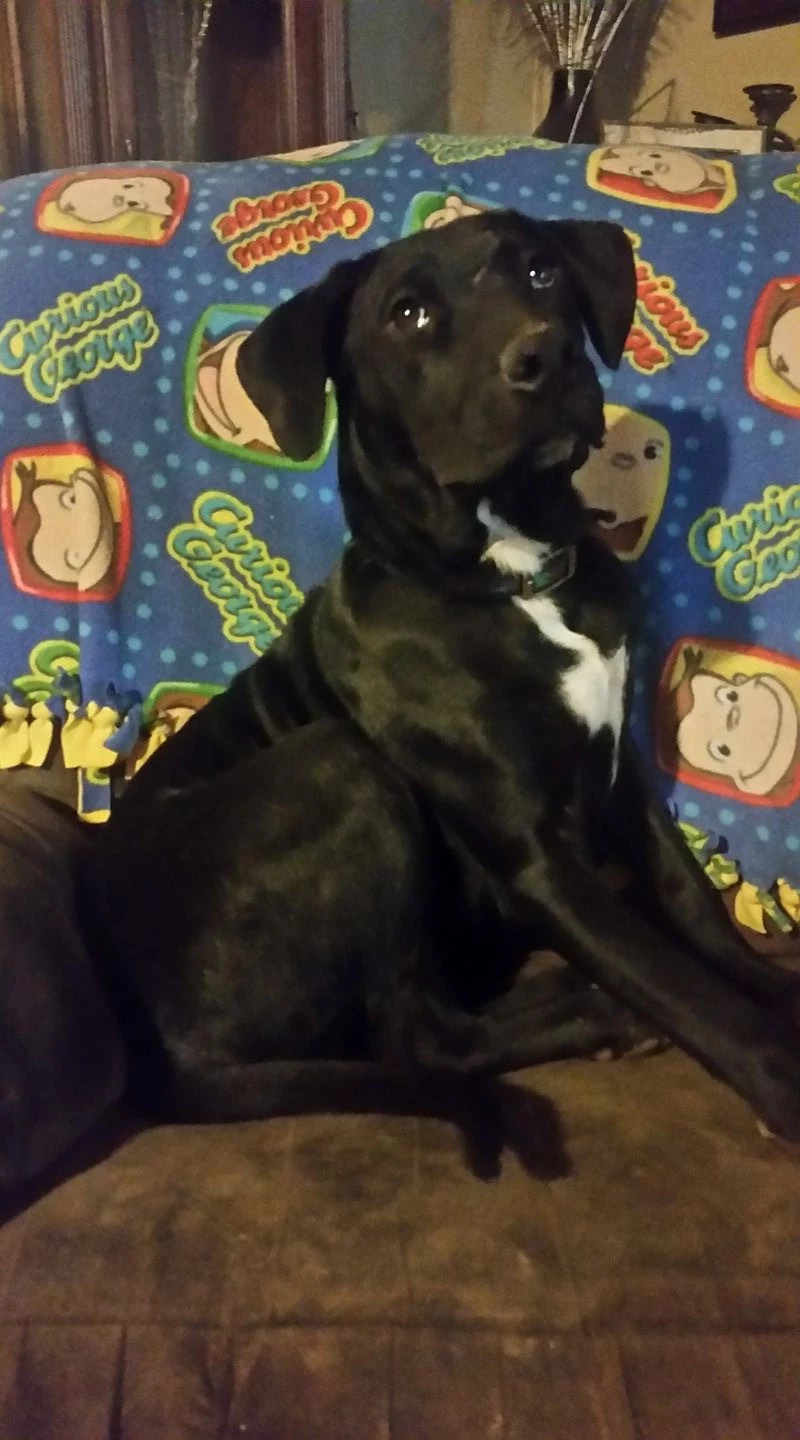 photo courtesy of Stephens County Humane Society
Stephens County Humane Society – 580 252-7387
Meet Allie. At only 1-2 years old, this beautiful, athletic dog is looking for an active family who will involve her in their daily activities and hobbies. Allie is a brindle Weimaraner-mix who came to us as a county stray. She is a social, well-rounded girl and gets along with other dogs. She also loves children and is cat-friendly. Allie has an outgoing, playful personality and will thrive in a home where she can channel that energy.
Allie has been spayed, is current on vaccinations, tested negative for heart worms and has been treated for ticks, fleas and intestinal worms. Please call SCHS at 580-252-7387 for more information about our beautiful Allie-Girl!
photo courtesy of Lawton Animal Welfare
Lawton Animal Welfare – 580 581-3218
Patty is still waiting on her Luck Day to be Adopted…
She is a 1 YO, Female, Lab mix, who is kind and caring. Come on down and take a look at her, and it just might be YOUR lucky day… if she selects YOU.
Make it her "Lucky Day to be Adopted", contact the Lawton Animal Welfare department at 580 581-3218.
photo courtesy of Lawton Humane Society
Lawton Humane Society – 580 355-7729
Everyone say hi to Maverick, a male, Staffordshire Terrier/Chow Mix, who is approximately 5 months old. Maverick is a little shy and standoffish when you first meet him, so he needs a little coaxing to come out of his shell, but he's a sweetheart after that. He loves to chase cats, so if you have cats this boy is not the one for you!
However he loves to play with other dogs. He will go into a crate if you lead him in. He is potty trained, and will be vaccinated, neutered and microchipped once he is released off of medical hold for an upper respiratory infection. He is currently on medical hold.
If you're interested in adopting this great little guy, please contact Katy at 580-354-6444.
Friends Fur Change (Chickasha) – 405 245-6932
This is Bailey, year to 1/2 year-old a Female Australian Sheppard.
Bailey was recently saved from another shelter, she was close to being put down there. This sweet girl had an eye infection and lost her left eye but that doesn't seem to bother her at all. She is great with kids, other dogs. She would love to ride in the truck or car. She has been an outside dog but I'm sure she would get the hang of being housebroken. Spayed & Utd on shots.
Just remember even tho she has one eye it doesn't mean she is broken, she is SPECIAL.
Friends Fur Change is fostering this girl. We would love to do a Meet and Greet anytime. To arrange a meeting, contact Bobbie at 405-245-6932
photos courtesy of Rainbow Bridge Can Wait
Rainbow Bridge Can Wait – 580 919-0439
Nitro is our goofy boy. He's a rottweiler beagle mix. His coloring is all rottie, and his bark and body all beagle! It's silly! Nitro will not tolerate small children, at all. He needs a child free environment, but is a great companion who loves his person unconditionally.
Adoption Fee is 140.00.
All Rainbow Bridge can Wait's companions are spayed or neutered, come with age appropriate shots, dewormed, and on flea and heartworm preventatives. They are also microchipped, and RBCW pays the activation into adopters name. All of our companions also qualify for a free month of health insurance, upon adoption. Adopter must activate insurance at time of adoption. Adoptions also come with a free consultation with our behaviorist if needed.
photo courtesy of Carnegie Animal Shelter
Carnegie Animal Shelter – 580 682-9073
This male brindle pit mix is still in his owner claim period, but may become soon available soon. He is about medium sized and looks to be a young adult. He is friendly and looks like he has had a home.
If anyone knows who he belongs to, please call the Carnegie Town Hall at 580-654-1004. If you are interested in giving him a home, please contact Carnegie Animal Shelter regarding his status.
photo courtesy of Elgin Animal Shelter
Elgin Animal Shelter – 580 919-5117
Meet Rebel, a young Pit who was dumped over a Elgin residence fence in the night of March 1st.
He didn't even know what was happening to him until he hit the ground. Scared he started running through the strange yard and was picked up the next day by the Animal Control Officer. Rebel is not even one year old, he loves running and playing like other puppies do.
If you would like to meet this young boy please contact the Elgin Animal Shelter Team on FB or call/text to (580)919-5117
photo courtesy of Elgin Animal Shelter
Elgin Animal Shelter – 580 919-5117
Meet Ammo, he is a 3 year old Great Pyrenees/Golden Retriever mix.
This boy is very sweet and loves to play with other dogs. Ammo walks very well on a leash and will sit in command for a treat.
If you would like to meet this good looking boy please contact the Elgin Animal Shelter on FB or call/text – (580)919-5117
photo courtesy of Cache Animal Control
Cache Animal Control – 580 585-7693
Cache Animal Control would like to introduce you an approximately 1 year old female terrier mix. This young lady is fixed, and very friendly with people and other animals. She loves to prance around in the grass.
For more information on this pretty girl, please contact Cache Animal Control at 580 585-7693.
photo courtesy of SW Oklahoma Animal Rescue
Southwest Oklahoma Animal Rescue – 580 229-5151
This is Juliette, a 4-5 year old, spayed female. Juliette has also been through a formal obedience program. Juliette is good with people and kids as well as other dogs. She has not been around cats, so again, introduce them with caution. Juliette is shy at first; it will probably take her a few days to a week to warm up to new home, (Which is not unusual) but once she has, she is a very loving, sweet, and docile companion.
Juliett's DNA is also a mystery; I would venture a guess towards Border Collie and perhaps Great Pyrenees. We also have her full brother, who is much larger and shows some Pyrenees traits. Juliette would make a nice addition to anyone's home. If you would love to make Juliette a member of your family, please contact S.O.A.R at 580 229-5151
photo courtesy of SW Oklahoma Animal Rescue
Fletcher Animal Shelter – 580 919-6511
This is Jack, he is a 4-5 yr old neutered male, that has been through a formal obedience program and has been housebroken. His DNA is varied with some Lab/Walker hound and a few other strands. He gets along well with people, kids, and other dogs. I am not sure about cats; I would think he would be OK, but I would introduce cats cautiously.
Jack will stay close by while off-leash but Jack is a high-energy dog that likes to run around and play. Jack is a good pup and would to have a home. If you would love to make Jack a member of your family, please contact S.O.A.R at 580 229-5151.
photo courtesy of Ponca City Humane Society
Ponca City Humane Society – 316 208-9589
Drake is an adorable 7 year old boxer  looking for a chance at another home. Housebroken, outgoing, super sweet with people, great with other dogs but no alpha dogs because he gets bullied and okay with cats.
He also will need a family with older children, little kids he has been with before would climb on him and he didn't care for that very much.  He has done well in our play group especially with smaller dogs. He loves to cuddle and he won't pass up a treat!
We welcome anyone interested in Drake to reach out to us for more information at www.pchumane.org or by calling us at 580-767-8877. Don't pass up a great dog, Drake is worth the drive to our location 900 W Prospect, Ponca City, OK 74601.
photo courtesy of Fletcher Dog Rescue
The Fletcher Dog Rescue has recently brought in this handsome male retriever mix. He is very friendly, and is is good with people and other dogs. He is not neutered.
If you would be interested in providing a good home to this handsome young lad, please contact the Fletcher Dog Rescue at 580 919-6511.