Townsquare Pet Patrol
We are kicking off April at the Pet Patrol by thanking our sponsor, Midtown Animal Hospital. It's Heartworm Awareness Month, and we would like to remind you to have all of your four-legged family members checked this month for Heartworm. We would also like to welcome a new sponsor, Just 4 K9s and Kitties 2, your home for grooming supplies, as well as all of your pets' needs, from food to beds to toys.
There are many organizations throughout Southwest Oklahoma dedicated to pets and pet adoptions. From shelters to foster and adoption groups, there are many different options when you are looking to add a new four-legged member to your family.
Every week Townsquare's Pet Patrol will be highlighting adoptable pets from throughout the Southwest Oklahoma area, hoping to find furr-ever homes for shelter pets from throughout the region.
This week we are highlighting animals from 12 shelters, and hope to add more as momentum builds for this project. We will also be featuring information on upcoming events at our local shelters, as well as bringing you information on upcoming fund raising activities for these organization.
Please remember to spay and neuter your pets, and of course to adopt, not shop!
SUCCESS STORY
Last week, we featured Barney from the Carnegie Animal Shelter. Barney was in extreme danger as he was down to his last days at the shelter and no foster could be found for him. We featured him, with a plea for an adoption or faster family to come to his rescue. The next day, a wonderful family of 6 came into the Carnegie Animal Shelter, and made Barney their newest family member.
Along with Barney, the other two animals featured from the Carnegie Shelter were also adopted over the weekend, making it a most excellent week for the Pet Patrol and the Carnegie Shelter.
Lawton Animal Welfare held its April Two-Hearts adoption event on Friday, March 31st. During the event, 15 dogs and 4 cats found their new, furr-ever homes. The event kicked off it's 'Spring Fling' month long event, where all month long adoption fees are reduced to just $15, plus a $5 administration fee.
More good news, Ammo, the handsome retriever from Elgin was also adopted this week and is now happily in his furr-ever home with a loving new family.
CELEBRATIONS
Rainbow Bridge Can Wait and the Pet Patrol would like to take the opportunity to wish a happy birthday to Rainbow Bridge's oldest companion, Bubba, who turns 14 this month. Bubba is not available for adoption, but lives happily with his foster family, his days full of love and happiness. This Saturday's adoption event at PetSmart in Lawton is doubling as a birthday celebration for Bubba.
Happy birthday Bubba, from your friends at the Pet Patrol!!
FOUND
The Elgin Animal Shelter currently has four guests it is hoping to reconnect with their families. If you recognize any of these wonderful animals, please contact the Elgin Animal Shelter at 580 919-5117.
HELP NEEDED

Rainbow Bridge Can Wait has recently lost several of their foster families and is currently looking for temporary homes that can take in one or two animals while they search for their fur-ever homes. If you can help Rainbow Bridge out and become a foster families, please contact them at their their Facebook page.
The Stephens County Humane Society is looking for a new team member to join them. Main responsibilities will be working with dogs, cleaning, assisting clients and being support staff. Heavy lifting is required as is a good attitude and willingness to learn. Pay is minimum wage and hours are part time. If interested, please come by 714 Martin Luther King Ave in Duncan for an application. No phone calls please.
 UPCOMING EVENTS
On Saturday, April 8th, Rainbow Bridge Can Wait is holding an adoption event in conjunction with a birthday party to celebrate the life of Bubba, their oldest current companion, who turns 14 this week. Come on out From 11am to 3pm to the PetSmart at 1806 NW 82nd street in Lawton, that the Target Shopping Center at 82nd and Quanah Parker Trailway and wish Bubba a happy birthday and find a four legged friend for you and your family.
On Saturday, April 15th, Friends Fur Change of Chickasha is having an adoption day at the PetSense in Chickashaw from 10 am to 4pm. PetSense is located at 1786 S. 4th Street in Chickasha.
Southwest Vet Clinic will be hosting low cost rabies and vaccination clinics in several locations on the dates shown below. All clinics will be held at the posted town's fire department, with the exception of Fletcher, which will be held at the Fair Barn. Clinic prices are as follows:

Rabies vaccination……………….$10.00
DHLPP vaccination………………$15.00
Borderella…………………………..$10.00
Feline Lukemia vaccination…..$20.00
Black Dog CrossFit and Rainbow Bridge Can Wait is looking for sponsors for their upcoming Canine Calisthenics Adoption Event, scheduled for Saturday, April 29th. For more information, please contact Black Dog Cross Fit before April 14th at 304-488-9864. All proceeds from the event will go towards supporting Rainbow Bridge Can Wait.
Friends Furr Change Animal Rescue and PetSense will be holding a national adoption event on Saturday May 6th, at PetSense in Chichasha. All 132 PetSense stores will be holding an adoption event on the same day. For more information, please call Erin at PetSense (405) 222-7006.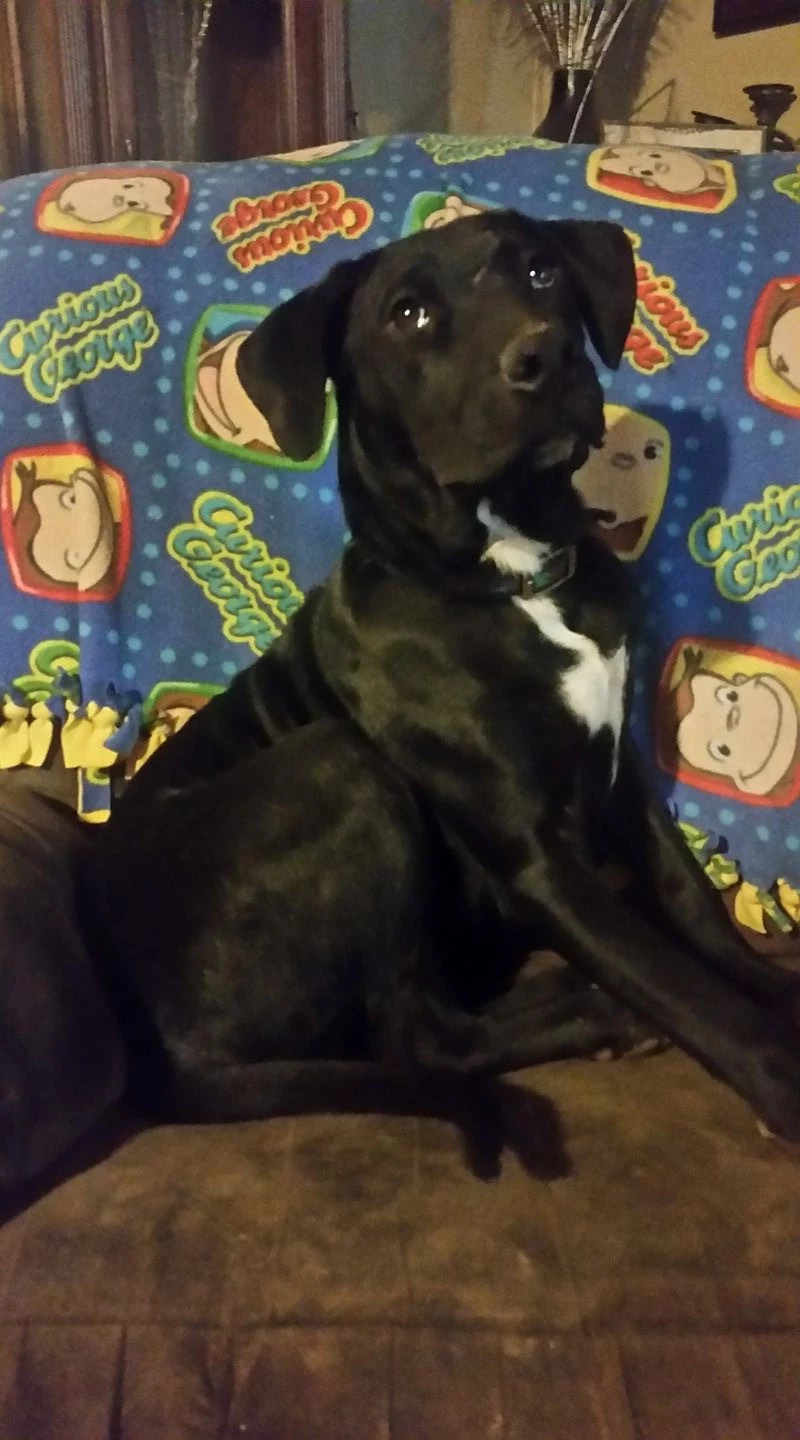 The Town of Cement will be hosting the Verden Veterinary Clinic on May 20th, 2017 from 9:00 A.M. to 12:00 P.M. for anyone who is interested to bring their dogs and cats to receive their rabies shot. The rabies shot is $8.00 and other shots will be available.  We will also be registering all dogs at the same time. If you live inside City limits you MUST register all dogs with the Town. The tags are $5.00 per dog and rabies shot documents must be provided to the Town Clerk in order to receive a tag. If you have any questions feel free to contact the Town Clerk at (405) 489-3222. We thank you for your interest and look forward to seeing you there!
photo courtesy of Stephens County Humane Society
Stephens County Humane Society – 580 252-7387
The Stephens County Humane Society would like to introduce Max, a Black Mouth Cur mix who needs a new Forever Home in the worst way!
Max is a 3-year old Black Mouth Cur mix who came to us as an owner surrender because he was chasing & killing the neighbor's chickens. Being uprooted from the only home he has ever known has caused this beautiful dog to become a little depressed. However, we know that with a little love and attention, this boy will become a loving, loyal family companion.
Black Mouth Curs are known for their active intelligence, loyalty, and protectiveness, thriving in situations where they are involved, integrated members of the family.
For more information on this beautiful dog, please call the SCHS Animal Shelter – 580-252-7387. Max has been neutered, tested negative for heart worms, vaccinated, treated for ticks & fleas and de-wormed.
photo courtesy of Lawton Animal Welfare.
Lawton Animal Welfare – 580 581-3218
This is Harley, and he has been waiting since St Patrick's day, and even after this past week's highly successful adoption event, he still looking for his "lucky day."
Harley is a 1-year old, male Staffordshire Terrier who is a bundle of  energy. He is up-to-date on his shots, fixed and just looking for a chance to go home with his new family. Could this be you?
Come see Harley during the April 'Spring Fling' adoption event, and his adoption fee will only be $20.00, from our regular $55.00 fee.
Make it Harley's "Lucky Day to be Adopted", contact the Lawton Animal Welfare department at 580 581-3218.
photo courtesy of Lawton Humane Society
Lawton Humane Society – 580 355-7729
Hello to everyone from Phoebe, a female Border collie/Pointer mix, who is about a year old. This young lady is an absolute love machine who just wants to be near her people. She loves everyone and has a knack of being the center of attention. She loves being outdoors, she would make a great running or walking partner. She would enjoy hiking but being black has its disadvantages for her(too hot).
Phoebe loves hanging out in the backyard with you or going on car rides. She thinks Pupachinnos were created just for her and loves being spoiled with treats. Growing up as an only dog didn't help her doggie socialization much, she is picky on which doggies she likes and would need to meet her potential furry sibling before being adopted.
Phoebe is just a big love, as she likes cats and wants to play with them but she can get a little rough, but if cats don't like her, she leaves them alone. She also loves kids and hams it up when they are around, and she will just lay down for belly rubs. She needs some training on jumping and listening but she is still a young pup and just needs dome guidance.
Phoebe is waiting for the perfect family to take her home. If you would like to meet this goofy girl, please contact Brandi at 580-483-4028.
photo courtesy of Friends Fur Change
Friends Fur Change (Chickasha) – 405 245-6932
This is Minnie, a beautiful female mix. She is approximately 6-7 months old fixed and up-t0-date on sll of her shots. And She loves everyone!! She is definitely a Friends Fur Change Girl!
Contact Bobbie for more info at 405-245-6932
photo courtesy of Rainbow Bridge Can Wait
Rainbow Bridge Can Wait – 580 919-0439
This is Duke. He is a male 1 yr old Dane/Lab mix.  He is neutered, up to date on shots, micro-chipped,and hw neg. He loves to play with his foster siblings, especially in the yard where there's enough room. He gets along with dogs, big and small, but he's not sure about cats, as he hasn't had a chance to be around them. He is doing very well with basic commands and walking on a leash, and likes car rides. Duke is very submissive, he lets other companions be the boss.
Duke would do great in a home with people who are as energetic as he is and maybe a furry brother or sister who enjoys playing as much as he does. Because of his size and the fact that he has no idea how strong he is, he shouldn't go to a family with small children. Duke is not a jumper, but he is only 1 year old and still growing and a fenced in yard is a must. Not good with smaller children.
Duke's adoption fee is $140.00.  If you are interested in him or any other companion from Rainbow Bridge Can wait, please contact us on Facebook or PetFinder.
photo courtesy of Carnegie Animal Shelter
Carnegie Animal Shelter – 580 682-9073
Carnegie Animal Control just took in a female chihuahua on an owner surrender. She was relinquished by her owner because inquisitive young girl keeps getting out of the fence. So she is up for adoption now.
She is a sweet little girl who is a little timid, but that could just be because she doesn't understand why she is in a cage now. Her ideal home will have a fence that does not have small gaps that a little girl can get out of.
If you are interested in adopting this sweet girl, please contact Carnegie Animal Control at 580 682-9073
Fletcher Dog Rescue – 580 919-6511
photo courtesy of Elgin Animal Shelter
Elgin Animal Shelter – 580 919-5117
The Elgin Animal Shelter would like to introduce everyone to Riggins. He is about 6-8 month old and was found in the Dallas, TX  area. He has no microchip and after nobody claimed him his finder brought him to Oklahoma where Riggins hopes to find a new forever home.
If you are interested in adopting or fostering this young Boxer, please send a message to (580) 919-5117
photo courtesy of Elgin Animal Shelter
Elgin Animal Shelter – 580 919-5117
The Elgin Animal Shelter currently is home to 6 puppies, who are 8 weeks old. A very sad story, because their mom was hit and killed by a car last week. The Sheriff was able to rescue the 8 brothers and sisters and brought them to the shelter. There were originally 5 boys and 3 girls, but two have already been adopted out (together) and the remaining siblings are ready and eager to be taken off to their new homes.
They have all been dewormed and received the first booster shot. To add one of these beautiful, energetic young lads or lasses to your family, please contact the Elgin Animal Shelter at (580) 919-5117.
Cache Animal Control – 580 585-7693
Ponca City Humane Society – 316 208-9589