Townsquare Pet Patrol
There are many organizations throughout Southwest Oklahoma dedicated to pets and pet adoptions. From shelters to foster and adoption groups, there are many different options when you are looking to add a new four-legged member to your family.
Every week Townsquare's Pet Patrol will be highlighting adoptable pets from throughout the Southwest Oklahoma area, hoping to find furr-ever homes for shelter pets from throughout the region.
This week we are highlighting animals from 12 shelters, and hope to add more as momentum builds for this project. We will also be featuring information on upcoming events at our local shelters, as well as bringing you information on upcoming fund raising activities for these organization.
April is Heart Worm Awareness month, and the Pet Patrol would like to remind you to have your pets checked for heart worms this month. The Pet Patrol is brought to you by Midtown Animal Hospital. We would also like to thank Just 4 K9s and Kitties 2, your home for grooming supplies, as well as all of your pets' needs, from food to beds to toys. Please remember to spay and neuter, and of course to adopt, not shop!
SUCCESS STORY
Jasper and Bailey, two of the 6 remaining puppies that were brought into the Elgin Animal Shelter have been adopted to the same family. These two little of energy will be able to go through life just as they came into it…together!! Their sister Daisy was also adopted this week, leaving just three of the original 8 looking for homes.
HELP NEEDED

Rainbow Bridge Can Wait has recently lost several of their foster families and is currently looking for temporary homes that can take in one or two animals while they search for their fur-ever homes. If you can help Rainbow Bridge out and become a foster families, please contact them at their their Facebook page.
 UPCOMING EVENTS
Lawton Animal Welfare, 2104 SW 6th Street, would like to invite all of you and your Fur-Babies, on Friday 14 APRIL 2017 from 2-6 PM to come down to the shelter during our 'EGGSTRAVAGANZA' Adoption drive, and a chance to get your PETS pictures taken with the EASTER BUNNY!!! Pictures of ALL Adoptions will also get their pictures with your new fur-babies and the Easter Bunny as well.
On Saturday, April 15th, Friends Fur Change of Chickasha is having an adoption day at the PetSense in Chickashaw from 10 am to 4pm. PetSense is located at 1786 S. 4th Street in Chickasha.
Southwest Vet Clinic will be hosting low cost rabies and vaccination clinics in several locations on the dates shown below. All clinics will be held at the posted town's fire department, with the exception of Fletcher, which will be held at the Fair Barn. Clinic prices are as follows:

Rabies vaccination……………….$10.00
DHLPP vaccination………………$15.00
Borderella…………………………..$10.00
Feline Lukemia vaccination…..$20.00
Black Dog CrossFit and Rainbow Bridge Can Wait is looking for sponsors for their upcoming Canine Calisthenics Adoption Event, scheduled for Saturday, April 29th. For more information, please contact Black Dog Cross Fit before April 14th at 304-488-9864. All proceeds from the event will go towards supporting Rainbow Bridge Can Wait.
Friends Furr Change Animal Rescue and PetSense will be holding a national adoption event on Saturday May 6th, at PetSense in Chichasha. All 132 PetSense stores will be holding an adoption event on the same day. There will be more than 50 dogs and cats there for you to meet, as well as a reptile group who will have snakes and lizards up for adoption.
There will be a barbeque, supplied by Arvest National Bank, featuring hot dogs, chips, sodas and other assorted goodies furnished by First National Bank.
For more information, please call Erin at PetSense (405) 222-7006.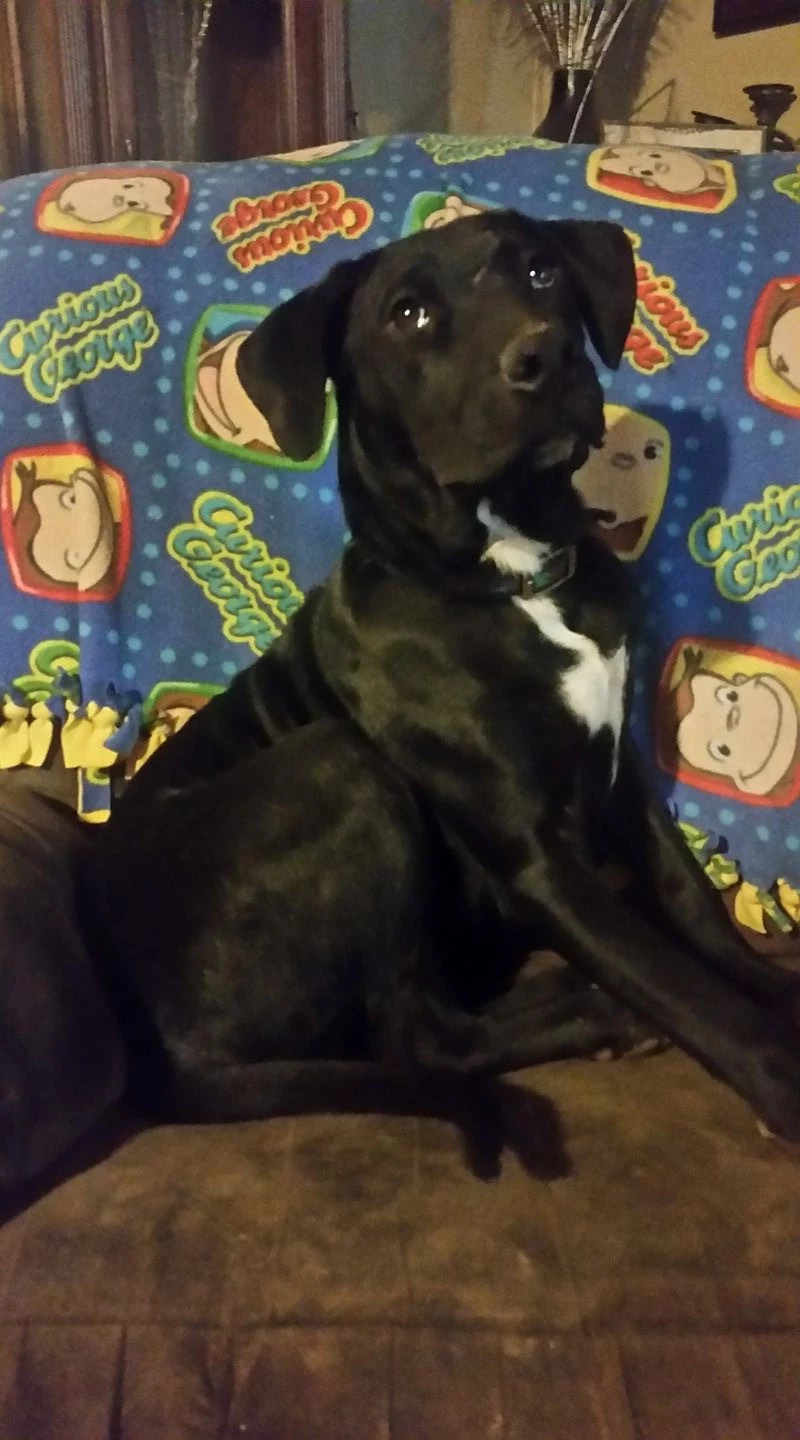 The Town of Cement will be hosting the Verden Veterinary Clinic on May 20th, 2017 from 9:00 A.M. to 12:00 P.M. for anyone who is interested to bring their dogs and cats to receive their rabies shot. The rabies shot is $8.00 and other shots will be available.  We will also be registering all dogs at the same time. If you live inside City limits you MUST register all dogs with the Town. The tags are $5.00 per dog and rabies shot documents must be provided to the Town Clerk in order to receive a tag. If you have any questions feel free to contact the Town Clerk at (405) 489-3222. We thank you for your interest and look forward to seeing you there!
photo courtesy of Stephens County Humane Society
Stephens County Humane Society – 580 252-7387
This week, The Stephens County Humane Society features Abe, a truly wonderful young dog who needs some help finding his forever home.
At only 10 – 12 months, we can already see the potential in the beautiful Lab/PBT-mix we call Abe. This boy is looking for a special someone to whom he can give all the love and attention he has to offer. He is the type of dog who will bond tightly with his Person, and thus, could easily be trained as an anxiety or stress therapy dog. Abe has a gentle personality with a calmness far greater than his young age.
He needs a quiet household (too much activity and noise makes him a little skittish) and seems to much prefer the company of women. Abe needs a cat-free home, but absolutely adores playing with other dogs!
Abe has lovely house manners, appears to be house-trained, is comfortable on a leash and is ready for a home of his own. He is neutered, UTD on vaccinations, tested negative for heart worms and has been on HW/tick/flea preventive. For more information about Abe, please call the SCHS Animal Shelter – 580-252-7387.
photo courtesy of Lawton Animal Control
Lawton Animal Welfare – 580 581-3218
This is Rudy, and he is a real sweetheart, and is looking for a furever family to take him home. If you are lucky enough for him to pick YOU as his new Mom and Dad, you'll be happier than a Bee is Spring ~ Spring Fling!
Come see Rudy during the April 'Spring Fling' adoption event, and his adoption fee will only be $20.00, down from our regular $55.00 fee.
Make it Rudy's turn to be adopted, contact the Lawton Animal Welfare department at 580 581-3218.
photo courtesy of Lawton Humane Society
Lawton Humane Society – 580 355-7729
Angel 1 year old chihuahua. This sweet girl is a huge personality in a little 8 lb body! She wants to be your second shadow. Angel is a bit of a princess who wants nothing more than to be spoiled and loved on. She has recently learned how to play with toys.
She rides wonderfully in the car and would make an excellent traveling buddy. Angel is up for anything! She does well on a leash so walks are very enjoyable! Belly rubs are her favorite pass time. She will gladly sit next to you (or on your lap) and watch t.v with you for as long as you want. Angel loves to sleep in bed with you, but will sleep in a doggy bed if told to
Angel gets along well with other dogs (especially large dogs), cats, and birds. This spunky girl adores children. She is potty trained as well as kennel trained and knows basic commands. Angel is fixed, utd on shots and microchipped. If you'd like to meet our little Angel, please give Brandi or Jesse a call or text at 5802843445 or 5802843777
photo courtesy of Friends Fur Change
Friends Fur Change (Chickasha) – 405 245-6932
This is Buttercup. She is a 10 week old Chihuahua Mix, who has been spayed and has her shots. She is a sweet little girl that would be a great family member. Buttercup is a Friends Fur Change foster and would love to do a meet and greet.
To meet this sweet young girl, contact Bobbie at 405-245-6932 We are located in Chickasha
photo courtesy of Rainbow Bridge Can Wait
Rainbow Bridge Can Wait – 580 919-0439
Say hello to Kaylex, a young, male, dark chihuahua mix. He loves to snuggle and will stay in your lap until you make him get down and he will absolutely claim you as his own. He is very passionate about his babies and entertains himself with them but will not share. He is house and crate trained but doesn't like the crate . He is afraid of fire and goes nuts if you have one in the firepit so best not to have him around it. He loves to play outside as long as you stay out with him. He is standoffish at first but once he gets to know you he is a real love bug. Kaylex
All Rainbow Bridge can Wait's companions are spayed or neutered, come with age appropriate shots, dewormed, and on flea and heartworm preventatives. They are also microchipped, and RBCW pays the activation into adopters name. All of our companions also qualify for a free month of health insurance, upon adoption. Adopter must activate insurance at time of adoption. Adoptions also come with a free consultation with our behaviorist if needed.
Kaylex's adoption fee is $140.00.  If you are interested in him or any other companion from Rainbow Bridge Can wait, please contact us on Facebook or PetFinder.
photo courtesy of Carnegie Animal Shelter
Carnegie Animal Shelter – 580 682-9073
Carnegie Animal Shelter would like to introduce Tinkerbell. She was relinquished by her owner because this inquisitive young girl keeps getting out of the fence. So she is up for adoption now.
She is a sweet little girl who is a little timid, but that could just be because she doesn't understand why she is in a cage now. Her ideal home will have a fence that does not have small gaps that a little girl can get out of. She is up-to-date on all of her shots, has been fixed and is house trained.
If you are interested in adopting this sweet girl, please contact Carnegie Animal Control at 580 682-9073
Fletcher Dog Rescue – 580 919-6511
photos courtesy of Elgin Animal Shelter
Elgin Animal Shelter – 580 919-5117
These three young cuties are the final three from the batch of eight puppies that were brought into the Elgin Animal Control just a couple of week's ago. The have gotten their shots to this point and are about 10 weeks old and ready to go to their fur-ever home either individually or as a tag team. Either way they are bundles of love and energy.
They have all been de-wormed and received the first booster shot. To add one (or all) of these beautiful, energetic young lads or lasses to your family, please contact the Elgin Animal Shelter at (580) 919-5117.
Cache Animal Control – 580 585-7693
Ponca City Humane Society – 316 208-9589