Townsquare Pet Patrol
From shelters to foster and adoption groups, there are many different options when you are looking to add a new four-legged member to your family. Every week Townsquare's Pet Patrol, brought to you by Midtown Animal Hospital highlights adoptable pets from across the Southwest Oklahoma and North Texas areas, hoping to find furr-ever homes for shelter pets from throughout the region.
This week we are highlighting animals from 12 shelters, and hope to add more as momentum builds for this project. We will also be featuring information on upcoming events at our local shelters, as well as bringing you information on upcoming fund raising activities for these organization.
The Pet Patrol is brought to you by Midtown Animal Hospital. We would also like to thank Just 4 K9s and Kitties 2, your home for grooming supplies, as well as all of your pets' needs, from food to beds to toys. Please remember to spay and neuter, and of course to adopt, not shop!
SUCCESS STORY
 A big success at last week's National PetSense adoption event in Chickasha. With the hard work of Friends Fur Change in Chickasha, 18 dogs and 2 cats were adopted and head to their new furr-ever homes with their new families. Thanks to all that were involved in this great annual event.
HELP NEEDED

Lawton Animal Welfare is kicked off their Kennel Drive last week, running through Tuesday May 9th. Donations of money or a collapsible kennel in either large or extra large sizes will be greatly appreciated as their supply has dwindled. Your donations can be dropped of at 2104 SW 6th St. They will also have a booth this weekend at Lawton's Largest Garage, Antique and Collectable Sale at the Great Plains Coliseum on Friday from 8 to 6 and Saturday 8 – 3.
Rainbow Bridge Can Wait has recently lost several of their foster families and is currently looking for temporary homes that can take in one or two animals while they search for their fur-ever homes. If you can help Rainbow Bridge out and become a foster families, please contact them at their their Facebook page.
 UPCOMING EVENTS
Join the Humane Society of Wichita County for Sloberfest 2017! on Saturday, May 13th. There will be a bounce house for the kids, games food and more. The big event will the HSWC Dachshund Races, where it's Weiner take All!!! Call 940 855-4941 for more details.
Join the Stephens County Humane Society for Coffee and Collars, a fun event including a reduced fee adoption event and a birthday party for SCHS, featuring party favors, cake ball coffee and free gifts and drink cards with each adoption. The event will be held Saturday, May 13th at the Viridian Coffee Co., 14th & Main in Duncan.
Rainbow Bridge Can Wait is holding their special Mother's Day Adoption Event on Saturday, May 13th, at the Comanche County Fairgrounds. The event will be held from 10 am to 2 pm at the Fairgrounds at 920 SW Sheridan Rd in Lawton, and bring home a new furry family member for Mother's Day.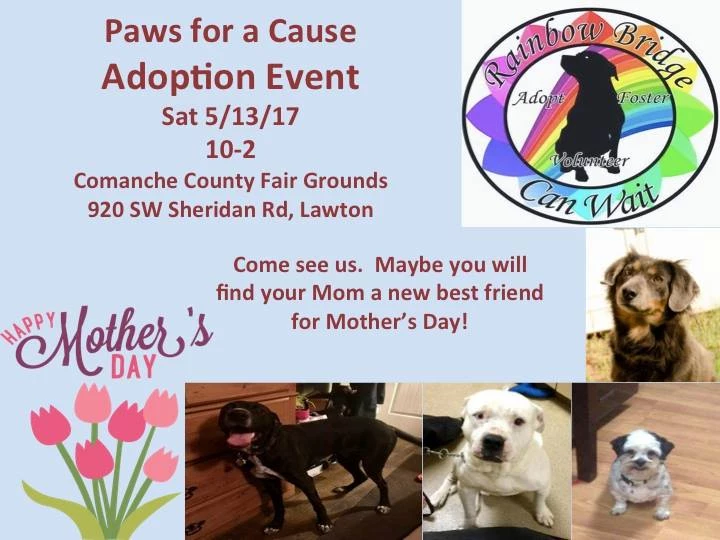 Lawton Animal Welfare will be at the Senior Health and Wellness Expo, 19 May 17, from 9 am until 4 pm. We will be providing Free Nail Clipping, Health Checks, Micro-Chipping, Vaccinations, and Rabies Shots to the Seniors PETS. KLAW 101 will be hanging out with Lawton Animal Welfare from 11 to 1 at the event.

The Town of Cement will be hosting the Verden Veterinary Clinic on May 20th, 2017 from 9:00 A.M. to 12:00 P.M. for anyone who is interested to bring their dogs and cats to receive their rabies shot. The rabies shot is $8.00 and other shots will be available.  We will also be registering all dogs at the same time. If you live inside City limits you MUST register all dogs with the Town. The tags are $5.00 per dog and rabies shot documents must be provided to the Town Clerk in order to receive a tag. If you have any questions feel free to contact the Town Clerk at (405) 489-3222. We thank you for your interest and look forward to seeing you there!
On Saturday, June 6th, the Wilbarger Humane Society will be holding their Yearly Shot Clinic from 9 am to 2 pm. the clinic is for both dogs and cats and will be held at 2801 Sullivan St in Vernon. For more information, call the Humane Society at 940 552-5373.
Rainbow Bridge Can Wait is currently holding a fundraising raffle. A $10 donation will gain you entry for a drawing for a tattoo from Chess Salazar, one of Oklahoma's top tattoo artists, with a value of $300. Two winners will be drawn and notified.
photo courtesy of Rainbow Bridge Can Wait
photo courtesy of Stephens County Humane Society
Stephens County Humane Society – 580 252-7387
This is Ginny, a 3-year old Rottweiler, who came to the Stephens Country Humane Society covered in ticks as a stray. She is a happy, loving dog, and very people oriented – typical of her breed!
Ginny is a bit of an alpha kind of gal and a meet and greet will be necessary if there are other dogs in the family. She also needs a cat-free home. Other than that, she is just about perfect! She appears to have been previously house-trained, and is great around children … as long as they are old enough to understand her 70-pound size!
Ginny has been spayed, is UTD on shots, has been treated for ticks & fleas and tested negative for heart worms. For more information and to meet this gal, call SCHS at 580-252-7387.
photo courtesy of Lawton Animal Welfare
Lawton Animal Welfare – 580 581-3218
Lawton Animal Welfare would like to introduce you to Leah, a Female Shepard Mix, who is fixed and ready to go into a new loving, caring, fur-ever home. She is about 6-8 months old, and as you can tell by her picture, she is a very friendly people person.
Leah has Charisma for days, and is just looking for a chance at happiness. Can you give Leah a second chance? If so, come meet her at Lawton Animal Welfare, 2104 SW 6th Street, Lawton, OK, 73501.
photo courtesy of Lawton Humane Society
Lawton Humane Society – 580 355-7729
Everyone, meet Sadie. She is an about 2 year-old. pure bread American mutt, a real Heinz 57 mix, that weighs 41 lbs. Sadie is spayed, up to date on shots and microchipped. She was found in the country, a scared and hungry momma with a litter of pups hanging onto her. She and her babies were transferred to the Humane Society, so they could be treated for ailments that would have cost them their lives, had they not been rescued.
The whole family is doing wonderful, and Sadie has turned out to be the most loving, patient, sweet and simply grateful young lady. She has been crate and potty trained, knows basic commands and how to use a doggie door. She gets along well with dogs of all sizes and just wants love from the humans around her, no matter whether young or old. She walks on a leash, but needs to be in a harness type, since she is no fan of a collar just yet. We don't think she ever had one before, nor do we believe she has ever seen the inside of a house prior to her rescue.
Sadie will make a great companion for any size family or a single person. If you would like to meet sweet Sadie, please give Marty a call at (580) 585-4963 to set up a meet and greet. You won't regret it.
photo courtesy of Friends Furr Change
Friends Fur Change (Chickasha) – 405 245-6932
This is Izzy, a Female Sharpa Mix, currently in the charge of Friends Furr Change. She is spayed and up-to-date on her shots.
This sweet girl was at a high kill shelter and we pulled her just in time. She has eye allergies and needs some drops a few times a day to help with her cherry eyes but she doesn't seem to mind. Izzy gets along great with other dog's and kids, and she is very well mannered.
Izzy is a Friends Furr Change Girl. If you would like to meet her, contact Bobbie @405-245-6932 for a meet and greet.
photo courtesy of Rainbow Bridge Can Wait
Rainbow Bridge Can Wait – 580 919-0439
My name is Ida Mae and I'm a sweety. I give lots of kisses and love getting my tummy rubbed. I am crate trained. I know where to go when I'm told to go to bed, and I do when called. But be prepared as I am sometimes so excitable that I jump on the person that's called my name. That's probably why it's not a good idea for me to be around little kids, but teen agers should be fine.
I do like a treat when I come back inside, it's when I get to practice my sit & lay down. I will need your patience, because I am still working on it though. I practice hard testing dog toys and beds for durability: so far none have passed my tests.
I get along with other friendly dogs, not so much with  cats though. I love going on walks and car rides, and I'm really good when we go. My dream person or family that loves to take me for a car ride, go on long walks, run and play. That's what I dream about when I'm taking my naps.
Ida Mae's adoption fee is $140.00. She is spayed, microchipped, up-to-date on vaccines, heart worm negative, on monthly heart worm preventative, and free of intestinal parasites. The rescue pays to activate the microchip and for up to one year of monitoring. If you are interested in Ida Mae, contact Rainbow Bridge Can Wait on FB or Pet Finder.
photo courtesy of Carnegie Animal Shelter
Carnegie Animal Shelter – 580 682-9073
This beautiful young pittie is a current resident of the Carnegie Animal Shelter. She is mostly white pit, with little black spots on her body.
This girl is very friendly with humans, and appears to be young still, possibly no more than about a year old. She wants to play with people, but, she is not friendly with other dogs. She really needs to be an only dog.
For more information, or to meet this beautiful girl, contact the Carnegie Animal Shelter at 580 682-9073
photo courtesy of Carnegie Animal Shelter
Carnegie Animal Shelter – 580 682-9073
Also in Carnegie at the Animal Shelter right now is an older brindle male pit. He's very gentle, and doesn't appear to be aggressive at all. He is partially handicapped, is blind in one eye.
This special boy needs extra love and care, and is looking for the right family to fill his life with love and allow him to share his gentleness with them. For more information, or to meet this handsome boy, contact the Carnegie Animal Shelter at 580 682-9073
photos courtesy of Elgin Animal Shelter
Elgin Animal Shelter – 580 919-5117
The Elgin Animal Shelter is currently fostering two young kittens and their mother and are looking for homes for each. The brother and sister are living in a foster home with their mother and are about weeks old, and like a kitten they are both playful and funny.
If you are interested in adopting one or both of them, or their mother, please contact us at (580)919-5117
photo courtesy of Humane Society of Wichita Falls
Humane Society of Wichita Falls – 940 855-4941
Patch is an 8 month old mix breed. He is full of energy.  He loves to be outside in the sunshine. He likes the company of all people and other dogs, and he walks well on a leash.
If you would like to meet Patch, please contact the Humane Society of Wichita Falls at 940 855-4941
photo courtesy of Southwest Oklahoma Animal Network
Southwest Oklahoma Animal Network – 580 482-8945
This is Bailey. She is a sweet girl that spent the early part of her life as an outside only dog. She is very friendly and will need lots of TLC and patience. Bailey  appears to be a 2-3 year-old Retriever Mix, and weighs 55-60 lbs. She is full of energy and just wants to run and play.
Bailey will require a little lead, and obedience training, but she is crate trained. She is current on her vaccinations, including Parvo/distemper, Bordatella, rabies and she tested negative for heart worms. She has also been spayed and microchipped.
Bailey is a very sweet girl that has some potential, and just needs some love to bring that potential out. With a little training she should make a great addition to active family.To meet Bailey, please call the Southwest Oklahoma Animal Network at 580 482-8945
photo courtesy of Wilbarger Humane Society
Willbarger Animal Shelter (Vernon, TX) – 940 552-5373
Our Pet of the Week is Penelope, a beautiful pit bull terrier mix that was brought in by animal control in January. She is a happy pup, who does well with other dogs, though we are not sure about cats, but does do well with children. She is energetic and would probably make someone a good jogging buddy. Once she gets some of her energy out she calms down and wants to be loved. Come meet Penelope, she would love to meet you too!
We are located at 2801 Sullivan St in Vernon Tx. You can reach us by phone at 940-552-5373 or by email at whs76384@gmail.com. To put an application on any of our animals please visit www.wilbargerhumanesocietyvernontx.org