Townsquare Pet Patrol
From shelters to foster and adoption groups, there are many different options when you are looking to add a new four-legged member to your family. Every week Townsquare's Pet Patrol, brought to you by Midtown Animal Hospital, highlights adoptable pets from across the Southwest Oklahoma and North Texas areas, hoping to find homes for shelter pets from throughout the region.
This week we are highlighting animals from 12 shelters, and hope to add more as momentum builds for this project. We will also be featuring information on upcoming events at our local shelters, as well as bringing you information on upcoming fund raising activities for these organization.
The Pet Patrol is brought to you by Midtown Animal Hospital. We would also like to thank Just 4 K9s and Kitty 2, your home for grooming supplies, as well as all of your pets' needs, from food to beds to toys. Please remember to spay and neuter, and of course to adopt, not shop!
UPCOMING EVENTS
+++++++++++++++++++++++++++++++++++++++++++++++++++++++++++++
Lawton Animal Control is conducting its monthly Two Hearts adoption event, this Saturday, November 4th from 10am to 2pm at the City Animal Shelter, for more information, please call 580 581-3218.
Don't forget that on the first Saturday of every month, join Lawton Animal Welfare for their Two Hearts Adoption event from 10 am to 2 pm at the City of Lawton Animal Welfare Shelter, located at 2104 SW 6th Street in Lawton.
+++++++++++++++++++++++++++++++++++++++++++++++++++++++++++++++
Rainbow Bridge Can Wait is holding an adoption event this Saturday from 11am to 3pm at the PetSmart located at 1806 NW 82nd Street in Lawton; the Target Shopping Ctr at the corner of 82nd and Quanah Parker Trailway.
With lots of dogs and cats, puppies and kittens to chose from, your family is sure to find that pur-fect four legged family member.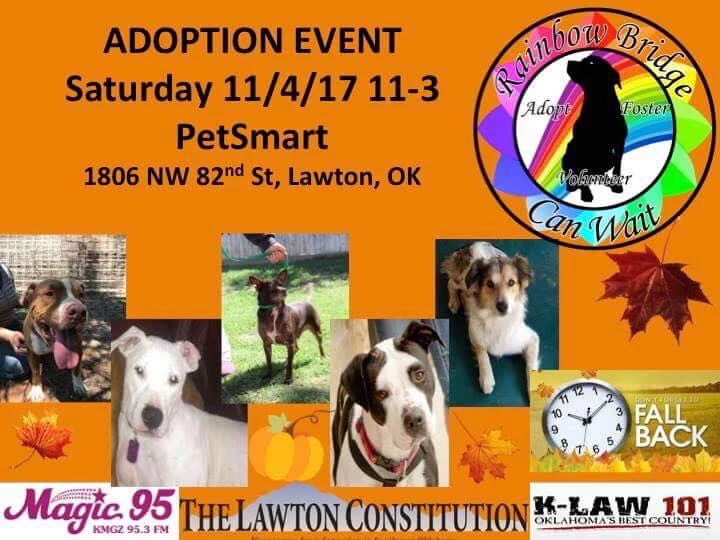 HELP WANTED
Rainbow Bridge Can Wait is currently in need of donations to help defer the cost of building kennels to house incoming pets until they can be placed in foster homes. Right now they are looking for close to $6000 to help cover construction costs, building materials and supplies for intake homeless pets.
No amount is too small, donations can be sent to:
Rainbow Bridge Can Wait Animal Rescue
526 E Oklahoma
Carnegie, OK 73015

or by Paypal to rainbowbridgecanwait@yahoo.com
+++++++++++++++++++++++++++++++++++++++++++++++++++++++++++++++
The Willbarger Humane Society could use assistance with some basic items they are running short of supply on. Currently their greatest needs are Bounce dryer sheets, paper towels, trash bags both 13 gallon and 39 gallon, and always dog and cat food.
***********************************************************************************************
The Elgin Animal Shelter is currently in danger of becoming over-crowded, and is in need of volunteer foster families for both dogs and cats. If you can assist the Elgin Shelter out by temporarily taking in a homeless animal, please contact Connie Finch at 580 919-5117
**********************************************************************************************
Rainbow Bridge Can Wait has recently lost several of their foster families and is currently looking for temporary homes that can take in one or two animals, especially larger dogs, while they search for their fur-ever homes. If you can help out and become a foster families, please contact them at their their Facebook page.
Stephens County Humane Society – 580 252-7387
Greetings everyone, we would like to introduce you all to Heidi, a loving, friendly young girl whi is full of fun and is eager to learn. Heidi is 11-months old, HIGHLY intelligent, dog friendly and very friendly.
Heidi is looking for the person or family to come take her away to her new fur-ever home. If you think that's you… call us! Let us introduce you to Heidi or several other fur-babies who are just looking for that special someone (or someones) to love!
Normal adoption fee for cats is $75.00; and $100.00 for dogs, but we frequently have specials running and/or animals who have had their adoption fee sponsored, so contact the Stephens County Humane Society at 580 252-7387
photo courtesy of Lawton Animal Welfare
Lawton Animal Welfare – 580 581-3218
Hi my name is Joseph and I'm a neutered Male Shepard Mix, and I'm around 8-9 months old. I'm looking for some good humans to hang out with and to incorporate into my family. Are you looking for a new pack member?

Would you like to come down for a quick visit and see if we get along? Come on down to LAW 2104 SW 6th Street, Lawton, OK 73501. We'll See Ya Down Here!!!
Lawton Humane Society – 580 355-7729
Rainbow Bridge Can Wait – 580 919-0439
This lovely young lady is Daisy, a 3 year old Pit bull She is a very strong energetic girl, that loves her people. She prefers that everyone love her, and will make sure you do! She seems to prefer male dogs, but a meet and greet can be arranged to see how your pups may get along with her! She is crate trained, and doesn't enjoy cats.
Daisy's adoption Fee is 150.00.
All Rainbow Bridge can Wait's companions are spayed or neutered, come with age appropriate shots, dewormed, and on flea and heartworm preventatives. They are also microchipped, and RBCW pays the activation into adopters name. All of our companions also qualify for a free month of health insurance, upon adoption. Adopter must activate insurance at time of adoption.
If you are interested in Daisy, please contact Rainbow Bridge Can Wait at 580 654-2513, or on Facebook or Petfinder.
photo courtesy of Friends Fur Change
Friends Fur Change (Chickasha) – 405 245-6932
This is Jacob, Catahula Mix male. This handsome guy is between 1 and 2 years old, neutered and up-to-date on all of his shots.
Jacob is so sweet, he's good with other dogs, and great with kids. Has one blue eye and one brown.
But most importantly, Jacob is a Friends Fur Change Boy. For more information, or to meet Jacob, please contact Bobbie for more info 405-245-6932.
Carnegie Animal Shelter – 580 682-9073
This is Polly. She is a little shy around new people but warms up after some time. She is believed to be fairly young, between 1 to 2 years old, and looks like she is part border collie. She's a medium sized girl who was picked up as a stray with a lab male. No one has claimed her and she really needs a forever home to call her own.
If you can give Polly that good home, please call the Carnegie Animal Shelter at 580-682-9073 or the Town Hall at 580-654-1004.
photo courtesy of Friends of the Elgin Animal Shelter
Elgin Animal Shelter – 580 919-5117
This young man is named Buster, a young, mixed-breed pup, who is full of energy. The best part is that he is almost as handsome as he is sweet! This gentle giant is good with kids and other dogs, though we're not sure he ha would deal with cars.
Buster is full of love and energy, and is looking for his new home to share that with. For more information or to meet this handsome guy, please contact Friends of the Elgin Shelter at 580 919-5117
photo courtesy of Humane Society of Wichita County
Humane Society of Wichita Falls – 940 855-4941
Hey there everyone! My name is Mack, and I a 7 year old, small, mix breed. I have been told I am a sweet boy, and all that I need is a family of to call my own. I have been here at the shelter for a while now.  I loves to lay on the couch and take naps but I'm always up for a stroll around the block.
If you would like to meet and possibly be my fur-ever home, please contact the Humane Society of Wichita Falls at 940 855-4941; make sure you ask for Mack!!
photo courtesy of Southwest Oklahoma Animal Network
Southwest Oklahoma Animal Network – 580 482-8945
We have had some really great adoptions this past weekend, it's always nice to see our rescues find their new homes. This week we would like to add our newest addition to that list. His name if Beau and he will steal anyone's heart the moment they see him…
He gets along with well with the other dogs in his foster home. He appears to be about a 2 year old Maltipoo, has been neutered, current on his vaccinations, and he tested negative for heartworms.  Beau is a little shy at first, but will eventually open up and show that he is actually a lap dog, who enjoys car rides and cuddling at night.
Beau should make a great family pet. For more information about adopting this handsome guy, e-mail swoan@swbell.net
photo courtesy of Willbarger Humane Society
Willbarger Humane Society (Vernon, TX) – 940 552-5373
Our pet of the month this month is Bevo, an approximately 4 year-old front de-clawed, Siamese/Snowshoe mix. He is not very comfortable at the shelter, so they are eagerly looking for his fur-ever home.
Bevo is more of an adult cat than a child's cat but he would be fine with older children. He is a big boy, but loves to be loved and loves to play. He does nip (not hard) to let you know when he is done with things like rubs and love as well as if you are late with dinner.
Please call and ask about Bevo, we have him placed in a foster home until adoption. We can set up a time for you to see him if you like. Someone give this baby a chance to love you. He is super sweet and his adoption is sponsored this month to an approved home. You can reach us by phone at 940-552-5373 or by email at whs76384@gmail.com. To put an application on any of our animals please visit www.wilbargerhumanesocietyvernontx.org