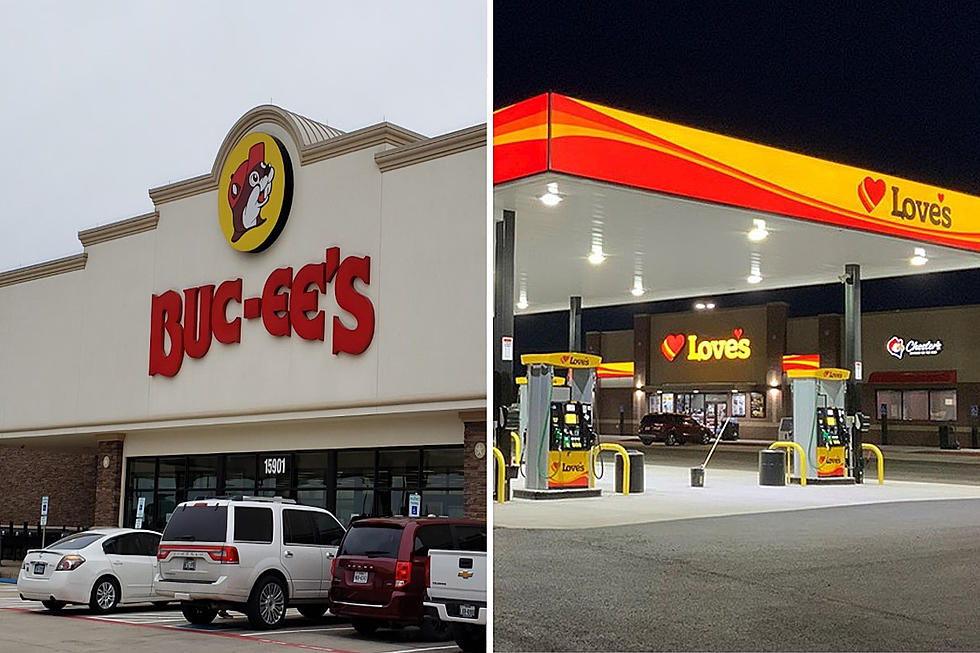 Is Love's Keeping Buc-ee's Out of Oklahoma?
Kelso, Love's Facebook
If you're not already familiar, it seems that a fair amount of people are upset with Love's right now due to their buyout and takeover of a local Lawton gas station company called EZGO. As an impartial regular human being, it has been a crazy thing to watch.
As thread after thread on social media grows with the highly contested opinions of OG-EZGO fans, there are more than a few wild rumors that get tossed out and get quickly picked up and repeated as fact.
One of these recurring statements is "Love's is keeping Buc-ee's out of Oklahoma."
Could Love's be the reason Buc-ee's hasn't yet come to the Sooner State?
Doubt. Heavy doubt.
Buc-ee's and Love's may have a lot in common, but they couldn't be any more different.
While it's slightly more common to see Love's gas stations/country stores in the smaller and less populated towns of America, they also typically exist way out in the middle of nowhere as truck stops along the busier highways of this country.
In contrast, Buc-ee's builds their travel centers as close to large populations of people as possible, but they aren't truck stops. In fact, most if not all Buc-ee's won't even allow semi-trucks on their lots.
While it's easy to assume Buc-ee's is just looking for the maximum amount of money-spending bodies in and around their locations, past lawsuits have clarified the necessity for Buc-ee's prime placements... Staffing.
Every big Buc-ee's location seeks to employ over 200 people to run the 24/7 operation. Staff is needed for everything from cashiers to brisket cutters, and even though their pay is shockingly high for gas station standards, staffing is a large issue for them like it is for every company in America.
If you look around at the Buc-ee's locations--outside of the original couple of locations-- they're in major metropolitan areas that see infinite amounts of tourism.
Daytona Beach, Florida

Texas Motor Speedway, Fort Worth

Almost every major highway into Dallas

All across Texas' largest city Houston

Pensecola, Florida

Alabama, Georgia, North Carolina, etc...
Meanwhile, you'll find Love's in tiny little dot-on-the-map places like Hollis, Oklahoma.
Tourism is good for Buc-ee's and those tourists are the reason why it has become so popular today.
Any way you divide a map of Oklahoma, there aren't enough people in the Sooner State to warrant a Buc-ee's location.
We don't have major population centers big enough to accommodate nor do we have any sort of annual events that draw massive amounts of tourists to our state. Quite frankly, until NASCAR allows a Bricktown 400 or something along those lines, Oklahoma will likely never get a Buc-ee's.
All the same, there might come a day when Buc-ee's decides to go public. When Wall Street gets to decide the fate of a business, they usually drive it into every location they can until the business gets over-leveraged and corporate raiders cut it up and sell off the assets for massive profits in a time of bankruptcy.
So, is Love's to blame for a lack of Oklahoma Buc-ee's?
I don't have a concrete answer because it's such a random question, but logical thought would lean toward a solid no. They may both sell gasoline but that doesn't make them the same. It's literally comparing apples to beaver nuggets.
Top 12 trashiest Oklahoma towns & sleazy cities
It's a top 12 list you don't want to be on. Unfortunately, these 12 towns and cities have been selected as some of the worst and by worst I mean trashiest and sleaziest in the Sooner State. These dirty dozen were selected by Google using factors like crime, violence, drug abuse, unemployment, income rates, and even the overall appearance of the town or city. It factored in things like rundown or abandoned properties and vehicles when ranking how trashy or sleazy a town or city is. Scroll through the photo gallery below.
Oklahoma's Top 24 Terrific Towns & Prettiest Cities
It's the delightful double dozen, the top 24 most terrific Oklahoma towns and prettiest cities in the Sooner State. These incredible places are just as friendly and inviting, as they are beautiful and picturesque. While Oklahoma has more than just a few terrific towns and pretty cities these are the crème de la crème, and more than deserving of making the top 24 list. The list was created by using Google. It ranked each city by beauty, lifestyle, friendliness, scenery, entertainment, and overall positive feedback from those who have experienced their charm firsthand. Scroll through the photo gallery below to see the top 24 towns & cities in Oklahoma.