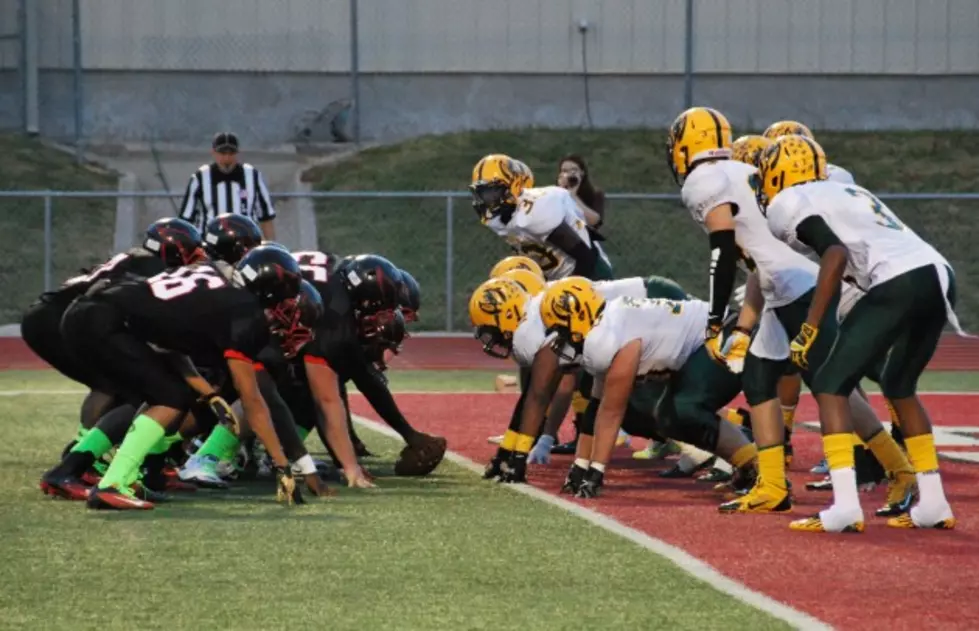 MacArthur Highlanders Come Up Short in First District Game Against Del City Eagles
Photo Courtesy Kim Kunze
The Macarthur Highlanders started their first district game with a road trip up the turnpike to Del City. And what a road test it was!
During this trip, the Highlander boys from up on the "Hill" would have to endure yet another part of their rough they often talk about early in the season. That rough meaning going through the tough part of the schedule, adding in the extreme hot weather typical for early on in the season. That seems to fit the chosen Latin theme for 2013 "Per Aspera" meaning "through the rough."
After both the MacArthur and Del City went three-and-out on their first possessions, the Highlanders finally got something going and scored the evenings first TD with a Reed Pellerin pop play that scampered 14-yards for the score and a 7-0 lead with 8:39 left in the first. Del City scored twice in the second quarter to keep the half at 14-7, and a Del City halftime advantage.
With another Del City Eagle score in the 3rd, it looked like it would be a big up hill climb for Big Mac, but a Pauley 32-yard field goal with 5:50 left in the 3rd made it just a 10-point game. The momentum of the game turned against the Highlanders when a fumble exchange between quarterback Will Collins and running back Davon Finkley gave Del City the ball on the 6, leading to another score and a 32-10 advantage. The never-quit Highlanders found themselves in the endzone once more, this time with a Will Collins 10-yard run and a 2-point conversion after an offsides 5-yard penalty.
When the dust finally cleared, the final score had Del City besting the Highlanders 38-18.
The loss brings MacArthur to a record of 2-2 on the season overall and 0-1 start in District play. The Highlanders have a chance to rebound and regroup and find their first district win this Friday as they will host Southeast at Cameron Stadium at 7:00 pm. Pregame with Eric, Jay, Maynard, Josh and Nick will be on the air on KLAW 101 and online right here on klaw.com at 6:30. Come out early to support our Highlanders and cheer them on to victory.