'Twilight' Actor Robert Pattinson Dismisses Brad Paisley in Nashville Guitar Shop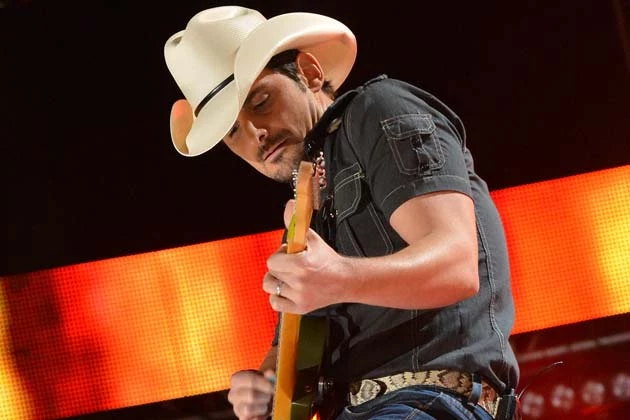 Robert Pattinson is known worldwide as the star of the 'Twilight' franchise of films, but many fans may not be aware that the actor is also an amateur musician. In a recent appearance on 'Late Night With Jimmy Fallon,' Pattinson revealed that he once unintentionally dismissed country superstar Brad Paisley while looking at guitars in a Nashville music shop.
The actor was visiting Music City briefly when he ended up perusing the selection at the world-famous Gruhn Guitars. He told Fallon that he ended up in the private VIP room upstairs, where a man was running through some hot licks on various instruments.
"There was a guy there in a baseball cap, and he was just playing guitar, and he was like one of those guitar shop people who seem really impressive," Pattinson says in the clip below. "He seemed like a normal guy and he was really sweet. Every guitar I picked up, I'm sitting there playing my G and C — that's about all I can manage — and every single time I touched a guitar they'd be like, 'Do you want this guy…'"
Pattinson confessed his fandom for fellow Fallon guest Carrie Underwood, but he appeared confused when he was trying to recall the mystery guitarist. "What was his name? Who is like, the most famous country guitarist?" he asked, before exclaiming, "Brad Paisley! They'd say 'Do you want Brad to just play it?' I thought he was just a guy that worked there. I had no idea who he was!"
While Pattinson recalled Paisley as a nice guy, he admitted that he found his guitar prowess intimidating. "He was talking about his farm and stuff and he seemed like a really good guitarist," he recounted. "I had no idea who he was. I was like 'I don't want Brad to play it, this guy who works here, because he's really good!'"
Pattinson's latest film is 'The Twilight Saga: Breaking Dawn Part 2.'
Watch Robert Pattinson's Interview With Jimmy Fallon

Source:
'Twilight' Actor Robert Pattinson Dismisses Brad Paisley in Nashville Guitar Shop