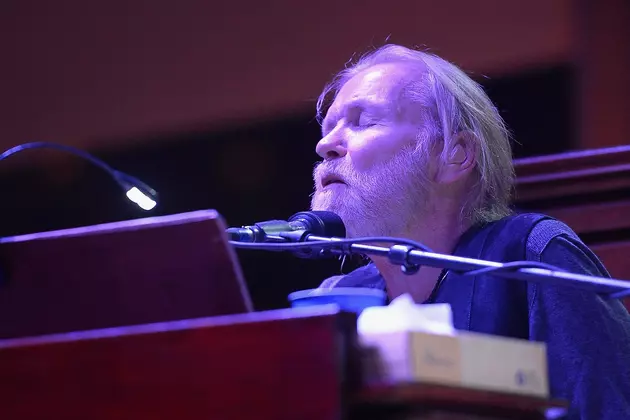 2017 CMT Music Awards to Include Gregg Allman Tribute
Gustavo Caballero, Getty Images for SOBEWFF®
A number of country artists will help honor the late Gregg Allman at the upcoming 2017 CMT Music Awards ceremony. According to USA Today, Jason Aldean, Lady Antebellum's Charles Kelley, Darius Rucker and more will participate in the tribute.
In a statement, CMT President Brian Philips says that Allman -- a solo artist and one of the founding members of the Allman Brothers Band -- "helped create the bedrock foundation of modern Southern music." Philips explains that the tribute performance is coming together because, following Allman's death on Saturday (May 27), artists began inquiring about honoring him during the awards show.
"This tribute will celebrate Gregg Allman's soul, charisma and enduring artistry," Philips says.
Aldean and Kelley are among those who have been paying their respects to Allman in the days since his death at the age of 69: Kelley and his Lady A bandmates performed "Midnight Rider" during their Saturday night concert, while Aldean -- a native of Macon, Ga., where the Allman Brothers Band formed -- posted a heartfelt tribute to Allman ("one of my heroes," Aldean calls him) on Facebook.
Country Artists Pay Tribute to Gregg Allman
Per a statement on Allman's official website, Allman "passed away peacefully at his home in Savannah, Ga." His funeral is scheduled for Saturday (June 3) in Macon; the funeral and burial services will be private, but fans are invited to line the funeral procession route to pay their respects.
Allman's health had declined in recent years: In March of 2017, he canceled all of his tour plans for the remainder of the year. On April 24, rumors began to circulate that Allman had entered hospice care, but the singer soon made it clear that he was not in hospice, but was "resting on my doctor's orders."
"Gregg struggled with many health issues over the past several years. During that time, Gregg considered being on the road playing music with his brothers and solo band for his beloved fans, essential medicine for his soul," the statement on Allman's website reads. "Playing music lifted him up and kept him going during the toughest of times."
Lady Antebellum were previously announced as performers at the 2017 CMT Music Awards -- which will take place in Nashville on June 7 and air live on CMT -- with Earth, Wind and Fire. Also previously scheduled to perform during the event were Blake Shelton, Brett Eldredge, Luke Bryan, Miranda Lambert, Thomas Rhett, Florida Georgia Line and the Chainsmokers and Keith Urban and Carrie Underwood; in addition to those paying tribute to Allman, Little Big Town and Kelsea Ballerini have both been added to the show's performance lineup.
Ranking the Allman Brothers' Albums