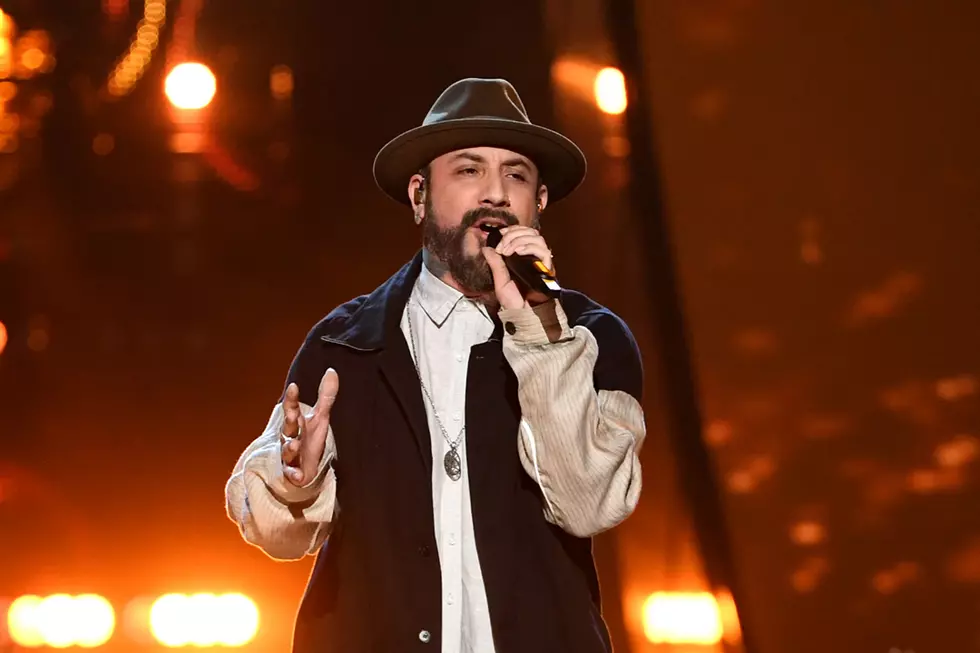 Can AJ MCLean Bring 'Boy and a Man' to the Week's Top Country Videos?
Kevin Winter, Getty Images
AJ McLean's new "Boy and a Man" video features his real-life wife in a starring role. Will the special love story make it as one of the most popular country music videos of the week?
McLean's wife, Rochelle, plays his wife in a flashback in the romantic video, which tells a couple's sweeping love story in a timeline inspired by the animated film Up. It's a beautiful story, but will fans of the Backstreet Boys singer turn out to vote?
McLean is facing off against new videos from Britnee Kellogg, Frank Foster and Marty Brown, and elsewhere there are some changes to the countdown this week.
Home Free are once again at No. 1 this week, where they have become an immovable object in recent months. Caroline Jones and Hunter Hayes are next, and Chris Young debuts at No. 4 this week with his new video for "Raised on Country." Danielle Bradbery with Thomas Rhett rounds out the Top 5.
Cassadee Pope, Pistol Annies, Lauren Alaina, Toby Keith and Maddie & Tae are all still in the Top 10 after a week of intense voting, but next week could look very different with so many new clips to vote for! That's up to you.
Taste of Country's Video Countdown is determined entirely by reading vote and published every Friday. If you want to see your favorite clips in the top spots, you've got to make sure to vote as often as possible, and don't hesitate to share this poll with your country music-loving friends and family so that they can also vote!
Note: Fans can vote for one video, once every hour until the poll closes next Friday at 12PM ET. The weekly Top 10 will be revealed immediately after the poll closes. Videos are retired after six months, or when fans lose interest or when an artist releases a new video for a current single.
10

"Friends Don't"

Maddie & Tae

9

"Don't Let the Old Man In"

Toby Keith

8

"Doin' Fine"

Lauren Alaina

7

"Got My Name Changed Back"

Pistol Annies

6

"Take You Home"

Cassadee Pope

5

"Goodbye Summer"

Danielle Bradbery and Thomas Rhett

4

"Raised on Country"

Chris Young

3

2

"The Difference"

Caroline Jones

1

"Why Does It Have to Be (Wrong or Right)"

Home Free