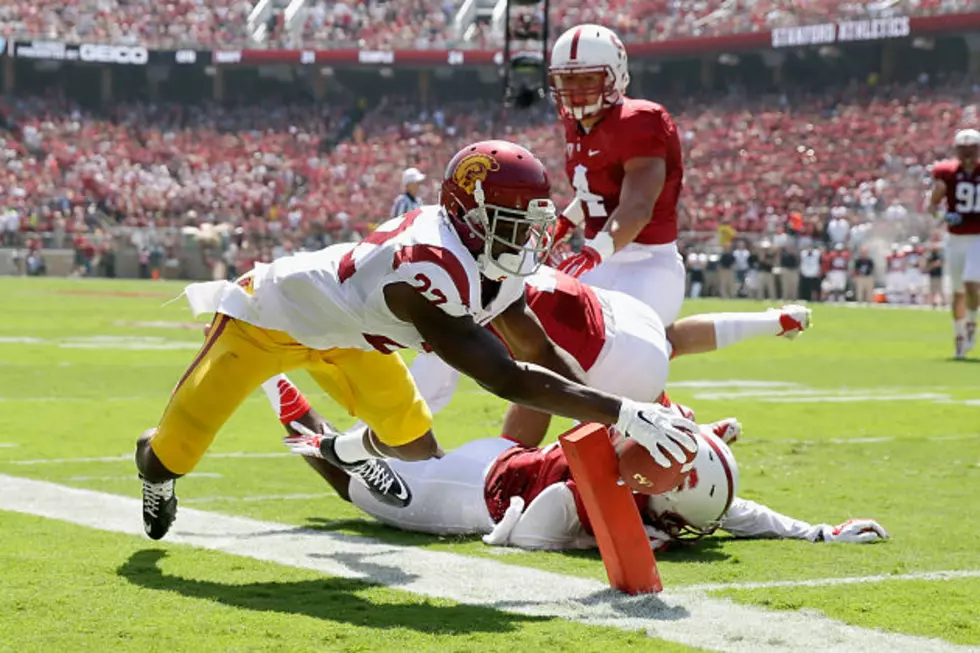 College Football 2014: What We Learned In Week 2
Ezra Shaw/Getty Images
In a week that didn't feature many marquee matchups, we still had our share of excitement with several upsets and exciting finishes. Here is what we learned in Week 2.
Oregon's Offense is in Midseason Form
Last season, the No. 7 Spartans ranked in the top three of every major defensive category. But they were replacing six starters, and that inexperience—and triple-digit temperatures on the field—showed as the No. 3 Ducks rolled off 28 unanswered points in the final 20 minutes to put themselves squarely in the playoff hunt. Oregon quarterback Marcus Mariota threw for 318 yards and three scores while running back Royce Freeman gashed the Spartans for 89 yards (6.8 per carry) and two touchdowns.
This was the first time that Oregon had hosted a nonconference game between two Top Ten opponents.
The Big Ten is in Big Trouble
Michigan State's loss was just the biggest showcase in a very troubling day for the Big Ten conference. Michigan was shut out in an embarrassing 31-0 loss to No. 16 Notre Dame. No. 8 Ohio State lost, 35-21, at home to unranked Virginia Tech. Central Michigan blew out Purdue, 38-17, and Northwestern lost to Northern Illinois. Illinois needed a fourth quarter comeback to get past Western Kentucky and No. 19 Nebraska needed a Heisman-highlight kind of play from running back Ameer Abdullah with less than a minute to play to avoid overtime against FCS McNeese State.
We're only in Week 2, and it's already looking like the Big Ten may be out of playoff contention this season.
USC is Suddenly in the Mix
After years of struggling through NCAA probation, USC may once again be a national contender after snapping No. 13 Stanford's 17-game home winning streak. To be fair, the No. 14 Trojans' 13-10 win had much to do with Cardinal mistakes (eight penalties, two turnovers and two missed field goals), but USC made big plays when they needed to, holding Stanford scoreless in the second half while putting together field goal drives of 90 and 53 yards to secure the win. Trojan kicker Andre Heidari made a career-long 53-yard field goal with 2:30 to go to give USC the lead and the eventual win. The Trojans' schedule gives them a real shot to put themselves in title contention—aside from an October 4 matchup against No. 17 Arizona State, they will not face another ranked team until season-ending contests against UCLA and Notre Dame.
We Have Our First Playoff Controversy
Week 2 isn't too early to have our first playoff mini-scandal, right? During USC's win over Stanford, Trojan linebacker Hayes Pullard was ejected for a helmet-to-helmet hit. Minutes later, USC athletics director Pat Haden was seen arguing with game officials. While he says he was not discussing that play, the fact that an athletic director left his suite to come down to the field and argue with officials during the game certainly raised some eyebrows. But what made the confrontation even more noticeable is the fact that Haden is a member of the College Football Playoff selection committee, which will determine the four teams to make up this year's inaugural playoff participants. Haden's in-game reaction certainly has to make one wonder about his ability to be impartial if USC is in the playoff mix down the line, to the point that some national sportswriters are already calling for his resignation.
Quick Hits
Prior to this week, the last time Michigan was shut out was 1984, an NCAA record 376 games.
Florida State blew past Citadel for a school-record 18th straight win.
Clemson rolled up 73 points in a lopsided win over South Carolina State, its most in 33 years. Wide receiver Artavius Scott recorded a school freshman record 164 receiving yards.
Baylor quarterback Bryce Petty sat out this week's matchup against Northwestern State. But the No. 10 Bears still had no problems as backup Seth Russell threw for 438 yards and five touchdowns—all in the first half.
Wisconsin recorded what should be the fastest score in NCAA history, when a Western Illinois returner misplayed the opening kickoff, leading to a safety just one second into the game.
Alabama wide receiver Amari Cooper tied a school record with 13 catches.
Ohio State's loss to Virginia Tech was the first time the Buckeyes had lost their home opener since 1978.
With No. 21 South Carolina's win over East Carolina, Steve Spurrier is now the third SEC coach in history with 200 wins.
Auburn has now scored 30+ points in a school-record 12 straight games.