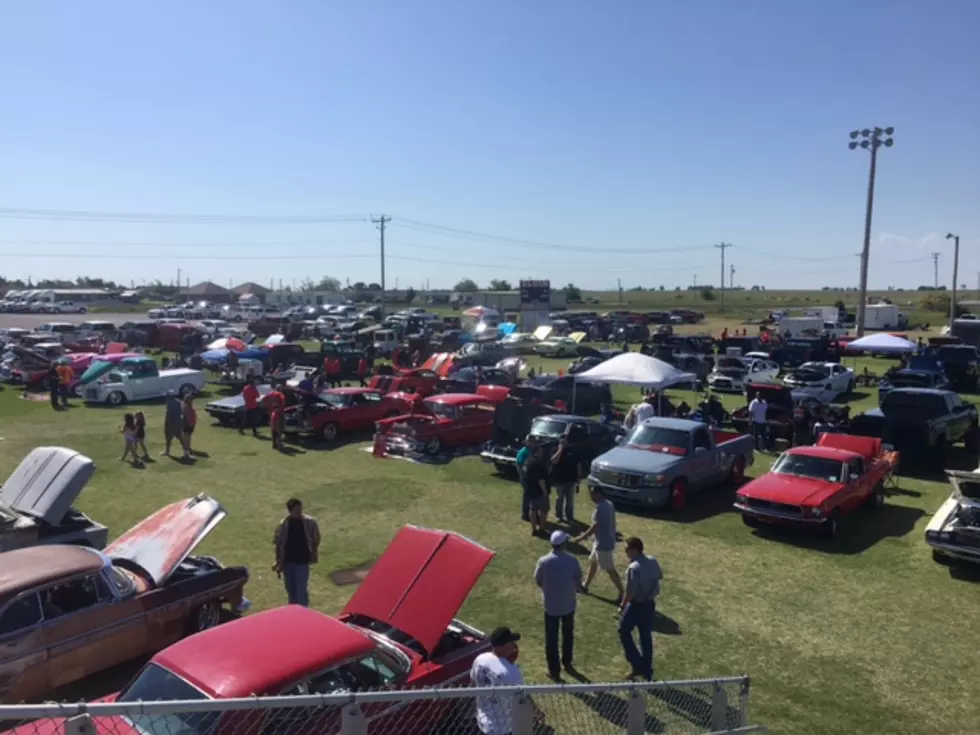 Get Ready Oklahoma 'Crawds 'N Rods' Returns Bigger & Better Than Ever Before in May 2023
TSM Lawton: Critter
It's back, bigger and better than ever before, Crawds N' Rods!  It's one of the biggest car shows in the area and of course, you can't forget the big crawfish boil that will be happening throughout the event.
There's nothing quite like it and there's even live music a carnival and helicopter rides! It's the perfect place to go this "Mother's Day" weekend! You won't want to miss it, or you'll have to wait an entire year until it returns.
SCROLL DOWN FOR ALL THE DETAILS ON CRAWDS 'N RODS 2023
We're talking live music, crawfish, carnival, helicopter rides and one of the biggest and best car shows around. There's even going to be a burnout contest! You could even win a fully custom 1970 Chevy Camaro!
The Elgin Volunteer Fire Department is selling raffle tickets and will be drawing for the winner on Saturday, May 13h (05-13-23) around 5:00 p.m. You could be the BIG WINNER! Get all the details by clicking here.
You could be the proud new owner of this custom-built 1970 Chevy Camaro
I can't think of a better place to be "Mother's Day" weekend. Take Mom to Elgin for the car show, enjoy some live music the carnival, and some of the best Louisiana crawfish you can find outside of the bayou state.
If you're not a fan of crawfish there will be plenty of other food available. It's a good time and all for a great cause. Crawds N' Rods benefit the Elgin Volunteer Fire Department. The monies raised during the event assist with operating costs, equipment, and training along with fire prevention and safety programs.
SEE THE TOP 25 MOST HILARIOUS PERSONALIZED TAGS DENIED BY THE OK. DMV BELOW
This year's event is scheduled for Friday, May 12th, 2023, and Saturday, May 13th, 2023 (05-12-23 through 05-13-23) in Elgin, OK. Friday night (05-12-23) is the big concert featuring Mike Ryan, Carson Jeffrey, and Gannon Fremin. Then on Saturday (05-13-23) the car show and crawfish boil. Get all the details on this year's Crawds 'N Rods by visiting the official website by clicking here or check it out on Facebook here.
Just take I-44 East to Elgin. It's just a short trip up the highway, about 15 miles or so. Once you get there you can't miss it! You'll see all the carnival rides and cars all set up from the highway. Exit into Elgin then make the first right-hand turn to get to the parking area. Crawds N' Rods is back bigger & better in 2023!
25 hilarious Oklahoma personalized tags DENIED by the DMV
A great way to personalize your vehicle is with a custom license plate. There are some pretty creative and funny tags running around the Sooner State. Some are easy to get, others will have you scratching your head trying to figure it out what it says. Personalized plates are very popular and we're seeing more of them on the road every day. However, there are some rules and restrictions when it comes to what you can and can't put on your plate. If it's considered obscene, vulgar, demeaning, or includes any mention of drugs, alcohol, or illegal activities it will be DENIED. Check out the photo gallery below of some of the most hilarious tags that were rejected by the Oklahoma Department of Motor Vehicles. WARNING: some of these could be considered offensive so if you're easily offended proceed with caution. You have been officially warned.
The 10 Most Stolen Vehicles in Oklahoma
While catalytic converter and property theft seem to get all of the headlines recently, it's easy to forget how prevalent vehicle theft still is in 2023. Oddly enough, 20% of car thefts are reported to have had the keys accidentally left in unattended cars. You'll want to remain vigilant in protecting your ride, especially if you drive one of
the ten most stolen vehicles in Oklahoma
.
7 Oklahoma "Must Experience" Drive-In Movie Theaters
If it's been a while since you've been to the drive-in movie theater or if you've never had the chance to go before, now's the time. Oklahoma has several drive-in theaters all across the Sooner State. Chances are you're close to one or close enough no matter where you're at. We have drive-in theaters in OKC, Chickasha, Tulsa, Guthrie, Poteau, Springer, and Shattuck. And that's just to name a few places where you can find them. So if you're looking for a nostalgic good time and an epic evening head to any of these amazing drive-ins.
16 Annoying Things Oklahoma Drivers Do
I can't even begin to tell you how often the conversation turns to bad driving in my circle. Now I've lived in a bunch of different states, and driven in many more as my family's safe vacation driver, I can tell you some of the most common driver complaints are universal... but as Oklahoma drivers seem to swear they're the best, here are some of the things that annoy the rest of us.