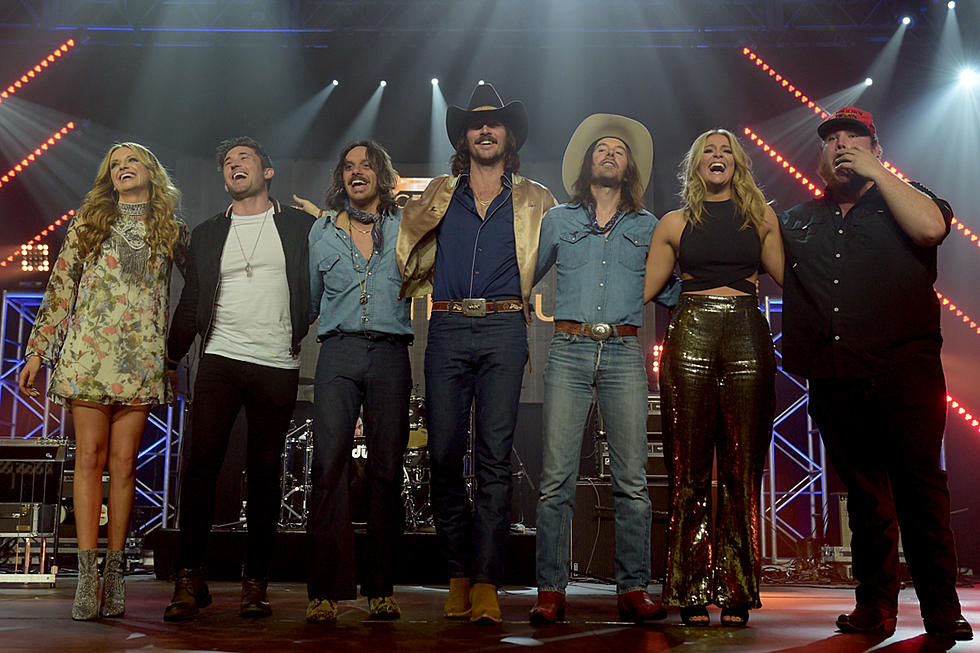 Luke Combs, Lauren Alaina Head Up the 2018 New Faces of Country Music Show
Jason Kempin, Getty Images
Luke Combs and Lauren Alaina helped point the way to the future of country music at a private showcase in Nashville on Wednesday night (Feb. 7), albeit in very different ways.
The two rising stars topped the New Faces of Country Music show on the third and final night of the annual Country Radio Seminar in the ballroom of the Omni Hotel in Nashville, as part of a lineup that also included Carly Pearce, Michael Ray and Midland.
Pearce took the stage first, after a brief video poking fun at her love of wine. She opened with the high energy of "Careless" before switching gears to sing the aching "If My Name Was Whiskey," moving easily through transitions in music and mood like a seasoned pro instead of a relative newcomer. She displayed that same confident ability to command an audience with her final two songs, current single "Hide the Wine" and "Every Little Thing," which gave Pearce her first No. 1 hit in 2017.
Ray was up next, and the video introducing him was powerful, paying homage to the late grandfather who helped instill in him his love of country music. Ray ran through strong, though workmanlike versions of "Kiss You in the Morning" and "Get to You" before taking an acoustic guitar in hand to perform a new song, "Her World or Mine," that he said would be included on a new album he's currently recording.
The serious song provided a moment of levity. "This is like Ashlee Simpson on Saturday Night Live," Ray cracked as he tried, but failed to get sound to emerge from the guitar, which was not turned up in the mix. "You had one job," he joked to the soundman before finally opening the song. He closed with "Think a Little Less."
Lauren Alaina Gets Honest in Her Music
Midland gave by far the most unique performance of the night. There's always a bit of a tongue-in-cheek air to the Texas-based trio, like they're intentionally teasing fans as to whether their throwback wardrobe and hipper-than-thou attitude are for real or an elaborate front, but their musical skills are certainly the real deal. Starting with "Make a Little" and running through "Burn Out" and "Gator Boys" before closing with their breakthrough hit, "Drinkin' Problem," they glided seamlessly through different moods and perfect musical and vocal transitions that made their brand of stellar craftsmanship look easy.
Alaina showed the CRS audience once again why she is one of country music's most talked-about and beloved rising stars. Alaina is one of those rare performers who has the innate ability to make an audience see the world through her eyes and take them along on her emotional journey, even in the case of a roomful of jaded, seen-it-all insiders like those at CRS.
She's not afraid to spill her entire life in her songs, and she practically transformed the roomful of hardened radio and label pros into her personal fan club as she delivered an exceptionally strong, polished set that included "Three" — which earned her a standing ovation — "Doin' Fine," "What Ifs" and "The Road Less Traveled." It would surprise nobody in attendance if she went on to become a multi-genre star, since her natural Dolly Parton-esque likability would translate well across a variety of mediums.
Combs anchored the evening with an energetic, uptempo show that cemented his status as the heir apparent to county's tradition of rowdy, good-time male stars who are also exceptional singers and songwriters. He delivered equal parts grit, talent and sincerity in a set that kicked off with "Honky Tonk Highway" — which segued briefly into Brooks & Dunn's "Boot Scootin' Boogie" — and ran through "When It Rains It Pours" before closing with his current single, "One Number Away" and "Hurricane."
Combs is certainly not the flashiest performer in country music; in fact, his stage wardrobe bore a stronger resemblance to a gas station attendant than one of the biggest rising stars in country music. But it's exactly that Everyman quality that lies at the heart of his appeal, and his powerful set on Wednesday night was the work of an artist who may very well be bringing that kind of energy to headlining arena shows in the not-too-distant future.
What Is Luke Combs' Secret Talent? His Answer Might Shock You