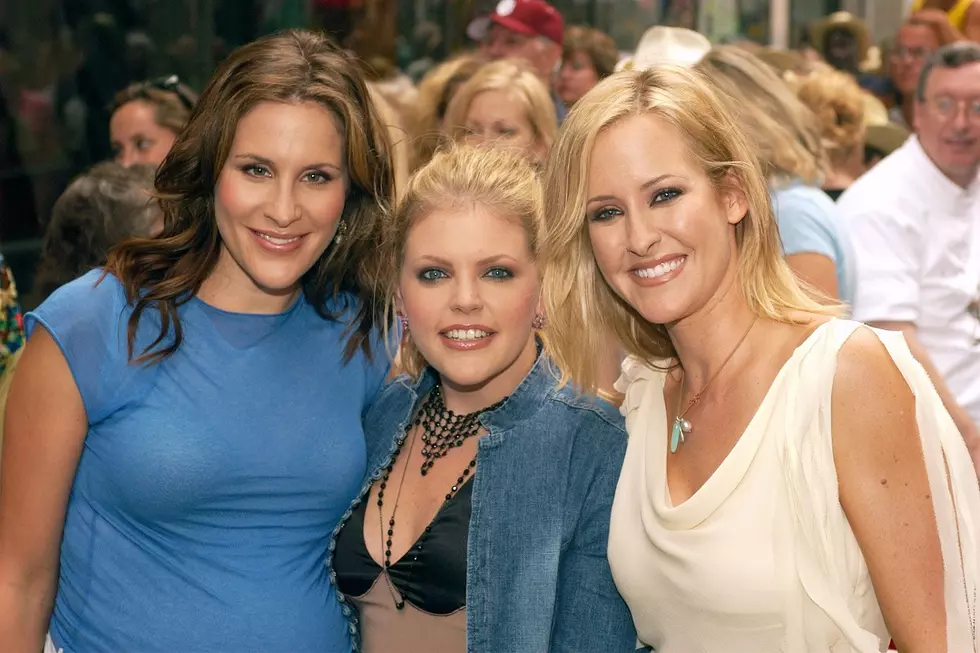 Lawrence Lucier, Getty Images
The Chicks (formerly, until June 25, 2020, known as the Dixie Chicks) started off as a bluegrass troupe before crossing over into the country (and country-slash-pop) realm with the addition of vocalist Natalie Maines and the release of 1998's Wide Open Spaces. Multi-platinum awards and No. 1 hits followed, and although the group's career momentum suffered due to controversial comments Maines made about then-President George W. Bush in 2003, the band ended up recovering (at least critically) for 2006's Taking the Long Way, which won five Grammy Awards.
Taylor Swift is an avowed fan of the Chicks — and, really, she couldn't have picked a better group on which to model her career trajectory. The following are The Boot's picks for the country trio's 10 best tunes.
10

"Ready to Run"

From 1999's 'Fly'

The main characters in Chicks songs are frequently self-assured women who aren't afraid to strike out on their own. That's the case with "Ready to Run," a song that hit No. 2 on the country charts and is all about a bride getting cold feet about committing to a long-term relationship, much less marriage: "All I'm ready to do is have some fun / What's all this talk about love?"

9

"There's Your Trouble"

From 1998's 'Wide Open Spaces'

This rollicking tune — the band's first No. 1 country hit — is all about pointing out to an oblivious guy the obvious: namely, that things aren't working out with his current lady, since the protagonist of the song is a much more suitable match. Conspiratorial pedal steel adds color to Martie Maguire's lilting fiddle and sister Emily Robison's plucky banjo.

8

"You Were Mine"

From 1998's 'Wide Open Spaces'

The members of the Chicks have never shied away from tackling tough topics. This No. 1 country song, which was written by Robison and Maguire (the latter of whom was then known as Martie Seidel), is about their parents' divorce and the subsequent grief it caused. More than anything, "You Were Mine" is a showcase for the trio's vocal harmonies, which combine to convey deep anguish.

7

"Travelin' Soldier"

From 2002's 'Home'

This stripped-down cover of a Bruce Robison song, a narrative tale about a high school girl who falls for a soldier in the Vietnam War, with tragic results, highlights the trio's understated vocal harmonies and harkens to their early days as a bluegrass band. "Travelin' Soldier," which appeared on 2002's Home, also figured into the Chicks' career obstacles, when Maines famously introduced the song at a London concert by saying, "Just so you know, we're on the good side with y'all. We do not want this war, this violence, and we're ashamed that the President of the United States is from Texas."

6

"Long Time Gone"

From 2002's 'Home'

A No. 2 country hit steeped in stinging bluegrass fiddle and rhythms, "Long Time Gone" is simultaneously a song about finding a life off the beaten path (in this case, away from the family farm) and a jab at how country music has gotten away from its roots. In the song's universe, "the music ain't got no soul" and artists, "now they sound tired, but they don't sound Haggard."

5

"Landslide"

From 2002's 'Home'

Plenty of artists have covered Fleetwood Mac's "Landslide." However, the Chicks made the Stevie Nicks-penned tune their own by adding a twang-folk edge, mournful mandolin and shaded vocal harmonies, which ended up exacerbating the song's aching vibe. "Landslide" even became a Top 10 hit on both the Billboard pop and country singles charts.

4

"Cowboy, Take Me Away"

From 1999's 'Fly'

This No. 1 country hit might be the quintessential Chicks song, at least musically: Maguire's keening fiddle intertwines seamlessly with Robison's understated banjo as vocalist Maines sings deeply romantic lyrics about finding comfort and solace in a perfect guy, here idealized as a no-frills cowboy.

3

"Goodbye Earl"

From 1999's 'Fly'

The band's first huge U.S. pop crossover hit is in the grand tradition of twisted country tunes: "Goodbye Earl" focuses on best friends Mary Anne and Wanda, who conspire to kill the latter's no-good abusive husband, Earl, and then live happily ever after without him. The Chicks amplify the black comedy intrinsic to the song's lyrics by pairing it with upbeat music brimming with perky "na-na-na"s and cheerful banjo. The song's aged incredibly well, too — after all, Swift and Maines performed the song last summer on Swift's 1989 World Tour.

2

"Wide Open Spaces"

From 1998's 'Wide Open Spaces'

At the time, the title track of the Chicks' major label debut doubled as a theme song for the burgeoning band itself. This laid-back country-pop tune is all about a girl spreading her wings and leaving her proverbial family nest, forgoing the familiar and safe for new adventures and vistas: "She needs wide open spaces / Room to make her big mistakes," went the inimitable chorus. "Wide Open Spaces" also ended up a No. 1 country hit, spending four weeks atop the charts in late 1998.

1

"Not Ready to Make Nice"

From 2006's 'Taking the Long Way'

The members of the Chicks responded to the protests and blackballing they received after speaking out against President George W. Bush and war with a pointed musical statement, "Not Ready to Make Nice." The song utilizes stark piano and acoustic guitar, as well as sweeping orchestral flourishes, to back up lyrics that re-emphasized that the band wasn't going to apologize for the remarks or back down from its stance. This approach paid off: "Not Ready to Make Nice" won three Grammy Awards and remains the Chicks' highest-charting mainstream pop hit.