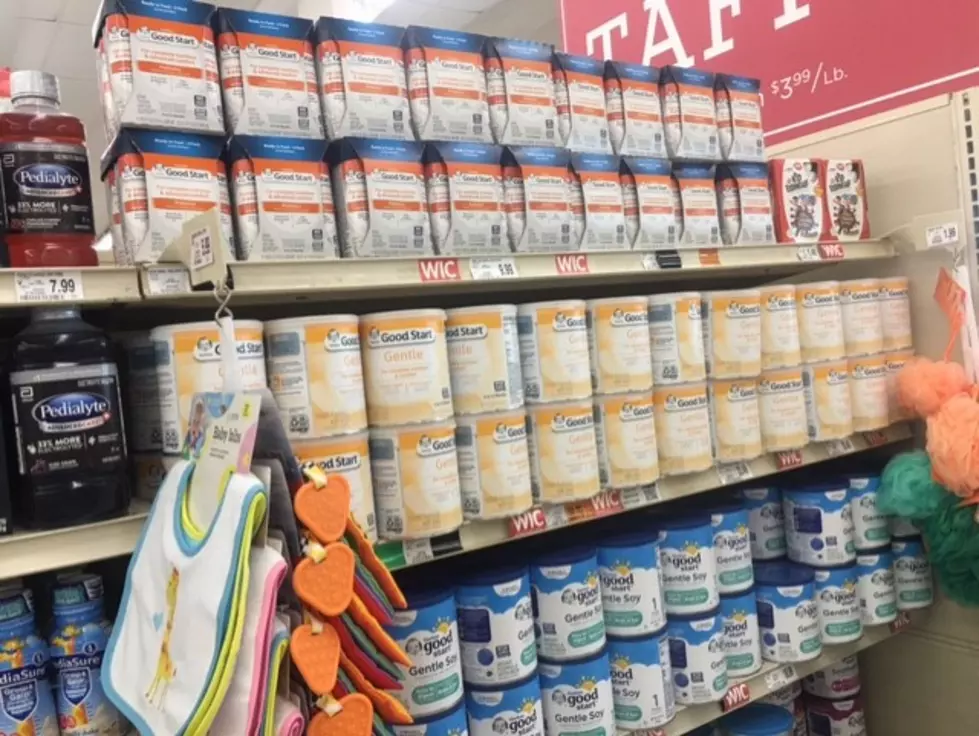 Eastside Homeland in Lawton, OK. is Helping Mother's Nationwide with Baby Formula!
TSM Lawton: Critter
The Homeland grocery store on East Lee Blvd in Lawton is helping mothers Nationwide. With the current baby formula shortage, it's been difficult, if not next to impossible to find baby formula anywhere.
A lot of stores have empty shelves and aren't able to keep it stocked. Homeland on the east side of town has baby formula, so if you're looking for some stop by and see them. We ran by there today and they had quite a bit in stock with lots of different types and brands available. Plus, they're expecting more later this week.
The Homeland grocery store on East Lee Blvd. in Lawton, OK. has baby formula
Last week the Homeland on East Lee in Lawton posted on Facebook that they had formula in stock and mothers not only in Lawton, Fort Sill but from all over Oklahoma and the Nation were finally able to locate and make a purchase to feed their babies. If you need formula stop by and see them at 4510 S.E. Lee Blvd.
After they posted that they had formula the post was shared all over social media from Facebook to Twitter. Mom groups quickly picked up on the news and helped spread the word. Within hours they started hearing from mothers from all over the U.S. Homeland has been taking orders and shipping formula to mothers in Virginia, Washington, Colorado and other states. How cool is that? Normally they don't do this, but during the formula shortage, they're doing all they can to help moms and babies from all over the state and country.
The Lawton Eastside Homeland is helping moms and babies all across the U.S.
The official Facebook page for the Homeland on Lee recently posted this. "To all the wonderful people out there that shared our post on baby formula we want to thank you! BUT I want you to know that this isn't just for OKLAHOMA! (Although we love this state the best!) It's for ANY parent that needs formula for their child. We have already shipped to Virginia, Washington, and Colorado! We will do whatever it takes to take care of your baby needs!" The Homeland on Lee Facebook page is the best place to stay up to date with everything.
We spoke with Alex the assistant store manager today and she told us they're continuing to order in formula and expect to have more shipments coming in soon. The staff at the Eastside Homeland in Lawton are amazing and for moms in places where they can't find formula, a Godsend. It's a great story and a perfect example of helping thy neighbor. The FDA and other government agencies expect the shortage to end soon, maybe as soon as next month. In the meantime, we can thank Homeland for stepping up and helping out!
The best Lawton, Fort Sill Facebook pages & groups to join, follow & be a part of.
If you just moved here, welcome to Lawton, Fort Sill we're glad you're here. It can be difficult moving and starting up in a new place. Trying to make friends, find things to do, get more information about the town itself, and just get acquainted with all the goings-on. We're here to try and help you out with a list of the best Lawton, Fort Sill Facebook pages and groups you should join, follow and be a part of.
Look Inside Lawton's most luxurious & beautiful Airbnb!
This amazing
French-style lakeside chateau
costs
$500.00 a night.
It's one of the most beautiful and luxurious
Airbnb rentals
in all of Lawton, Fort Sill.
It's a 4 bedroom 4.5 bath home
that can comfortably
accommodate 10 guests.
The home sits right on the waterfront of a lake with the backyard and patio facing the water. The entire home inside and out has an incredible atmosphere and breathtaking views. The outside spaces are as beautiful as the inside.
Check out the photo gallery to see what $500 a night will get you!
Where to Find the many murals by Justin Hackney's Spreading PAINT in Lawton, Fort Sill.
If you've driven around town you've probably seen all the murals we have in Lawton, Fort Sill. If you take the time to look you'll notice that they're everywhere. We're lucky to have so many talented artists that share their work with us regularly by painting murals. One name you've probably heard before is Justin Hackney and
Spreading PAINT
. His work of masterful murals can be found all over town. He's done some of the very best and has painted everything from rock stars to celebrities and everything in between. He has a style all his own and has painted murals in full color, vivid transposed negative style, and in black and white. Be on the lookout for his latest mural masterpiece he's going to keep painting them so long as people want them and there's wall space. Looking forward to seeing his next one! Check out the gallery below of Justin Hackney's Spreading PAINT murals and where to find them. We'll continue to add to the gallery as he paints them.
Tour the most expensive house for sale in Oklahoma!
It's being called the most premier luxury listing in all of Oklahoma on
Zillow.com
. This massive mansion in
Arcadia, OK. at 400 Deep Fork Circle
is listed by
Ty Burnett of 525 Realty Group
. It currently has an asking price of
$5,950,000
making it the most expensive, if not one of the most expensive houses for sale in the entire state. So what will almost six million dollars get you? A lot! This epic 12,020 square foot estate sits on over 2.5 acres and features 7 bedrooms and 9 bathrooms. It comes with its own guest house, resort infinity pool, cabana, and gym. The chef-inspired kitchen features all professional, commercial-grade appliances. There's a THX theater room and entertainment suite complete with its own bar. The master bedroom has a see-through fireplace, huge celebrity-style closets a garden room, and heated marble floors in the master bath. It has a basement a wine cellar and tons of outdoor patio and sitting areas.
Scroll through all the pictures below and take a virtual tour of this one-of-a-kind epic estate located in Arcadia, OK.