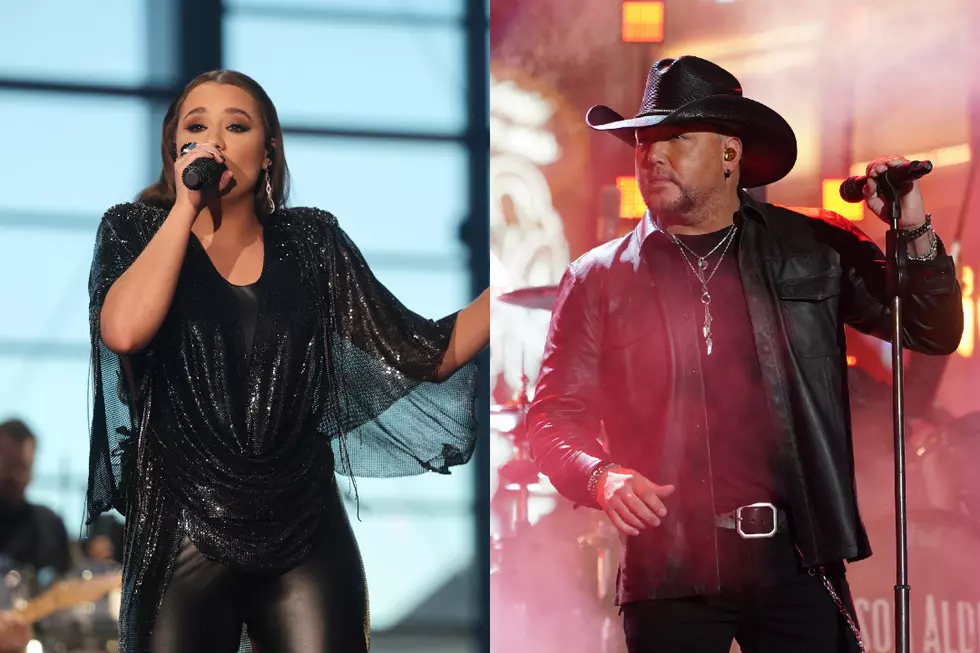 Gabby Barrett Opens Up About Touring With Jason Aldean While Pregnant With Second Child: 'I Just Took It Week by Week'
Rich Fury, Erika Goldring, Getty Images
Gabby Barrett did it. The country music hitmaker of songs including "I Hope," "The Good Ones" and "Pick Me Up" safely made it through the entirety of Jason Aldean's Rock N' Roll Cowboy Tour while carrying her second child safely in her growing belly.
And her husband, Cade Foehner, couldn't be more thrilled.
"My husband is always like, 'Oh, I'm so scared,'" Barrett tells Taste of Country of her fellow American Idol alum. "He always thought I was going to fall on the thrust that goes out from the stage. But I'm just like, 'I got this.' And I haven't fallen yet."
Barrett never let her pregnancy get in the way of putting on an amazing show for her loyal legion of fans.
"It just gets harder to breathe and it's harder to have vocal control and all of those things," explains Barrett, who will join the Kane Brown tour next spring alongside Dustin Lynch and LoCash.  "I kind of had to find ways and little tactics around it to make sure that we were still putting on a good show, though. I just took it week by week."
While she was up on stage, Barrett says she could literally feel the support she received from the fans below.
"I appreciate the support very much from everybody," remarks Barrett. "I don't really tell people how far along I'm in the pregnancy, so I definitely had to show the crowd every once in a while that I had an actual baby in there."
Barrett says she also appreciated the support she received from Aldean and his wife, Brittany.
"Jason and Brittany are very chill, very relaxed people," says Barrett, who currently stars with her own husband in the music video for her single "Pick Me Up."
"I know Brittany sometimes comes out on the road. I don't think she comes up every single weekend, so I wasn't able to talk to her too much. We talked for a couple minutes in the very beginning of the tour, but yeah, I would love to continue that relationship."
Meet the Country Babies Born in 2022
Many of country music's biggest stars have welcomed new bundles of joy in 2022. Find out which artists have expanded their family or are expecting babies this year.