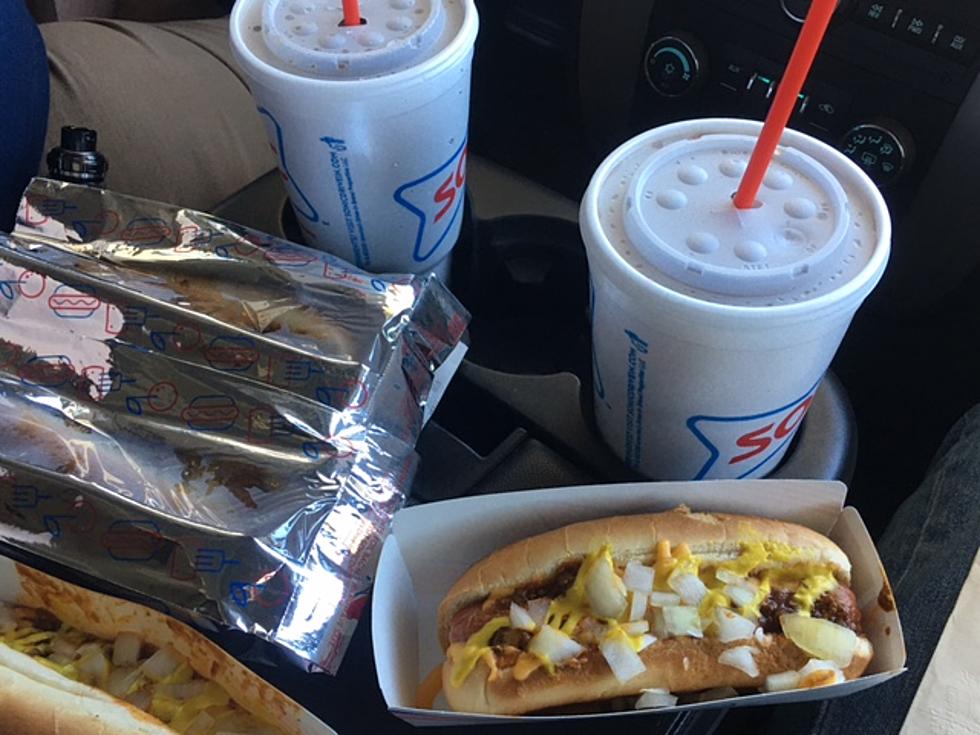 Get Your $1.00 Hotdogs at any Lawton Sonic Drive-In Today
TSM Lawton: Critter
Today's the day, get your $1.00 hotdogs at any Lawton, Fort Sill Sonic Drive-In. We loaded up the truck and headed to Sonic for lunch this afternoon and took full advantage of this limited-time offer. I hate to admit it, but after 3 hotdogs with tatter tots, I'm stuffed. Not so stuffed that I won't go back this evening for dinner though. It's not every day you can get a $1.00 hotdog at Sonic so you have to loosen the belt a little.
The $1.00 hotdog deal is for the Chili Cheese Coney, All-American Dog, and even Corn Dog. So basically any hotdog/corndog except the Footlong Quarter Pound Coney. They only do this a few times each year so when it happens you have to make the absolute most of it. So make plans now to stop by any of the local Sonic Drive-Ins in Lawton, Fort Sill, or any participating location to get your dollar dogs today. Spread the word.
wwwIt gets even better if you have the Sonic app. If you use the app and order online drinks are 1/2 off anytime day or night. So no more having to wait until "Happy Hour" if you use the mobile app, or order on the official website. Plus if you download and use the app you can earn points towards FREE menu items and they always have special offers and discounts on the app as well. You'll save time and money with the app.
I don't know about you, but I'll be heading back to Sonic Drive-In this evening for some more $1.00 hotdogs, while I still can. More than likely I'll go to the Sonic on Lee Blvd. For whatever reason it's my favorite Sonic in town and in my honest, humble, non-bias opinion, it's the best one in town too. They always get it right!
Things To Do In Lawton - Fort Sill
Odds are, if you live here long enough, you'll simply forget how much awesomeness surrounds this community. It's like getting tired of an old toy, the new simply wears off... but, no matter what time of year it is, here are some things to do when you come to Lawton - Fort Sill
The Top Ten BBQ Joints In Texas
There's so much competition at the top of this list, it'd only be fair if you took a drive to try each and every one.
Where To See Fall Colors In Oklahoma
Whether it's the feeling you get when you see falls warm colors in the trees, or the comfort of a memory you recall from a younger time in your life, there are places in Oklahoma to see the beauty of autumn.
The Weirdest Stoplight Locations In Lawton
Driving around town, a person might logically assume the stoplight locations were picked by throwing darts at a map of Lawton. Here are some of the standout, more oddly placed traffic control devices.