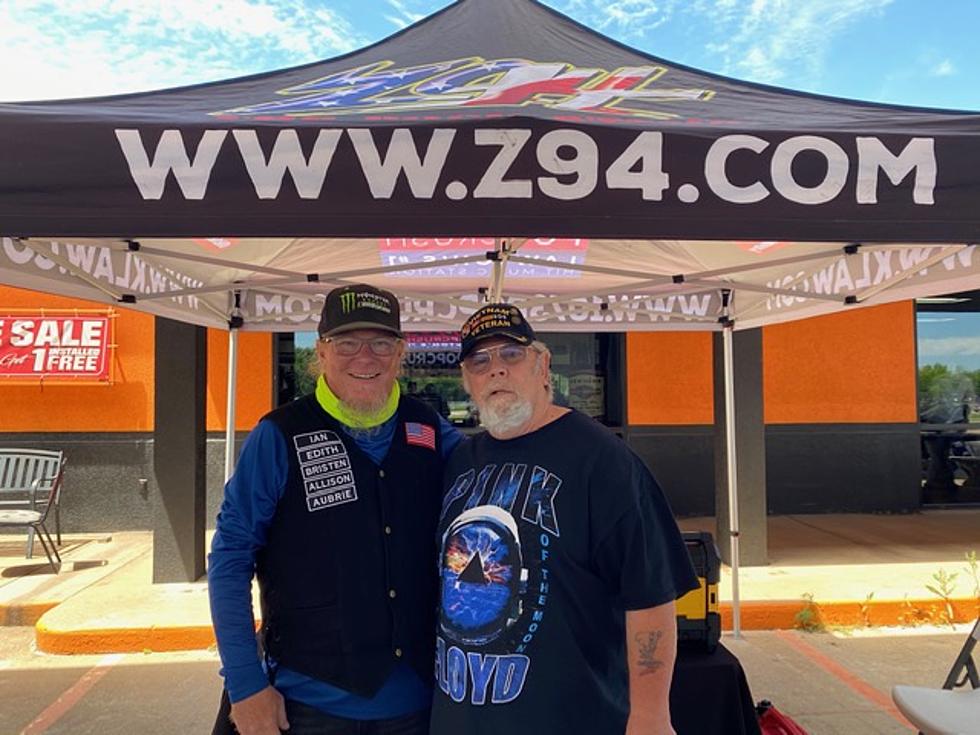 Help the Kids of Lawton, Fort Sill Donate to the Ride for Change Today!
TSM Lawton: Critter
The Ride for Change returned to Lawton, Fort Sill today (05-06-21) thanks to Diamondback Harley Davidson! My twin brother from a different mother and fellow broadcasting blood brother Frank Pain is in town making his annual visit. This year The Ride for Change is raising awareness and funds to assist low income families with children who want to participate in school band and music education, but don't have the means to do so. We hope to raise enough money to help every kid who wants to be a part of their school's band program.
The gentlemen pictured below on the left stopped by and made a $100.00 donation to the cause. We really appreciate it and his service to our country! He's a hero in more ways than one that's for sure. We had a great time hanging out and handing out the swag, t-shirts, stickers and anything else that wasn't bolted down.
Frank Joined Kelso and myself earlier today at Diamondback Harley Davidson 301 S.E. Interstate Drive from 11:00am to 1:00pm for a live broadcast. A BIG THANKS to all the members of the loyal, royal Z94 Army and Unsilent Majority who reported to duty, hung out with us and made donations, we really appreciate it! 100% of the money raised will stay right here in Lawton, Fort Sill to help local kids who want to be a part of their school's band programs the ability and funds to do so. It's a good time and for a great cause!
If you were unable to stop by and see us at Diamondback Harley Davidson today, no problem. You can still do your part to help out and make a donation by clicking here to visit the official Ride for Change "Go Fund Me" site. Every little bit helps and goes to fund the cause. You can also make a donation by using CashApp: $therideforchange. Let's help local and area children get the money they need to enroll in school band and music education programs. Thanks again to everyone who's already donated, a HUGE THANKS to Diamondback for all they've done and continue to do for The Ride for Change and of Course much thanks and appreciation to Frank Pain for making the ride and spearheading this whole effort to help the kids!

CHECK THEM OUT: States With the Best and Worst Commutes