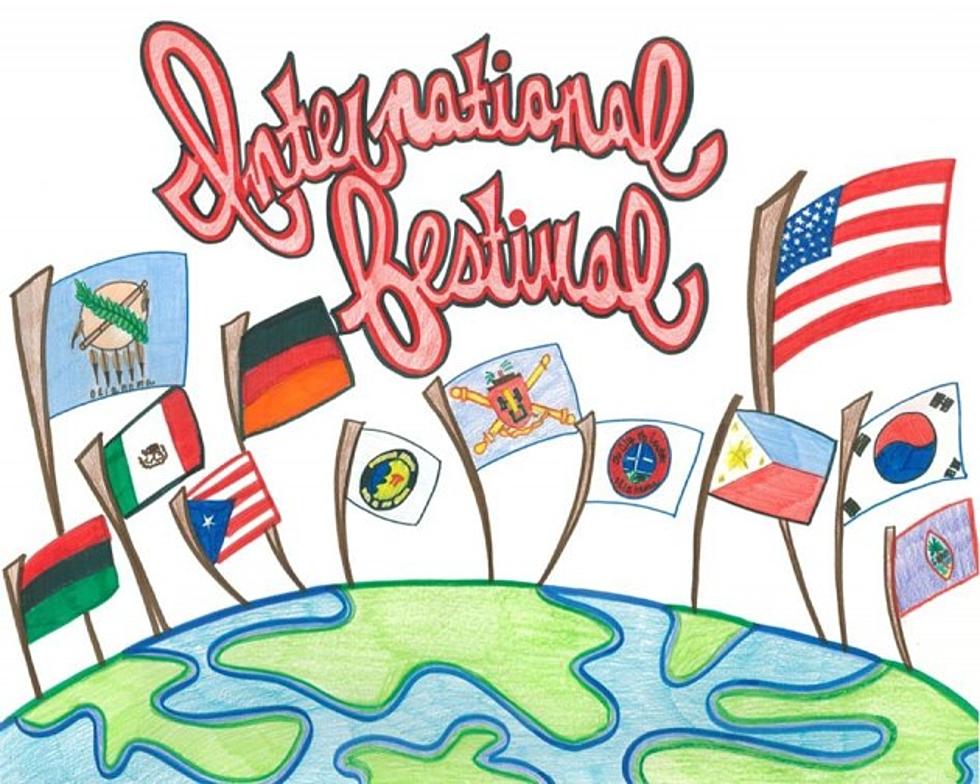 International Festival 2014 This Weekend
City of Lawton
The International Festival is a Multicultural/Family orientated 3-day event, Est. 1979, promotes greater awareness and appreciation of Lawton's diverse heritage. Festival located in Elmer Thomas Park, 3rd & NW Ferris Avenue, Lawton, OK. Over 3-day event, attendance average range is 36,000. Hours: Friday 5 to 10pm, Saturday 11am to 10pm, and Sunday I2 Noon to 5pm. 5:45pm, Friday, Parade of Nations followed by Opening Ceremony, 2nd Street Stage (South) w/ Naturalization Ceremony.
Free Admission & Parking
Children's Area w/ free games & activities sponsored by International Festival Committee

11am – 6pm Sat & 12Noon-5pm Sun: Making Chinese masks, African Necklaces, Amazonian Rain Sticks, Japanese Carp Kites, USA mats, Mexican Paper Flowers, & Tahitian headdresses.
Other activities include hula hoops, giant bubbles, parachute toss & hopping bouncy balls.

"Free Park & Ride Shuttle Service", McMahon Memorial Auditorium, 801 NW Ferris Ave to festival site & back. Fri, 5 - 10pm; Sat, 11am-10pm & Sun, 12noon - 5pm.
Information Booths, First Aid, & ATM
Over 70 Food, Sales & Display Vendors
Special

Telescope Star Gazing with Hank Poppe, Dusk to 10pm, Friday & Saturday
Lawton-Ft. Sill W5KS & KF5CRF Amateur Radio Club
OK Army Nat'l Guard - Rock Wall
Society for Creative Anachronism (Sat)
Sunday 1-5pm, Interactive Area, Mexican Folkloric Dancers hosts Free Kites until supplies are gone. Teaching how to make Cascatarones (confetti egg), Ojo de Dios, & Piñatas
David Wonders festival grounds performer, with balloon art & comedy/street magic.
2 stages

25 Volunteer Performing groups (300+)
77th Army Bands: Costello's Own & Fuego N' Klave
Friday Night Concerts @ 8pm

Brave Combo, 2x Grammy Award-winning band, World music Mix, 2nd St Stage
The Dirty River Boys, classic folk & hints of bluegrass w/ a modern rock edge, Lake Helen Stage

Saturday Night events at 8pm

"Int'l Street Dance w/ DJ", 2nd St Stage
Matt Stansberry & The Romance, Modern day 10-piece high energy retro band Motown soul, Lake Helen Stage
 Interactive Area – Various activities
POSTER WINNER - Sheri Denning 
The International Festival Committee's annual poster design competition to select the artwork that best represents the festival's mission.  All submissions are on display in the lobby of McMahon Memorial Auditorium until the festival in September 
"fuses classic folk and hints of bluegrass with a modern rock edge.", Lone Star Music 

CD, "Science of Flight" has been described by them as Western, Fat, and Rock and Roll.

Brave Combo, 2nd Street Stage (South), www.brave.com

Two-time Grammy Award Winner for Polkasonic and Let's Kiss CD & have been nominated for their work seven times.
Perfected a world music mix that includes salsa, meringue, rock, cumbia, conjunto, polka, zydeco, classical, cha cha, the blues and more.
Music used films, TV ("The Simpsons", Ugly Betty, & More), musical score for PBS's award-winning series, "As the Wrench Turns".

Saturday Night, 8pm

Matt Stansberry & The Romance, Lake Helen Stage (North) - www.mattstansberry.com

Original 10-piece high energy retro band inspired by 50s rock and 60s Motown soul!
Full horn section, soulful and engaging background singers and a fun show that would be perfectly at home in Memphis or Motown.
Featured at many top festivals and events including Austin's SXSW, NYE Opening Night OKC, Center Of The Universe Festival, Norman Music Festival, & Charlie Christian International Festival.
Touring in support of their latest recording, "Crash Landing".
FESTIVAL VOLUNTEERS NEEDED
Besides having fun, volunteering offers opportunities to meet new people, gain valuable experience for your resume or college application, community visibility for your organization or business as well as it is a great bonding experience for your family or group! To find out more about various volunteer activities, call the Arts & Humanities Div. office at 581-3470 or 581-3471.
INTERNATIONAL SPORTS FESTIVAL DAY
Contact Reggie Seaton at 581-3400 for more information.
For public parking, enter the park at 3rd & NW Ferris Avenue. Also, "Free Park & Ride Shuttle Service" will be available from the McMahon Memorial Auditorium, 801 NW Ferris Avenue to the festival site and back.
For public safety due to festival stage traffic, a portion of the Elmer Thomas Park's concrete walking path along Lake Helen will be closed to general public. Park patrons are welcome to walk the festival grounds.
Festival goes on rain or shine and some events may be subject to change without notice.
Festival committee respectfully requests that all visitors refrain from bringing pets (only service animals), bicycles, skateboards and alcoholic beverages.
Call 58 l-3470 or 58I-347I for more information or visit the website www.cityof.lawton.ok.us/lahc.