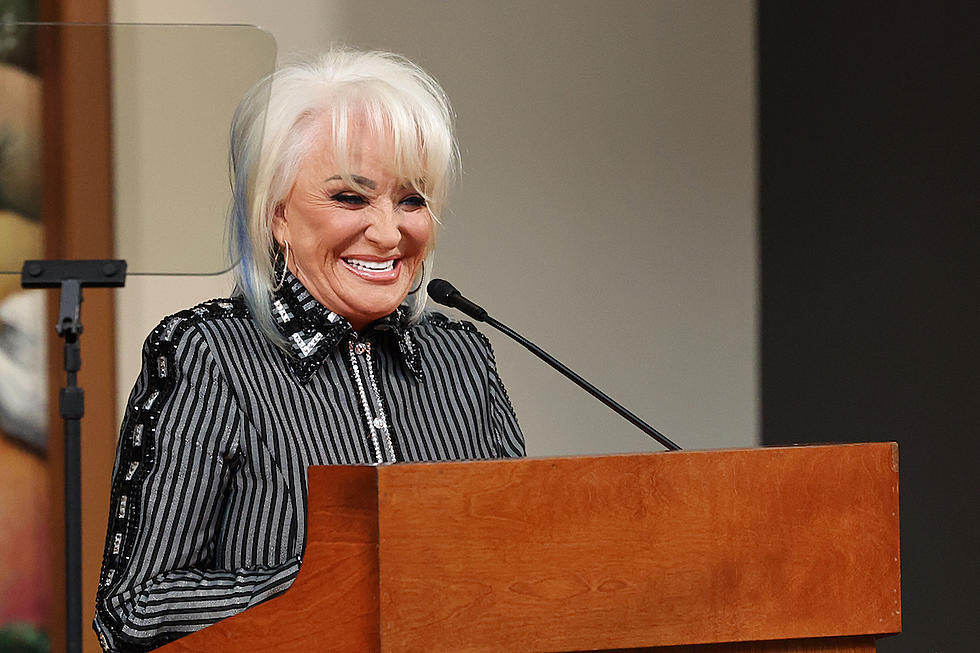 Tanya Tucker Readies New Album, 'Sweet Western Sound'
Terry Wyatt, Getty Images
Two days after she was named among the 2023 inductees to the Country Music Hall of Fame, Tanya Tucker has announced the release of her next album, Sweet Western Sound. The project finds Tucker teaming up once again with Brandi Carlile and Shooter Jennings, who co-produced the singer's 2019 project, While I'm Livin'.
Sweet Western Sound is set to arrive on June 2 via Fantasy Records. Before release day, fans can listen to the leading track, "Kindness," which is out on Wednesday (April 5) to coincide with the album announcement.
"Sweet Western Sound is another revelation and I'm excited to see what folks think of our new endeavor," Tucker says in a statement. "It's ALWAYS a trip working with Brandi and Shooter. I didn't know if we'd be working together again on a new album after While I'm Livin'!! But we did it!"
Carlile and her collaborative partners and bandmates Tim and Phil Hanseroth co-wrote several of the tracks on While I'm Livin', but Tucker herself is only a co-writer on one of that project's tracks, "Bring My Flowers Now." She spent more time in the writing room for Sweet Western Sound: In fact, Tucker had a hand in penning four of the album's 10 songs.
"Lots of new things we did this time and I even co-wrote some of the songs, which means a lot to me," she continues. "Brandi says we're MAGIC together, and I'm starting to believe her!!!!"
Other heavy-hitting songwriters on the track list include Bernie Taupin, JT Nero, Billy Don Burns and Craig Dillingham. The late Billy Joe Shaver — a legendary performer and close friend of Tucker -- also contributed to the album, as a lyric crafted from a voicemail opens and closes the project. Sweet Western Sound's opening song, "Tanya," was co-written by Shaver and Tucker, according to the album credits.
Tucker has booked two nights at Nashville's Ryman Auditorium, for shows that take place right after release day, on June 3 and 4. Tickets go on sale Friday (April 7), and Sweet Western Sound is available to pre-order now.
Tanya Tucker's Sweet Western Sound Tracklist:
1. "Tanya" (written by Billy Joe Shaver, Tanya Tucker)
2. "Kindness" (written by Tim Hanseroth, Phil Hanseroth)
3. "Breakfast in Birmingham" featuring Brandi Carlile (written by Brandi Carlile, Bernie Taupin)
4. "Waltz Across a Moment" (written by Shooter Jennings)
5. "Ready as I'll Never Be" (written by Brandi Carlile, Tanya Tucker)
6. "The List" (written by Brandi Carlile, Tanya Tucker)
7. "Letter to Linda" (written by Tanya Tucker, Shooter Jennings)
8. "City of Gold" (written by JT Nero)
9. "That Wasn't Me" (written by Brandi Carlile, Tim Hanseroth, Phil Hanseroth)
10. "When the Rodeo Is Over (Where Do the Cowboys Go?)" (written by Billy Don Burns, Craig Dillingham)
Top 20 Tanya Tucker Songs - The Best Hits and Deep Cuts From a Legendary Career
There are a few artists who've dropped hit songs in five straight decades, but not many.
Tanya Tucker
has been an essential country artist for more than 50 years, starting with "Delta Dawn" in 1972. These are her 20 best songs, per readers and staff, with an assist from
Billboard
's country charts and the Grammys.
She's That Kind of Girl: The Top 20 Patty Loveless Songs
From classic earworms to soulful ballads, Kentucky-born country titan Patty Loveless can do it all. Here are 20 of her best songs.