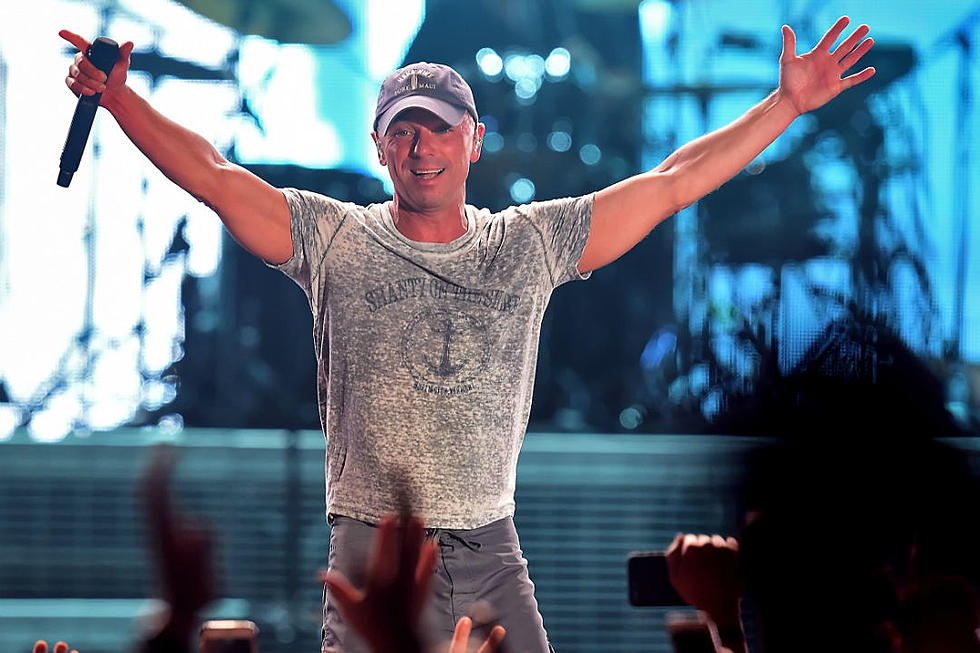 Everything We Know About Kenny Chesney's New Album, 'Live in No Shoes Nation'
Kevin Winter, Getty Images
In 2017, Kenny Chesney made the decision to "pull back just a little bit" from road life; instead of embarking on a major tour, he played only a few select shows. He spent some of his downtime, then, listening to recordings of previous live shows ... and what he heard was enough to compel him to create a 30-track (yes, thirty tracks!) live album, Live in No Shoes Nation.
With a title that's a nod to his fervent fan base and a song list that's packed with big-name collaborations, Chesney's upcoming live album captures the audience energy that thrills the country star every time he walks onstage.
"I always say, no matter how hard we hit that stage and hurl the music at them, No Shoes Nation has so much energy and so much heart, they come back at us even harder, but when you can sit and really listen, it's shocking," Chesney says in a press release. "They are so loud, so in the moment, and put out so much awesomeness, it stopped me in my tracks -- and reminded me why I feel most alive out there on that stage."
Below, The Boot rounds up all of the information available so far about Chesney's Live in No Shoes Nation.
The Title
The title Live in No Shoes Nation gives a nod of recognition to the millions of fans who have followed Chesney on his epic journey. The artist says that No Shoes Nation is more than a fan club or an idea: "No Shoes Nation is more than a state of mind," Chesney explains. "It's the place we all come together for the music, the fun and each other."
The Release Date
Live in No Shoes Nation is set to drop on Oct. 27, almost 10 years to the day from when the earliest recording on the project was captured. That song is a collaborative medley with Dave Matthews, and it took place at the end of Chesney's 2007 Flip-Flop Summer Tour.
The Record Label
Live in No Shoes Nation will be released on Chesney's own Blue Chair Records, a Columbia Nashville imprint. Chesney created the label in 2012 to allow himself more creative license.
The Album Cover
The cover of Live in No Shoes Nation is a shot of Chesney in action at Arrowhead Stadium in Kansas City, Mo., in July of 2016. He's sporting a Kansas City Chiefs tank.
The Producer
Chesney produced Live in No Shoes Nation with the help of his longtime co-producer, Buddy Cannon.
The Single
Thus far, Chesney has not released a single from Live in No Shoes Nation. It is unclear if he will do so.
The Songs
Live in No Shoes Nation includes 30 tracks, recorded over a 10-year period. The tracks are recordings of some of Chesney's greatest hits, as well as recordings of a handful of obscure treats that haven't made it onto an album yet.
In addition to a version of "Big Star" that features Taylor Swift and a rendition of "Save It for a Rainy Day" with Old Dominion, Chesney is also including the rarely heard "I'm Alive" and "Happy on the Hey Now," as well as the Bruce Springsteen cover "One Step Up." There are a number of other special guests on the record as well.
"When I told the record company how many songs, they thought I'd lost my mind," Chesney says. "And that was before we added "Young," which really started and defined this chapter, to the list!"
Kenny Chesney, Live in No Shoes Nation Track Listing:
1. "Flora-Bama"
2. "Summertime"
3. "Big Star" (with Taylor Swift)
4. "Boston"
5. "When I See This Bar" (with Eric Church)
6. "No Shoes, No Shirt, No Problems"
7. "Anything But Mine"
8. "Down the Road" (with Mac McAnally)
9. "Guitars and Tiki Bars"
10. "Hemingway's Whiskey"
11. "Everybody Wants to Go to Heaven" (with Zac Brown Band)
12. "I'm Alive"
13. "Save It for a Rainy Day" (with Old Dominion)
14. "Pirate Flag"
15. "Somewhere With You"
16. "I Go Back"
17. "One Step Up"
18. "American Kids"
19. "You and Tequila" (with Grace Potter)
20. "Young"
21. "There Goes My Life"
22. "Out Last Night"
23. "Dust on the Bottle" (with David Lee Murphy)
24. "Coastal"
25. "The Boys of Fall"
26. "Noise"
27. "Old Blue Chair"
28. "The Joker / Three Little Birds" (with Dave Matthews)
29. "Happy on the Hey Now"
The Tour
Chesney is making plans to hit the road for a summer tour in 2018: He's announced the first dates on his 2018 Trip Around the Sun Tour, which thus far includes 18 stadium shows.
Kenny Chesney's Best Beach Pics
How Well Do You Know Kenny Chesney?