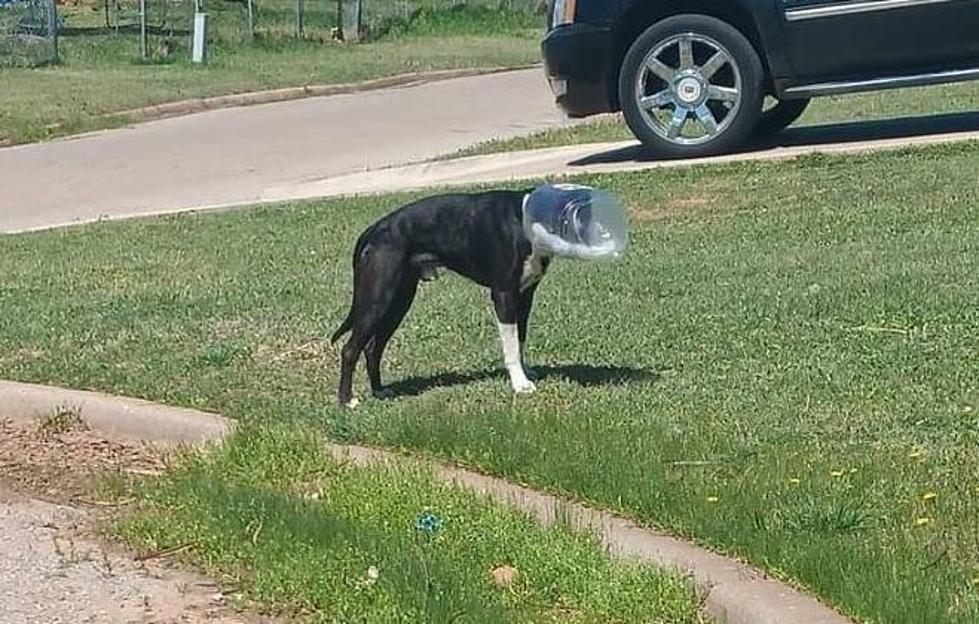 Lawton, Fort Sill Rallies to Help a Stray Dog That Has a Bucket Stuck on Its Head
Facebook.com- Lawton Grapevine (Chris McGath)
For the past 4 days, the good citizens of Lawton, Fort Sill have been trying to help a stay dog that has a bucket stuck on its head. Nicknamed "Buckhead" the poor dog hasn't been able to eat or drink for days now.
It all started back on Tuesday of this week (04-04-23) when the dog was first spotted. People attempted to help, but the dog kept running off, as you can imagine it must be very scared. So far no one can catch him.
SCROLL DOWN FOR MORE ON "BUCKETHEAD" AND HOW YOU CAN HELP
People have organized on the local Facebook group Lawton Grapevine meeting up to try and help the dog. Unfortunately, at this time no one has been able to catch him and remove the bucket that's stuck on his head.
Time is running out. The longer he goes without food, water, and the ability to breathe properly the greater the health risk. Plus as scared as he is and running off when approached we don't want to see him run over.
For the past 4 days the story of "Buckethead" the dog has been the talk of the town
From the beginning, the Lawton Animal Welfare and the Humaine Society of Lawton have been notified and are doing what they can to locate and assist the dog. This along with all the volunteers who are out looking.
"Buckethead" has been seen near the baseball fields on 38th Street and roaming around it that general area. At least that's where he was last spotted. If you see him call Lawton Animal Welfare and notify them.
IF YOU SEE "BUCKETHEAD" CALL LAWTON ANIMAL WELFARE AT (580)-581-3219
You can also post it on Lawton Grapevine's public group page to let others know who are trying to help. Hopefully, someone will be able to remove the bucket soon, the poor dog has been stuck now for 4 long days.
To stay up to date with everything that's going on with "Buckethead" and sightings, check the Lawton Grapeview Facebook public group here. If you have any information please share it and let's help this dog.
Weird and Wild Pets You Can Have In Oklahoma
When it comes to the topic of exotic and wild animals in Oklahoma, there is a very short list of things you can't own as a pet... but there are ways around almost all the red tape in the Sooner State.
Look inside this Lawton, OK. 1.5 million dollar mansion
Take a quick virtual tour of this massive 1.5-million-dollar mansion in Lawton, OK. It's one of the largest, most luxurious, and most expensive homes on the market right now. It's truly a one-of-a-kind property that boasts 4 bedrooms, 5 bathrooms, and 5,900 square feet on 2 acres. It's located at
350 North West Hillary Road in Lawton, OK.
and for
$1,500,000
it could all be yours! This impressive home is one of the most epic estates on
Zillow.com
. It's currently listed by
Barry Ezerski
of
RE/MAX Professionals
.
Scroll through the photo gallery below and take a peek inside this 1.5-million-dollar mansion for sale in Lawton, Oklahoma.
Fun Kid Friendly Oklahoma Vacation Destinations
There is a ton of stuff to do in Oklahoma that you and the kids will love, you just have to know where to find that stuff and have the gumption to hop off the couch and go do some of it.
Getaway, Relax, Unplug & Unwind at Oklahoma's Premier & Most Luxurious "Glampgrounds" Located in Lawton, OK.