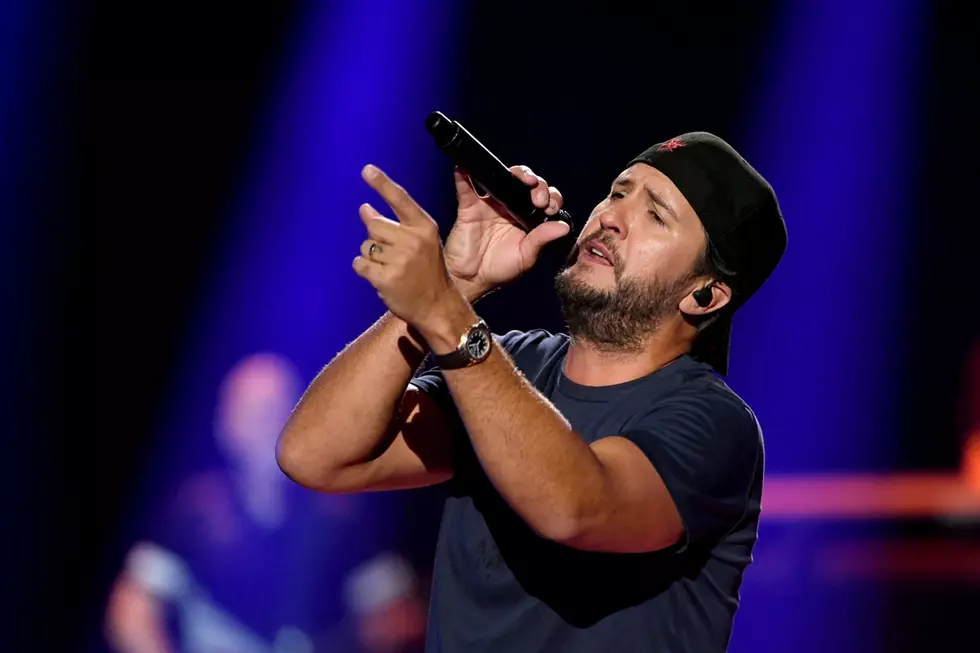 10 All-Time Best Luke Bryan Songs
Kevin Winter, Getty Images
Luke Bryan's songs are honest, easy-to-digest observations of life and love, with heaping doses of the Entertainer of the Year's boyish personality added for extra flavor. He's an absolute original, capable of turning a goofy story into one we all can't wait to hear again and tell our friends.
Now six albums into a career that shows no signs of slowing down, Bryan has more than enough singles and memorable deep cuts to compile a Top 10 list. Sales and chart data were used to arrange many of these songs, but fan and staff opinions were also heavily considered.
10

"Do I"

From 'Doin' My Thing' (2009)

The placement of "Do I" on this list of the 10 Best-Ever Luke Bryan songs may be more controversial than any others. It was a huge hit for the singer, one that arguably helped his career as much (or almost as much) as "Country Girl." However, the ballad is beaten out by sharper love songs that came on followup albums. The No. 10 ranking of this song speaks more to the strength of this list than the strength of this song.

9

"Strip It Down"

From 'Kill the Lights' (2015)

Has Luke Bryan ever been sexier? This second single from Kill the Lights is a one-on-one love song that finds a groove the singer has never rested in before. It's the signature song from this fifth studio album and an easy addition to this 10 Best-Ever Luke Bryan Songs list.

8

"Crash My Party"

From 'Crash My Party' (2013)

The title track from Bryan's 2013 album was another big hit for a man who had, by that point, truly found his groove. Songs like "Crash My Party" are so effective because they're filled with things the average country Romeo would say, and Bryan represents that everyman in the best way. "Crash My Party" was the lead-off single to the album by the same name and glided into the no. 1 slot on the Billboard Country Airplay chart, solidifying Bryan's position as one of country's biggest names.

7

"Fast"

From 'Kill the Lights' (2015)

"Fast" is a sentimental ballad musing about the irony of our longing to grow up quickly contrasting with our desire later in life to slow it all down. The nostalgic approach is something everyone can relate to, and Bryan even contemplates on a personal level, shown through his own photos in the music video. The song is the sixth single from Kill the Lights, marking his 18th No. 1 and making history as the first artist to ever have six No. 1s from the same album on the Billboard Country Airplay chart.

6

"Huntin', Fishin' and Lovin' Every Day"

From 'Kill the Lights' (2015)

This slow-rolling Southern boy anthem is a tribute to the lifestyle Bryan grew up with, and many of his fans can relate. "Huntin', Fishin' and Lovin' Every Day" was written by Bryan with Rhett Akins, Dallas Davidson and Ben Hayslip (a.k.a. the Peach Pickers) — appropriate choices for a song about life in rural Georgia — and it's featured on his 2015 album Kill the Lights. Serving as the record's fourth single, the song slid into the no. 1 slot on the Billboard Country Airplay charts in 2016. Fans who connect with Bryan certainly connect with this tune, so it's no wonder it was Bryan's 14th career No. 1.

5

"Most People Are Good"

From 'What Makes You Country' (2017)

"Most People Are Good" is Bryan's most recent hit, but it's already become one of the most important songs of his career. Bryan names the song his favorite from his most recent album, What Makes You Country, and the song's universal message of inclusion has resonated with listeners from all walks of life. The uplifting message is one that fans can turn to again and again.

4

"All My Friends Say"

From 'I'll Stay Me' (2007)

Bryan introduced himself as something of a hell-raiser with "All My Friends Say" in 2007. For the most part, he's backed away from his partying ways in favor of lighthearted love songs, but his early fans know he is capable of tearing it up after dark like the rowdiest country boys out there. Like so many singers who are able to sustain a hitmaking career, Bryan's first single is still among the best.

3

"Drunk on You"

From 'Tailgates and Tanlines' (2011)

The third single from Bryan's Tailgates and Tanlines album further proves that his best moments come in the moment. Few can describe love at first sight quite like this singer can, and like he does in his irresistible song from 2012. "Girl, you make my speakers go boom boom / Dancin' on the tailgate in a full moon," he sings to begin the chorus. He's never Mr. Smooth, which may be why both men and women can relate to his music so well.

2

"Drink a Beer"

From 'Crash My Party' (2013)

What may seem by its title like just another stereotypical country song is actually a poignant ballad — a lament over a lost loved one, felt to the core. Co-written by Chris Stapleton, who also provides soulful background vocals, the song tells the story of a person wrecked by the news of a person's passing, so much so that he can't figure out what to do other than sit quietly and drink a beer. Bryan delivers the song with an honesty that only comes with having been through the experience himself and resonates deeply with fans, knowing Bryan has lost both of his siblings. The song appears on his 2013 record Crash My Party and was his seventh No. 1 hit.

1

"Country Girl (Shake It for Me)"

From 'Tailgates and Tanlines' (2011)

"Country Girl" is the most important and catchiest song of Luke Bryan's career. It was after this Top 5 hit peaked that his career went boom-boom. Performances at the CMT Music Awards and other national showcases caught the attention of many who didn't already know he had one of the best male shakes this side of Las Vegas. Lyrically and sonically, this will forever be Bryan's signature tune.