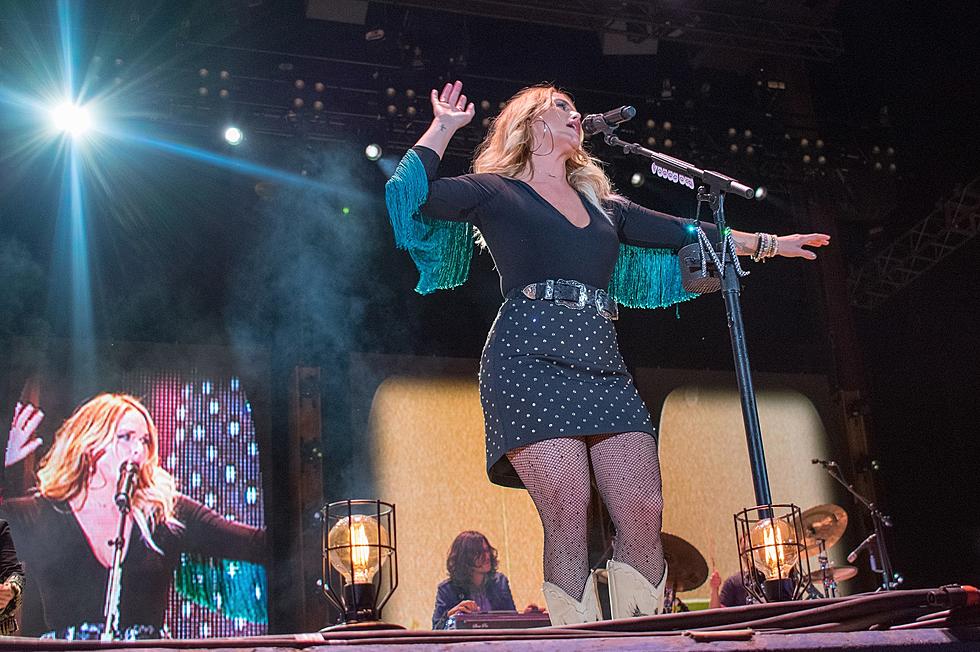 Review: Miranda Lambert Stuns at 2017 Off the Rails Festival [PICTURES]
Amy McCarthy, The Boot
It's hard to imagine ascending to a peak higher than the one on which Miranda Lambert currently sits. On Saturday night (May 6), as she headlined the first night of the 2017 Off the Rails Country Music Festival at Toyota Stadium in Frisco, Texas, the reigning ACM Female Vocalist of the Year further cemented her place as the genre's most dynamic performer.
Lambert took the Off the Rails stage, as the night's co-headliner, to a massive roar of approval from the crowd; as she launched into "Kerosene," the title track from her major-label debut album, those cheers intensified. For folks in North Texas, who have been in love with Lambert since she got her start playing venues in the area even before her appearance on the TV singing competition Nashville Star, it's always a homecoming of sorts when the girl who headed off to Nashville to hit it big comes back to the Lone Star State.
Lambert quickly switched gears to "Highway Vagabond," from The Weight of These Wings, her much-lauded 2016 double album. When she's performing her new material, Lambert looks as though she's happier and more comfortable than ever, while exuding the confidence she's always had in front of an audience. As she played, Lambert bounced around the stage, the turquoise fringe on her black top dancing around her.
During her hour-and-a half-long set, Lambert was also uniquely vulnerable: She talked about her 2015 split from Blake Shelton briefly, and thanked her fans for sticking with her throughout the tabloid drama (as if anyone in the crowd, the members of which knew every word to every song, would have even considered ditching her!). As the opening notes of "Ugly Lights" played, Lambert recalled a dark time after her divorce when she was spending "three or four nights a week out at bars."
The most emotional moment of the night, however, came during Lambert's encore: After plowing her way through much of her catalog, the country superstar briefly said goodbye to the crowd before returning to perform "Tin Man" with just her guitar and that unparalleled voice. Lambert asked the packed house to keep it quiet as she sang a stripped-down version of the song, reminiscent of her show-stopping performance at the 2017 ACM Awards; the crowd obliged, giving Lambert enough silence to fully deliver the wrenching, heartbreaking gut-punch that is "Tin Man."
This vast emotional range is what makes Lambert such a dynamic performer. Whether she's dancing around to "Little Red Wagon" or playing the enraged, battered protagonist of "Gunpowder & Lead," or just singing her heart out with a guitar, it's hard to not be completely enraptured by her stage presence. She looks radiant and sounds as though she's having a whole hell of a lot of fun up there -- and that's always a pleasure to watch.
The first day of the 2017 Off the Rails Country Music Festival was jam-packed with country goodness, including performances from Rodney Atkins, Tyler Farr, the Turnpike Troubadours and Lambert's co-headliner, Justin Moore. Before Lambert took to the stage, Moore amped up the crowd with performances of his chart-topping hits such as "Small Town USA," and crowd-pleasers such as "You Look Like I Need a Drink;" the latter was an anthem for the hordes of country fans slugging back plenty of cold beer under the Texas sun.
Just shortly after performing his song "More Middle Fingers," Moore shifted the tone of his set, as held his youngest daughter, Rebecca Klein -- his two older daughters were waiting backstage, a little too shy to come out and face the crowd of thousands -- and took a moment to thank the crowd for giving him an opportunity to provide for his family while playing music. Even the hardest of hearts softened a little bit when Moore and his daughter said, "I love you so much!" to each other into the mic.
Miranda Lambert's Best Live Shots
You Think You Know Miranda Lambert?