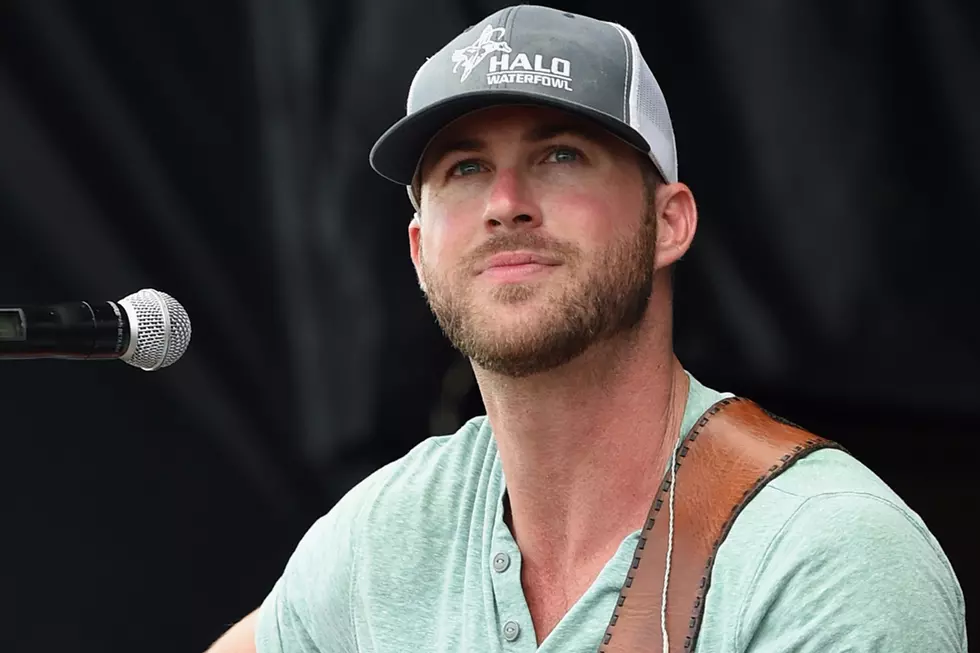 Riley Green Is the Newcomer to See Live This Fall
Rick Diamond, Getty Images
Riley Green never intended to have a career in music, but after seeing him live, you'd be hard-pressed to envision him doing anything else. The Alabama native brought his Outlaws Like Us Tour to Nashville's Marathon Music Works on Friday (Oct. 5) for a dynamic headlining performance that played well past midnight.
Blending a diverse set of covers and originals, the "There Was This Girl" singer had the rowdy crowd singing along and raising their drinks in the air for more than 90 minutes.
Green – dressed casually in jeans, a T-shirt, ball cap and cowboy boots – immediately grabbed the venue's attention alone on acoustic guitar, kicking off his set with a stripped-down cover of Bruce Springsteen's "Atlantic City." His band joined in later, segueing into fan favorite "Runnin' With an Angel" with mesmerizing slide guitar accompaniment before arena-ready anthem "Man Like Me," which Green dedicated to the rednecks in the crowd. A rock-fused country song that brings to mind the rock edge of Jason Aldean with the authenticity and traditional country roots of Justin Moore, "Man Like Me" would no doubt do well played to a stadium crowd, too.
With a mix of covers and originals, Green made each song uniquely his own. He had the crowd screaming along with his commanding interpretation of Jamey Johnson's "In Color," as well as a '90s country portion of the set, which included spirited performances of Shenandoah's "Two Dozen Roses," Joe Diffy's "John Deere Green," Toby Keith's "Should've Been a Cowboy" and Alabama's "Dixieland Delight."
Green is clearly an artist on the cusp of stardom — he held his audience in the palm of his hand the entire evening. Though he's new to the mainstream spotlight, he has several EPs under his belt, so his fans knew every word of every song he performed, and Green frequently gave his gratitude to them.
"I moved to Nashville and I signed a publishing deal and signed a record deal thanks to folks like y'all buying my stuff and downloading my single," he said.
As a songwriter first, Green frequently shared the stories behind his songs. "Get That Man a Beer" was written about "the dude that stole my girl and then she screwed him over." He'd also bring out several of his co-writers throughout the night to perform collaborations. He told the audience he was a big fan of songwriters and seeing them sing their songs, and he thought his fans would also like to see who helped write much of his catalog with him.
Songwriter Jonathan Singleton joined Green on the infectious "Same Old Song," while Jessi Alexander provided her sultry vocals on a soulful new heartbreak tune called "Hard to Leave." Additional highlights included Randy Montana joining in on "That's How You Know," Erik Dylan taking the stage for the triumphant "Outlaws Like Us" and producer Dann Huff sharing his impressive guitar shredding skills during an instrumental jam with Green's band.
Additionally, Green told the audience that his concert staple "Bury Me in Dixie" has become much more than a song he wrote about his home state of Alabama.
"The more I play this song in the South and the Southeast and all over Georgia, I realize this isn't about the state of Alabama. This is a song about where everybody grew up," he explained.
It was a memorable set that included as much rock and country as it did heart and vulnerability with songs like "Break Up More Often" and "Georgia Time." Green's 90-minute show showcased his future stadium headlining power. On set closer and current single "There Was This Girl," he once again thanked his fans and left everything he had on the stage as he jumped into the crowd to shake hands and take selfies.
"I got a damn song on the radio!" he exclaimed while performing the track. "Thank you so much for supporting my music."
Green's Outlaws Like Us Tour runs through December.
The Best Country Songs of 2018 (So Far)