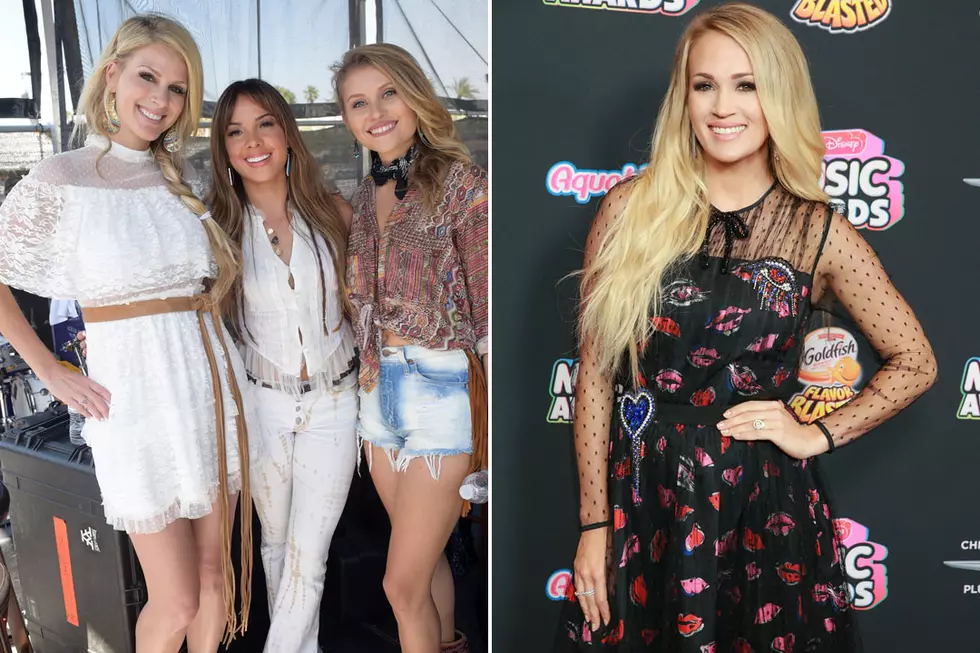 Runaway June Divulge Why Carrie Underwood Is the Most Gracious Tour Host
Getty Images (2)
Runaway June are on a break from Carrie Underwood's Cry Pretty Tour 360 right now, that doesn't mean the country trio have forgotten how amazing the powerhouse has been to them so far.
"She told us, 'If there is anything that you aren't comfortable with or isn't going smoothly, please tell me, because I have been on so many tours where something was going wrong and the artist just didn't know about it," Runaway June's Hannah Mulholland explains of Underwood during a recent interview with Taste of Country Nights. "She was just really encouraging and made sure that we had everything we needed."
Watch Runaway June Perform Their Debut Single, "Lipstick": 
In fact, the band says that Underwood has given them even more than they have needed.
"She lets us use the whole stage and she lets us have a soundcheck which is unheard of with an act her size," continues Mulholland, who — with fellow Runaway June members Naomi Cooke and Jennifer Wayne — will rejoin Underwood's tour on September 10 in California. "She lets her opening acts use the stage and have the time to check on it. She goes above and beyond."
With every stop, the ladies of Runaway June say they are learning a little bit more from the "Southbound" hitmaker. "I think it's about watching how she does stuff," Cooke shares. "We are learning so much personally and how she runs her show."
Last month, the country trio released their long-awaited debut album Blue Roses, which includes the group's hit single "Buy My Own Drinks." Runaway June are set to appear on Fox & Friends on Friday (July 12) as part of the show's All-American Concert Series.
Listen to Runaway June's Interview With ToC Nights,
Songs From Women You Need to Hear, Right Now: