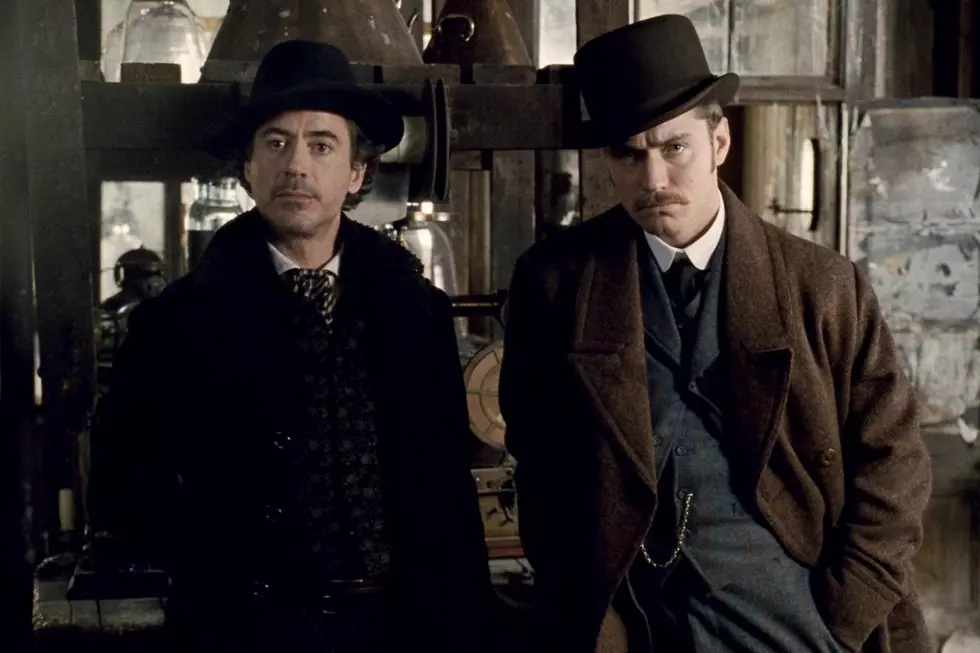 The Game's Afoot: Robert Downey Jr. Says 'Sherlock Holmes 3' to Shoot This Year
Warner Bros.
With the constant dull roar of buzz about whichever movie might be next in the eternal output of Marvel pictures, one could be forgiven for forgetting about the other fabulously successful franchise Robert Downey Jr. helped launch during the tail end of the '00s. Guy Ritchie's Sherlock Holmes envisioned the literary detective of note and his right-hand man Watson (Jude Law) as a pair of wisecracking bros, in the vein of a buddy-cop picture, with all the in-your-face kineticism we've come to expect from a film de Ritchie. The 2009 film made a smashing $524 million against its $90 million budget, and so a sequel was greenlit immediately. That one did pretty well, too — $545 million against $125 million — beginning the cycle anew once more.
A Sherlock Holmes 3 was imminent, but now Robert Downey Jr. has put it on a timeline. "We'll attempt to make one this year," Downey Jr. said during an interview with Shortlist magazine. "When we're making those Sherlock movies it is off the hook. It really a big deal to go and do those movies. I'm tired all the time, but I'm excited about it."
It's been a pretty long while since the last installment of Guy Ritchie's Sherlock Holmes franchise, with A Game of Shadows having hit theaters in 2011. But the cast and crew seem confident that they'll be embraced just as warmly this time around. Empire Online describes the still-untitled Sherlock Holmes 3 as "at an advanced stage of development," suggesting that if it does get off the ground before the year is up, It could be a studio tentpole for the holiday season, as both preceding films were released in late December.
Either way, it'll be good for Downey Jr. to get a break from tossing off smarmy one-liners as an iconic character by taking a role in a Sherlock Holmes movie directed by Guy Ritchie.