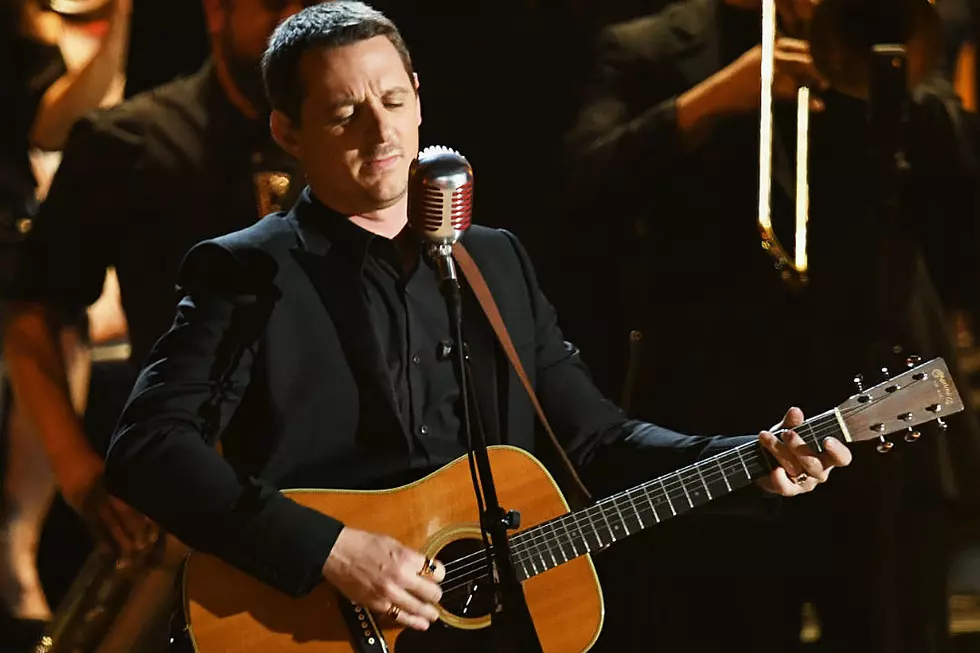 Sturgill Simpson Busks Outside Bridgestone Arena During 2017 CMA Awards
Not finding himself nominated at the 2017 CMA Awards, country outsider Sturgill Simpson took to the streets of Nashville to perform during the ceremony. Parked outside of the CMA Awards' home, Nashville's Bridgestone Arena, Simpson went live on Facebook to answer questions from fans, talk about politics and even play a little bit.
Simpson's stream-of-consciousness chat ranged from his disdain for boring interview questions and to his feelings on Trump: "He's a fascist f--king pig," Simpson says. "And I can say that at this point because anyone who supports him at this point is an ignorant f--king bigot."
A fan walked up to Simpson during the his live broadcast, and asked if he could request a song. The fan asked for "You Can Have the Crown," and Simpson said that he just doesn't play that tune anymore.
"When I wrote it, it was intended to be a satire of laundry list country songs," he explained. "I tried to sit down and write a laundry list country song that actually applied to my life. Right now, that's not the case anymore. My life's pretty great."
Later, Simpson performed impromptu versions of "Water in a Well" and his breakout song "Turtles All the Way Down."
A tip jar that's positioned next to him, Simpson said that he'd donate any funds raised during his impromptu busking session to the American Civil Liberties Union. A small crowd assembled near him, and he wasn't afraid to throw jabs at the CMA Awards happening nearby.
"I heard they were celebrating country music down here tonight, so I thought I'd come and play some," he said, adding that he'd take questions from the crowd because "fascism sucks." By the end of the broadcast, Simpson had raised a mere $13 for the ACLU, but more than 4,000 of his Facebook fans tuned in for the anti-CMA (and anti-Trump) diatribe.
While he wasn't nominated for an award at the CMA Awards, Simpson did prepare his own acceptance speech of sorts as he stood outside Bridgestone Arena, and it's really more of a pointed statement directed at the current political climate.
"Nobody needs a machine gun, and that's comin' from a guy who owns quite a few guns. Gay people should have the right to be happy and live their life any way they want to and get married if they want to without fear of getting drug down the road by a pickup truck," Simpson said. "Black people are probably tired of getting shot in the streets and being enslaved by the industrial prison complex. Hegemony and fascism is alive and well in Nashville, Tennessee. Thank you very much."
Simpson's live feed ended abruptly — likely because his phone, at 20-percent battery at one point in the broadcast, died — but not before he could snap a few more selfies at fans and flip the bird to the Nashville establishment as he busked on the street with his Grammys trophy for Best Country Album displayed prominently in his guitar case.
Top 10 CMA Awards Moments
Unforgettable CMA Awards Controversies