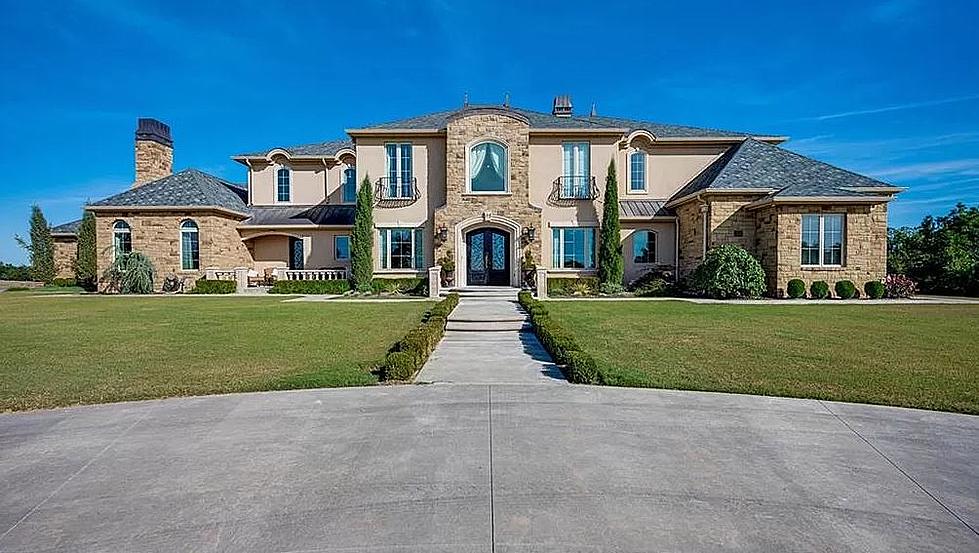 Take a Look inside This Insane Oklahoma Mansion That's for Sale
Nathan Barta- Ken Carpenter Realty.
You have to check out this insane mansion in Mustang, OK. that's for sale. I found it on Zillow.com browsing about looking at some of the biggest and best houses in all Of Oklahoma. There are quite a few of them.
This one right here has to rank at or at least very near the top. Normally you don't think of mansions when you think of Oklahoma, but we actually have a few. So if you're in the market for a mansion you're in luck!
It's located at 12300 S. Highway 4 in Mustang, OK. It's listed by Nathan Barta of Ken Carpenter Realty in Mustang, OK. It's a whopping 7,200 plus square feet two-story that has 5 bedrooms and 4.5 bathrooms.
It has a theater room, wine room, safe room, bar, sauna, a large office, 2 staircases, and 3 fireplaces. That's just part of it. Of course, there's a pool in the backyard and a 4 car garage. The property also has a 40X60 shop and large 110X45 building that features a 3 bedroom, 2 bath mother-in-law suite. This one's got it all!
To quote Jurassic Park "They spared no expense" when it comes to quality inside and out. It has all the very best from flooring, countertops, appliances, and features. So what's all this cost? It's listed for $3,695,000.
So if you've got the cash, or win the lottery this could all be yours! I'd be happy to come over for pool parties and cookouts. Check out the photo gallery below to take a virtual tour of this incredible Mustang mansion.
Look inside this insane Mansion that's for sale in Oklahoma
Take a tour of this incredible mansion in Mustang, OK. that's for sale. If you have
$3,395,000
you could be the proud new owner of this one-of-a-kind estate. It's located at
12300 S. Highway 4 in Mustang, OK.
It's listed by
Nathan Barta
of
Ken Carpenter Realty
in Mustang, OK. Can you imagine actually living here?
Scroll through all the pictures for a look inside and take a virtual tour of this one-of-a-kind Mustang mansion.
Check out this Amazing Castle for Sale in Oklahoma
You could be the king or queen of this castle in Tahlequah, OK. It's an amazing home that features a 2 story 4 bedroom, 2.5 bath house along with a 2 story chapel on the property. There are lots of gardens, outdoor scenery, patios, a gazebo, and there's even a waterfall. It's the ultimate kingdom and it could all be yours for just $750,000. So are you interested? If so contact
Sherri Sanders of McGraw Realtors
for all the details.
Oklahoma Mansions You Can Tour
While Oklahoma will never have the history of New England and the ancient East Coast, there are plenty of places to explore life on the finer side of things. Here are a few of the most famous public mansions in Oklahoma.
See How The Ten Most Dangerous Cities In Oklahoma Rank
While some of Oklahoma's most dangerous cities may not be a total shocker, there are some real surprises on this Top Ten list.