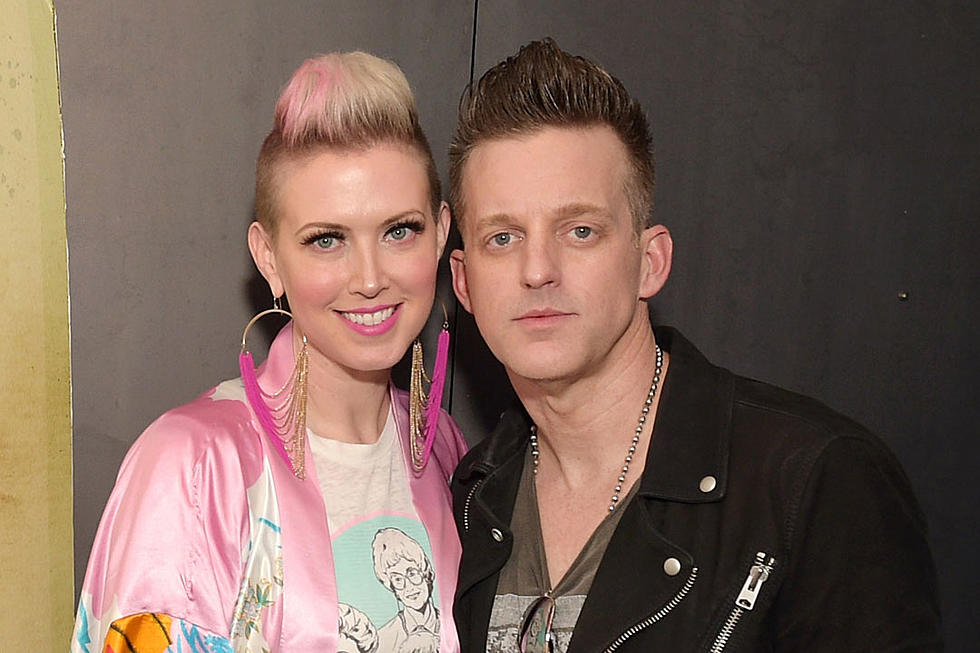 Thompson Square Aren't Feeling a Need for Speed
Jason Kempin, Getty Images
Not long ago, Thompson Square had a conversation that resulted in a kind of proclamation about what's important in their professional lives. It happened as the married country duo and their team were choosing a new radio single — the first from their Masterpiece album (2018)— and considering the piles of research, firsthand fan response and the current climate in the industry.
The song "Masterpiece" was not a clear consensus favorite at first, despite moving anecdotes from just about everyone who watched them sing it (especially those who witnessed an acoustic performance) and the vulnerable nature of Keifer and Shawna Thompson's vocals. There were some that felt they needed to lead with tempo, believing an old and debatable truism in country radio that ballads rarely work was still the case today.
"And I was like, 'At what point did we start judging songs on speed?'," Keifer Thompson says with his wife of 20 years (and duet partner for 10) seated beside him, nodding.
"We just wanted the best song to win, so we didn't think of it (like that)," Shawna adds. So it was that "Masterpiece," a song inspired by the couple's son Cooper, became their debut single on Reviver Entertainment Group.
See the Top 50 Country Duets of All Time!
The decision ended a conversation that began early in their career on Stoney Creek Records. Ballads like "Glass" (Top 20) and "I Can't Outrun You" (Top 60) didn't do as well at radio despite being powerful — if cerebral — statements of their artistry. So much has changed since they debuted with "Are You Gonna Kiss Me or Not" and songs from their self-titled debut album, however. The metrics that define if a song is "working" are much more scattered and often personal in the streaming age of country music. A few million streams on Spotify can do more good than Top 20 placement on Billboard's Country Airplay chart. Deep resonance with a small audience can do more than bouncing off the ears of 10 million fans listening at work.
"I think we're just writing for us," Shawna says, summarizing in just a few words where they are musically, mentally and professionally.
"Yeah, writing songs that we love and writing from our heart," Keifer adds. He's generally the more verbose of the two — the one willing to share or fabricate a story with the same straight face. "I think wherever you're at in life, that's what you write about, and I learned that from studying Springsteen for so many years."
With Reviver, Thompson Square will take a back-to-basics approach that values a strong foundation and long-term goals, not the short-term highs that come with add week at radio (the week the first wave of programmers decide to play a new song). They contrast his approach with how things went when "Trans Am" was released, shortly before they split from Stoney Creek and Broken Bow. More stations than ever signed up to play the song, but a few weeks later it stalled inside the Top 50, and they were effectively done. That's the kind of whiplash that doesn't excite the two musicians at this point in their lives.
"We're not trying to out-write what Thompson Square is," Keifer says. "I don't think anybody wants to hear Thompson Square singing about 'Hey, let's get into our 4X4 and go muddin' and pop a cold one and stab a deer in a throat with a buck knife."
Shawna's laughter gives Keifer's sense of humor away at this point but he's just getting wound up.
"Even though that's what we do, about twice a month. Shawna actually, she'll hang on the side of my Bronco with a bowie knife and I will spotlight deer and she'll leap from the Bronco onto ..."
The tall tale goes on, but it gets a little blue for a mainstream country crowd. There's more of that on the way, though, as standup comedy is something Keifer is quietly pursuing on the side, with no goal in mind other than to check something off his bucket list. Musically the couple is focused on what's write for them in 2019, not what someone else thinks will fit.
These Country Hitmakers Were Rejected by American Idol: