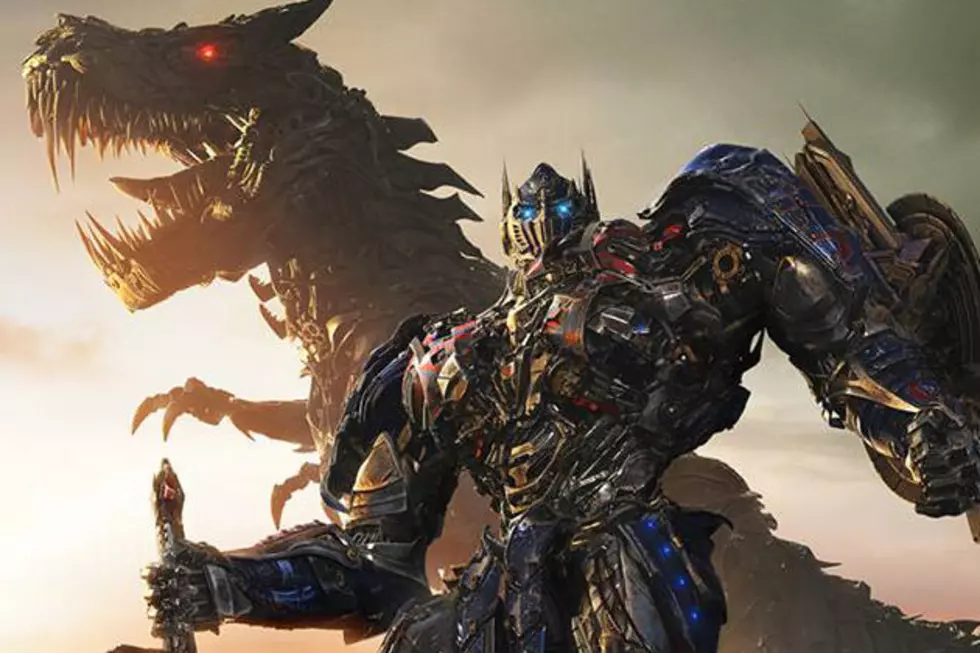 Weekend Box Office Report: 'Transformers: Age of Extinction' Makes About as Much Money as You'd Expect
Paramount
Look, everyone knows that it's your obligation as a human being to go see a new 'Transformers' movie when it comes out whether you want to or not. It's the only explanation for the success of the past three films (since no one actually likes them) and it's the only explanation for the massive first weekend of 'Transformers: Age of Extinction,' which had the biggest opening of 2014 so far.
Film
Weekend
Per Screen
1
Transformers: Age of Extinction
$102,000,000
$24,096
$102,000,000
2
22 Jump Street
$15,500,000 (-44%)
$4,524
$139,936,000
3
How to Train Your Dragon 2
$13,800,000 (-45%)
$3,600
$122,214,000
4
Think Like a Man Too
$10,800,000 (-63%)
$4,854
$48,568,000
5
Maleficent
$8,400,000 (-35%)

$2,733
$202,033,000
6
Jersey Boys
$7,400,000 (-44%)
$2,547
$27,132,000
7
Edge of Tomorrow
$5,200,000 (-47%)
$2,051
$84,144,000
8
The Fault in Our Stars
$5,150,000 (-40%)
$1,810
$109,895,000
9
X-Men: Days of Future Past
$3,200,000 (-48%)
$1,589
$223,293,000
10
Chef
$1,600,000 (-6%)
$1,998
$19,356,000
'Transformers: Age of Extinction' opened to $102 million, which is a few million ahead of 'Transformers: Dark of the Moon' and a few million behind 'Transformers: Revenge of the Fallen.' In other words, it landed exactly where everyone expected it to land. If it has the legs of the previous films, it should have no problem getting to $300 million, but this franchise's $400 million days are probably long gone. Still, there's a strong chance this may end up being the highest grossing film of 2014 ... unless audiences finally decide that they've had enough and turn on the series. After all, that happened to 'The Amazing Spider-Man 2' only two months ago (it crawled, gasping for breath, over $200 million this week).
'22 Jump Street' held onto second place, grossing $15 million for a $139 million total, officially putting it past the $138 million final gross of '21 Jump Street.' That's huge -- this one isn't even slowing down that much yet. $200 million is still a long way away, but it has a serious shot of getting pretty close. People love this movie and it's showcasing powerful endurance.
In third place, 'How to Train Your Dragon 2' continued its inexplicably disappointing run, grossing $13 million for a $122 million total. At this rate, it's going to fall very short of the first film's final gross. What went wrong here? Everyone loves the first film and it's spent the past few years developing a big fan base on home video. We're honestly not sure. There hasn't been much direct competition and it's gotten good reviews and people seem to like it. We don't want to chalk it up to fate, but...
In fourth place, 'Think Like a Man Too' plummeted 63%, tumbling from the first place spot. With a weekend gross of $10 million, the comedy sequel now has $48 million in the bank, which is more than enough to make it a huge hit. But that second weekend drop-off is shocking.
In fifth place, 'Maleficent' grossed another $8 million and glided over the $200 million mark, overcoming mixed buzz to become a certified hit. The fact that it made it to this number with little effort while other blockbusters struggle is a testament to the Disney brand and star Angelina Jolie. It's the kind of combination that allows even toxic nightmares like 'Alice in Wonderland' to become massive hits.
The next few slots proved uneventful. 'Jersey Boys' continued to sink faster than a labored metaphor about sinking ships, 'Edge of Tomorrow' showcased some too-late legs, 'The Fault in Our Stars' officially crossed $100 million, and 'X-Men: Days of Future Past' finally started slowing down in a big way. The only real surprise in the bottom half of the top 10 actually isn't that surprising in retrospect: 'Chef' kept on hanging around, dropping a minuscule 6% and continuing the film's sleeper status.