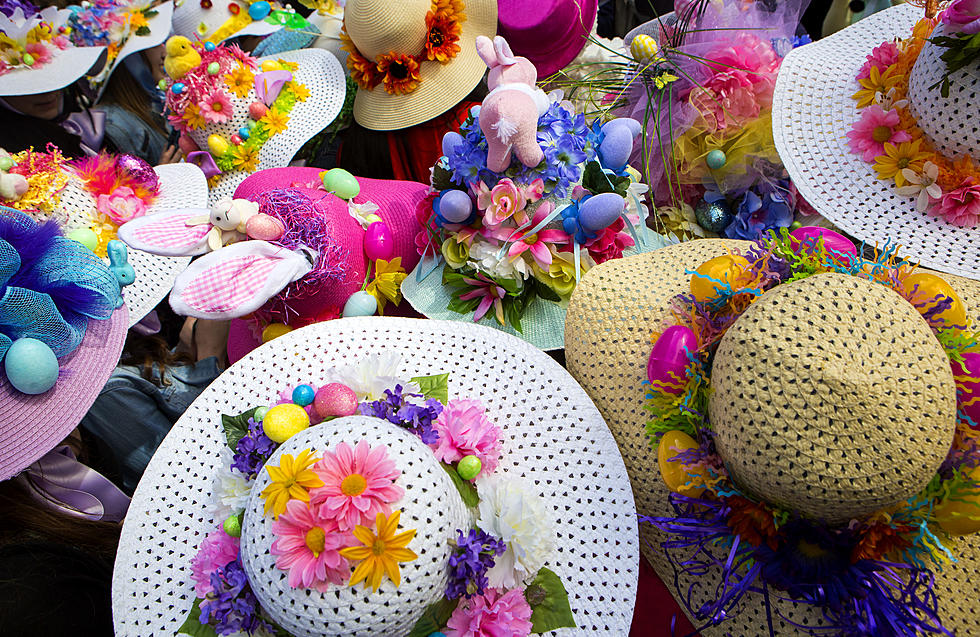 Who's Ready to Make Your Easter Bonnets? Here's How!
Getty Images
Yes, it really is a thing. And with just two weeks left until Easter, it's time to get busy! Apparently in New York City, over 30,000 women will show off their new Easter Bonnets in a huge parade.
I remember when I was little, we had these really sweet Easter hats to wear with the dresses that my Mom made by hand.  In Oklahoma, we have several Easter Egg Hunts where you could wear your finest Easter Wear, but with the Oklahoma winds, not sure you would want to!
The Easter Bonnet tradition is basically in celebration of the season of Renewal that we often associate with Spring and Easter in General. It was a chance for those who observe Lent, to splurge after the fasting of Lent was over.  Ladies would parade them through the town showing off their new fashions.
In New York City, there is a huge parade each year, and the tradition has taken on a much different meaning.  While I'm sure that parade-goers are still celebrating Spring, and Easter, the bonnets (what they were called back in the early days of the Easter Parade), are more and more outlandish.  These bonnets are often homemade, and the bigger and gaudier the better!
The Easter parade exploded to its largest numbers way back in the 1940s due in a large part to the movie starring Fred Astaire and Julie Garland. Those numbers reached One Million but have dwindled to around 30,000 in the last years.
While Easter Bonnets are not nearly as popular as they once were, I'm sure you're likely to see at least one or two this Easter Sunday Morning, April 17, 2022. But, if you're not going to wear one, it might be fun to make one with the kids!  I have 7 granddaughters, and how fun would this be?
The year of 2022 in our house is all about Experiences.  We want to spend quality time with each other and building memories that we can pass down to other generations. Easter bonnets Anyone?
RANKED: Here are the most popular national parks
To determine the most popular national parks in the United States, 
Stacker
 compiled data from the 
National Park Service
 on the number of recreational visits each site had in 2020. Keep reading to discover the 50 most popular national parks in the United States, in reverse order from #50 to #1. And be sure to check with individuals parks before you visit to find out about ongoing, pandemic-related safety precautions at 
www.nps.gov/coronavirus
.
See How The Ten Most Dangerous Cities In Oklahoma Rank
While some of Oklahoma's most dangerous cities may not be a total shocker, there are some real surprises on this Top Ten list.
The Best Country Singer From Every State
Some states, like Oklahoma and Texas, are loaded with famous country singers. Others, like Nevada and Maine, are still looking for a real breakthrough artist. See the best and most successful country music artist from all 50 states, starting with
Hank Williams
and Alabama.
Where to Find the many murals by Justin Hackney's Spreading PAINT in Lawton, Fort Sill.
If you've driven around town you've probably seen all the murals we have in Lawton, Fort Sill. If you take the time to look you'll notice that they're everywhere. We're lucky to have so many talented artists that share their work with us regularly by painting murals. One name you've probably heard before is Justin Hackney and
Spreading PAINT
. His work of masterful murals can be found all over town. He's done some of the very best and has painted everything from rock stars to celebrities and everything in between. He has a style all his own and has painted murals in full color, vivid transposed negative style, and in black and white. Be on the lookout for his latest mural masterpiece he's going to keep painting them so long as people want them and there's wall space. Looking forward to seeing his next one! Check out the gallery below of Justin Hackney's Spreading PAINT murals and where to find them. We'll continue to add to the gallery as he paints them.
The Beauty Of Southwest Oklahoma
Too many people spend too much time complaining about being in Southwest Oklahoma. If only they'd shut their mouths and open their eyes from time to time, then they'd see the true beauty of this place.