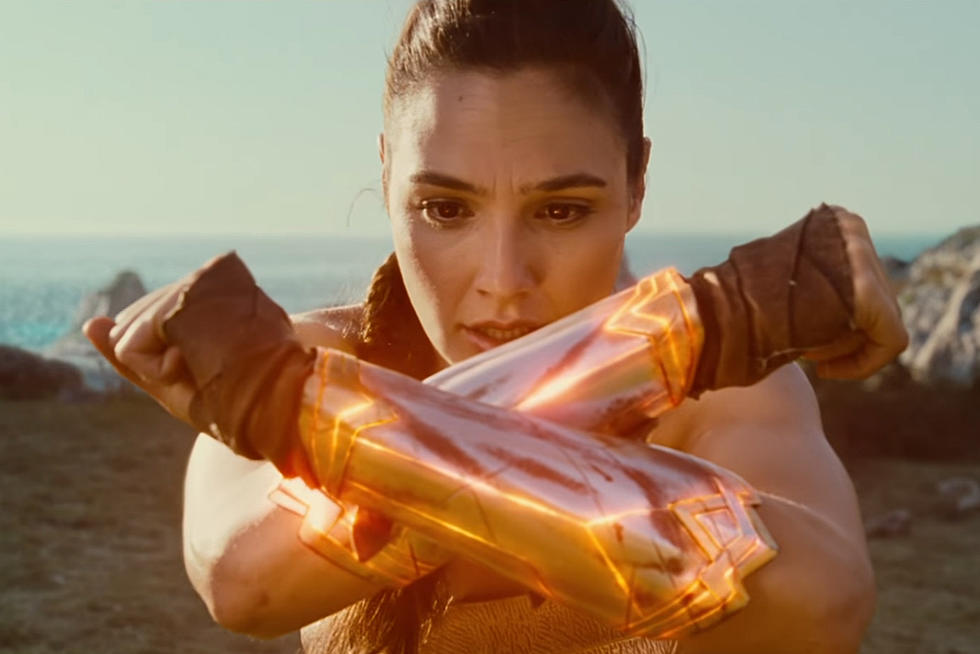 Gal Gadot Describes the 'Powerful' Moment Diana Becomes 'Wonder Woman'
Warner Bros.
We've already seen those awesome slow-mo shots of Gal Gadot's Diana Prince charging through the war-torn battlefield in the Wonder Woman trailers. Her red and gold armour shines against the backdrop of the smoky blues and browns of the European battleground. But the moment where Diana finally sheds her Amazonian garb to unveil her iconic superhero uniform is bound to be one of the most exciting for fans.
In a new interview with Entertainment Weekly, director Patty Jenkins equates the moment to Clark Kent ripping his button down to reveal his famous blue and red suit. Jenkins says the battlefield scene, the first time Diana shows off the outfit, is a pivotal moment where the warrior says "Enough is enough." EW debuted a brand new piece of concept art showing the moment Diana drops her cloak.
Gadot describes the scene, which happens about half-way through the movie, as a "very powerful moment." The Amazonian warrior decides to cross the no-man's-land of the battlefield between the German and English forces, and she's not going to do it in her old wardrobe. "We have a character committing to her true self, doing what she believes needs to be done," Gadot said.
The new concept art is as gorgeous as the handful of new stills released by Warner Bros, which highlight the crisp golden hues and the bright blues of the movie. If anything, Jenkins eye is bringing some much needed spurts of color to the DC Cinematic Universe, previously drenched in darkness thanks to Zack Snyder's Batman v Superman: Dawn of Justice and Suicide Squad. The film also stars Chris Pine as American officer Steve Trevor, as well as Robin Wright, David Thewlis, and Danny Huston. Wonder Woman hits theaters June 2.