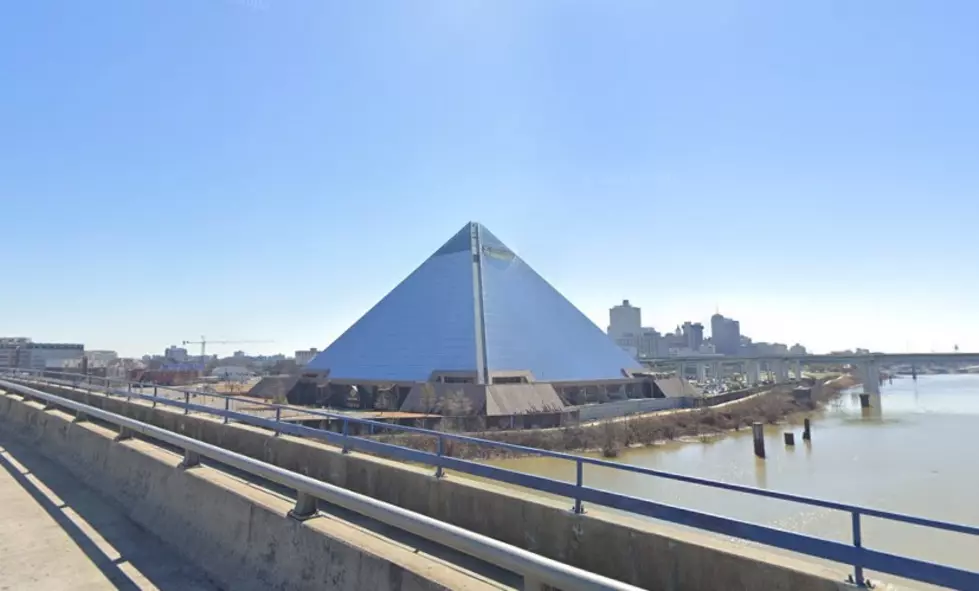 America's Haunted Pyramid Isn't Too Far From Oklahoma
GoogleMaps
If you've ever made the drive through Memphis, it's hard not to notice the giant glass pyramid that lines the Mississippi River at the I-40 crossing. It's massive and stand-alone along the hallowed banks.
Not only is it the tenth largest pyramid in the world, but according to lore, it's also cursed and haunted.
Here's the full story.
The Memphis Pyramid was a project for Bluestown dreamed up in the mid-50s by an artist destined to make a name for himself, but because it was so radical in the days when artists were beatniks and pinko commies, the idea never took off. It wasn't until an iconic 90s entrepreneur lent his support that it finally came to be.
Isacc Tigrett is a name you most likely won't recognize in casual conversation. The sun rose and fell on his celebrity in America before people our age were even born... He was the man that founded the worldwide sensation Hard Rock Cafe and the iconic House of Blues, and he threw his full support behind this idea convinced it would be as iconic as St. Louis' arch or the Eiffel Tower in Paris.
Isacc Tigrett was also "in tune" with the mystical powers of this world, and likely the source of the Memphis Pyramid curse.
There's A Reason They Call It The Tomb of Doom
From the very first night the Great American Pyramid opened in 1991, strange phenomena have happened within the glass walls.
The very first event hosted there was a concert featuring the country music duo The Judds, but it didn't go over with the pomp and celebration everyone expected. Midway through the concert, every single toilet in the building overflowed and flooded the basement.
Authorities blamed it on Memphis' aging sewer system, but discoveries later on shed doubt on this acceptable and logical thought.
A Mystery Straight Out Of Indiana Jones
While on a routine inspection, someone found a curious steel box in the very top of the pyramid. It was out of place and it was worrying enough to notify authorities. Fearing the worst, everyone was bedazzled and perplexed at what the box contained.
As it turned out, the Hard Rock Cafe founder and champion that managed to get this project built, was somewhat of a mystic. Rising to fame in the late-70s and throughout the 80s, surrounded by celebrities and the excess that time period is famous for, Isacc had placed the box in the pyramidion (the top cap) himself.
It contained a crystal skull.
Now, crystal skulls were once thought of as ancient artifacts from the Mesoamerican, Aztek, or Mayan eras of human history. If you've seen Indiana Jones 4, you're at least familiar with the tall tales of these relics.
Truth be told, they've mostly all been proven to be eleborate fakes. Created by artisans in Germany in the 1800s to showcase their incredible skills.
While the whole subject of crystal skulls remain in contentious debate, the skull wasn't the only "mystical relic" found in the pyramid. Many more were found scattered throughout in the months after opening.
Deaths At The Memphis Pyramid
If you read through the history of this building, odds are you'll find a couple of deaths that happened here. Some call the tragedies "mystical," but to the average person, they're just sad accidents representative of real-life odds.
The first was a concert stage-hand that fell from the rigging that spans high above the stage. He did not survive his fall, and visitors that have experienced stranger things claim this is the spirit they've seen walking about the building.
There was also a death that happened much later in the parking lot, but it's tie-in is limited to a traffic stop turned deadly.
You Can't Beat The Curse
As a concert and entertainment venue, the Memphis Pyramid saw some success but as the times changed, it required more space, more seats, bigger crowds, and more expensive talent. It didn't seem like the place could survive the 90s. Venue officials were then convinced they'd flip the pyramid into a sports complex and attract an NBA team.
Enter the Memphis Grizzlies.
After an extensive remodel, Memphis' first professional sports team walked into the Memphis Pyramid and called it home until the lack of space and a very unfair contract negotiation nearly bankrupted the city.
Averaging a $200,000 loss per year, the obvious solution to make up the funds was to keep presenting concerts for a year-round income stream, but it due to the agreement, the Grizzlies had the final say over usage of their home arena.
Since the Grizzlies wanted a new place to play, some suggest the team management and ownership intentionally shanked the pyramid complex in an attempt to be awarded a new venue. This worked and the pyramid seemingly closed its doors forever.
Rednecks To The Rescue
America's pyramid sat empty for years, but not due to a lack of ideas. There was strong public support for many expensive ideas to use this space. A casino for one. A massive aquarium for another. One senator even pleaded a case to Washington to move some of the Smithsonian's exhibits to Memphis, to be a satelite museum of sorts, but Johnny Morris won the bidding war.
Johnny Morris is the man that founded and created Bass Pro Shops. His story is an amazing tale of success and the American dream. After ten years of negotiating, planning, and building, Bass Pro Shops Memphis Outdoor World opened in 2015.
Now, the Memphis Pyramid contains the regular Bass Pro retail space we're accustomed to, an archery range, shooting range, laser arcade, the worlds largest free-standing elevator that provides access to a massive observation deck, a 100-room lodge-type hotel, restaurants, bars, and over 600,000 gallons of aquariums and water features.
People still report seeing spirits and things they can't explain beneath the gleaming exterior of the Memphis Pyramid.
If you'd like to visit, Memphis is a short flight or seven-ish hour drive from Lawton. If you're one that likes to mix the outdoors with the supernatural - ie - you've gone searching for the ghost of Jed Johnson Tower, this might be the perfect quick-trip to wrap up your summer.
One pro-tip if you do... Take a travel Windex bottle with you and keep it on your person at all times in the pyramid... It doesn't make any sense, but then again, none of it does anyway.
Happy ghost hunting.
The Dreadful Downtown Hauntings of Lawton, OK.
When it comes to ghost tales and hauntings Lawton, Fort Sill has more than a few scary stories to tell. The most active hauntings and paranormal/supernatural occurrences that have been reported seem to be centered around downtown Lawton. If you've lived here a while I'm sure you've heard a few of these terrifying tales yourself. If not check out the photo gallery below of the dreadful downtown hauntings of Lawton, OK.
Gallery Credit: Don "Critter" Brown
Top 10 terrifying towns & creepy cities in Oklahoma
While Oklahoma is well known for its beauty and friendly people there are a few places in the Sooner State you'll want to avoid. These are the most terrifying towns and scary cities in the state. It's not that they're bad places, or plagued with crime and other negative factors. The towns and cities below have one single thing in common. They all have active paranormal and supernatural phenomenons. From ghost stories to urban legends and tragic tales. A lot of these places are well known to those who live in Oklahoma and even all over the nation. If you're looking to get scared or do a little ghost hunting you can start with the list below.
Gallery Credit: Don "Critter" Brown
2023's Ten Most Dangerous Cities In Oklahoma
While some of Oklahoma's most dangerous cities may not be a total shocker, there are some real surprises on this Top Ten list.
Gallery Credit: Kelso
If Oklahoma Was A Candle, What Would It Smell Like?
I think it's fair to say that each place you can visit has a distinctive smell. That being said, I don't think you can just easily cram Oklahoma into just one candle. There are so many different places that are diverse and unique. It's a loaded question beyond what most people can answer. Instead, here are a few different candles to represent the places I've lived and traveled to in Oklahoma.
Gallery Credit: Kelso