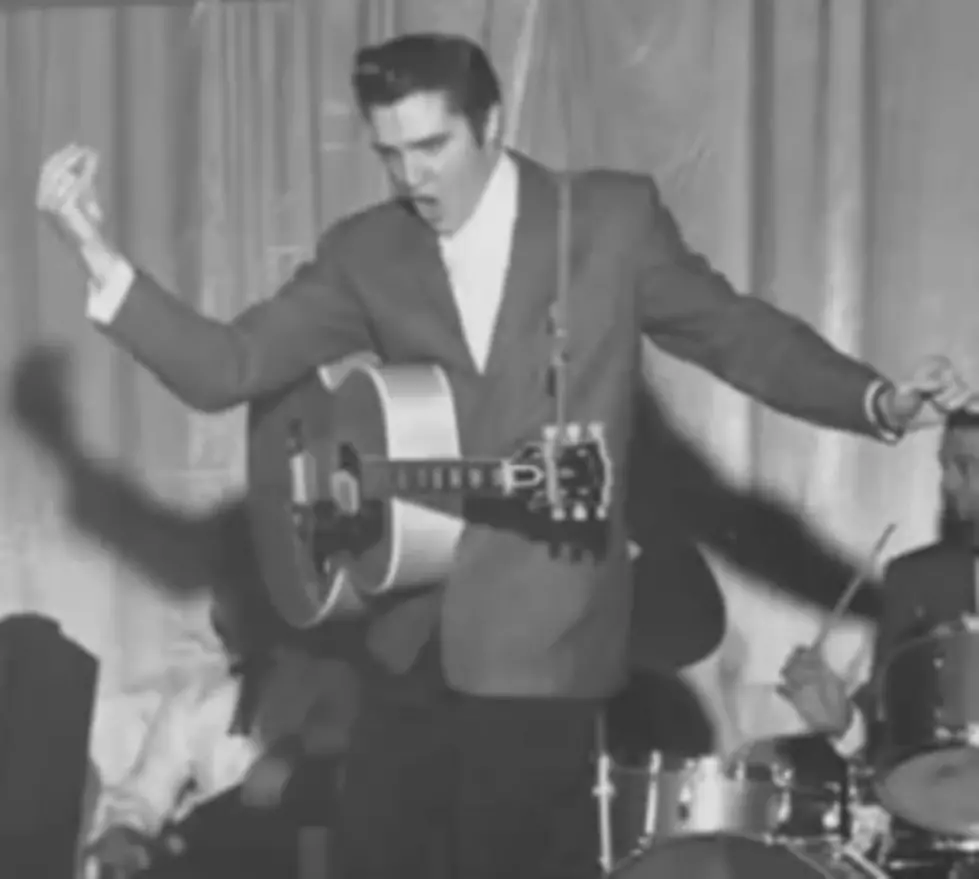 If At First The King Don't Succeed…Today In Country Music History [VIDEO]
courtesy of youtube
1954  A Slight Miscalculation On Management's Part
Elvis Presley makes his only appearance on the Grand Ole Opry, singing "Blue Moon Of Kentucky" at Nashville's Ryman Auditorium. Opry manager Jim Denny allegedly tells him not to give up his day job.
"The King" wasn't swayed by discouragement, and it's a good thing. His innovative music and gyrating performance were not received well at the conservative establishment. Presley swore never to return.
The lack of interest from the Grand Ole Opry may have been a blessing in disguise. Presley went to the Opry's biggest competitor, the live radio show 'Louisiana Hayride,' only two weeks later, and signed a contract to make 52 Saturday night appearances on the show, helping launch his legendary career.
Elvis went on to sell what RCA has estimated at more than one billion albums worldwide, with many of those sales occurring after his untimely death in 1977. The RIAA has certified sales of more than 134 million in the U.S. alone. A total of 149 Presley tunes landed in the Billboard Hot 100 chart, with 18 going all the way to #1.
Sammy Kershaw finishes third with 19% of the vote for lieutenant governor of Louisiana. It was his second attempt to gain the office; he also had an unsucessful run in 2007, when he received 32% of the vote.

Kershaw signed a pledge to the people of Louisiana, promising not to run or campaign for another office during his entire term if he is elected this fall. He is also challenging every other candidate in the race to sign the same pledge.

In what he called "A Real Plan for the Real People of Louisiana," Kershaw's platform includea plans for a program called "Reintroduce Louisiana," designed to promote all of Louisiana, and establish Louisiana as the entertainment capital of the country and recruit new industry to the state.

photo by Justin Sullivan/Getty Images

photo by Justin Sullivan/Getty Images

Trace Adkins visited rescue and recovery workers at the site of the September 11 terrorist attack on the World Trade Center in New York.

Atkins received a request to visit from  Lieutenant Commander David Waterman, a Navy public affairs officer who felt his presence would lift the spirits of the workers.

George Strait takes three trophies during the 30th annual Country Music Association awards at the Grand Ole Opry House in Nashville.

Strait takes Male Vocalist of the Year; Album of the Year for Blue Clear Sky, and Single of the Year for "Check Yes Or No"

Earl Scruggs was seriously injured in an auto accident. Scruggs was hurrying to get to his dying mother's side and lost control of his vehicle sliding off of a road and into a tree.

The accident caused injuries to both of Scrugg's hips and led to double replacement surgery.

Singer Jo-El Sonnier is 68.

Singer/Songwriter Gillian Welch is 47.