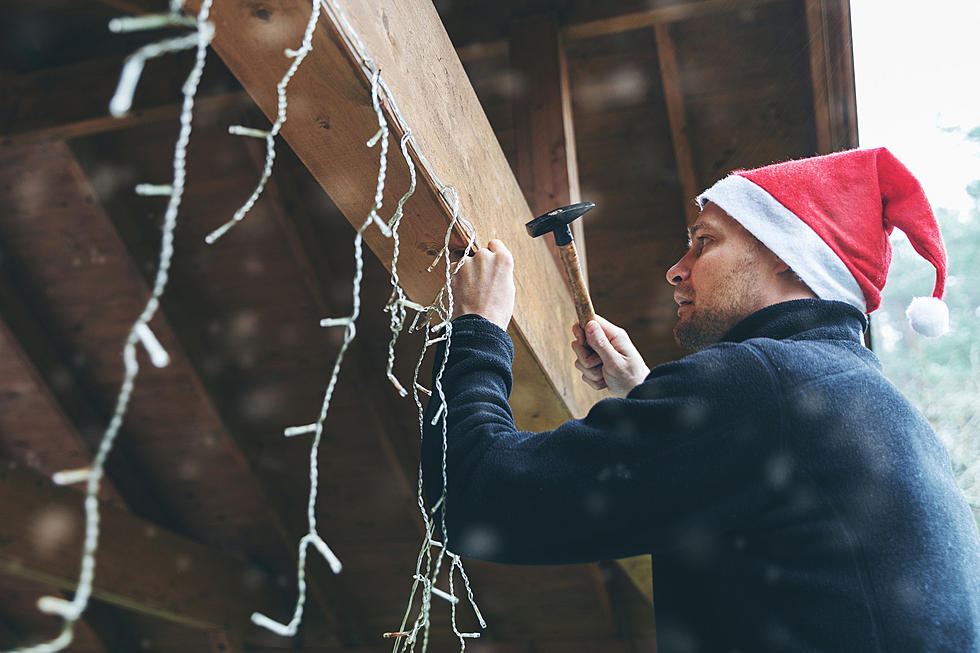 When Do Oklahomans Start Decorating & Hanging Lights for the Holidays?
ronstik
So exactly when do you hang up your Christmas lights? When is too early or too late? What's the perfect time or date to decorate the outside of your house for the holiday season? Well, we're still seeking answers to this question, but we want to know your thoughts and opinions on the subject. Take the quick poll below.
SCROLL DOWN TO SEE THE TOP 10 HOLIDAY HOMETOWNS IN OKLAHOMA
I think most people, or at least the answer we hear most often is right after Thanksgiving. That seems to be the most popular time to hang up the lights and get the outside all decked out for the holidays. This year people are getting into the spirit early. We've seen several houses all lit up since late October, crazy.
So when do you hang up your Christmas lights? Take the poll below & let us know
I usually wait until the weekend after Thanksgiving to put up the tree and do any outdoor decorating, this year will be no different. For me the Christmas season doesn't officially kick off until you see Santa Claus at the Macy's Thanksgiving Day Parade, then it's game on. I know some people don't start decorating until December 1st or even the middle of the month. I think that's a little late, I mean it's a lot of work to do all that decorating just to have it up for a few short weeks before it's boxed and put away.
KEEP SCROLLING TO SEE OKLAHOMA'S BIGGEST & BEST HOLIDAY DISPLAYS
If you are decorating and your house is all ready for the holidays send us a pic. We're trying to help spread a little holiday cheer with Light up Lawton. You could win $250.00 just for entering thanks to our friends at S.W. Toyota of Lawton. Submit a photo of your place with all your decorations and lights both inside and out. Click here to submit a picture and get all the details for Light up Lawton.
Take the poll below and let us know when you prefer to hang your lights
10 Oklahoma Hallmark holiday hometowns you can visit
Looking for someplace special to spend the holidays? The Sooner State has you covered with some of the best towns and cities to get into the Christmas spirit. If you've ever wanted to visit a place that feels like it came out of a Hallmark movie you're in luck. Check out these ten Oklahoma Hallmark holiday hometowns to experience the small-town charm and friendliness of some of Oklahoma's best-known holiday destinations. Each has its own unique traditions and holiday events that will surely get you into the spirit of the season. From amazing lights and displays to performances and festive family fun you'll find in the Sooner State.
Gallery Credit: Don "Critter" Brown
Oklahoma's Weirdest Thanksgiving Foods
There is no shortage of weird Thanksgiving traditions around the Sooner State. Even my own family celebrates in our own unique way. Half of us hate turkey, and the others hate ham. Mom hates to spend days cooking for a 20-minute meal, and we all get tired of the leftovers. Instead, we have either a taco fiesta or a Chef Boyardee pizza kit party. Nobody complains.
We're not the only family with a weird Thanksgiving tradition, just take a look at these shockingly common Oklahoma TG dishes. It's amazing what the cooks come up with. The list is heavy on gelatin and jello molds, if anything it'd be worth trying at least one this year. They range from mild to wild, best of luck to you.
Gallery Credit: Kelso
Top 10 Best Christmas Towns In Oklahoma
While Christmas may not always feel like Christmas in Oklahoma, we put on that holiday spirit all over the Sooner State. Here are the top destinations to find a little holiday cheer.
Gallery Credit: Kelso
Top 10 Snobbiest Towns & Cities in Oklahoma
Don't shoot the messenger. I'm not calling these places snobby, the internet is. A recent report by
Roadsnacks.net
identified 10 of the
snobbiest towns and cities in Oklahoma
. The methodology behind the study used median household incomes, the percentage of the population with college educations, and median home prices in determining just how snobby a town or city is. Most would agree with the results below. Unless you live in one of these places, then you may disagree. Also, keep in mind this list was all done in good fun. Sure there's some truth to the findings but like most places, you'll find both good and bad.
Keep scrolling to check out Oklahoma's top 10 snobbiest towns and cities to see if your hometown made the list.
Gallery Credit: Don "Critter" Brown