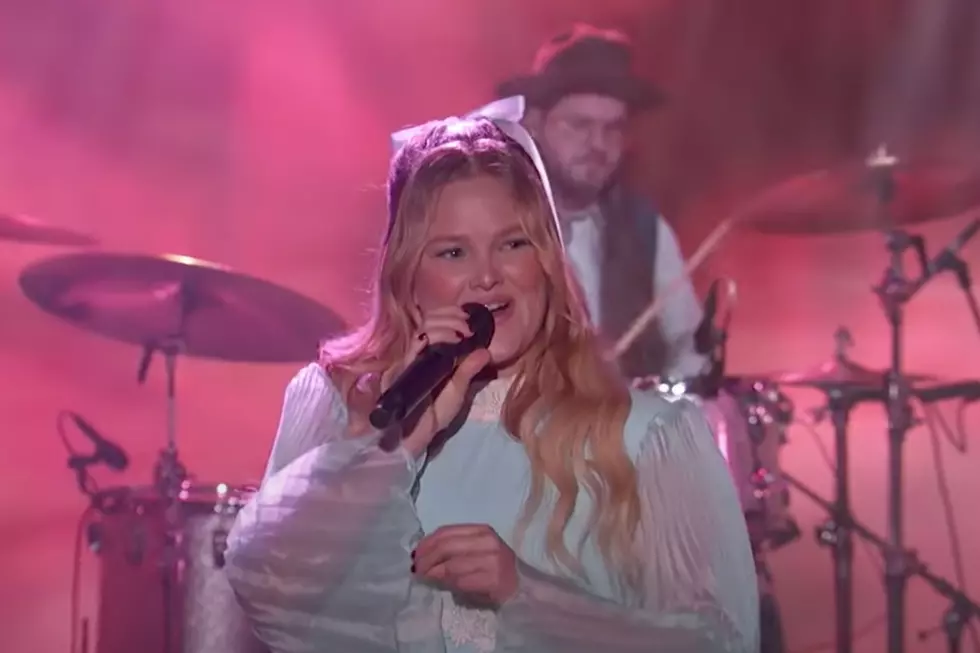 Hailey Whitters' Country Charm Shines on 'Jimmy Kimmel Live!' [Watch]
YouTube
Hailey Whitters brought her Midwestern charm to Jimmy Kimmel Live! on Wednesday night (Jan. 25) for her anticipated late-night television debut. Decked in a vintage turquoise mini-dress, the bubbly singer took the stage to perform "Everything She Ain't," her fast-rising debut country radio single.
"The whiskey in your soda, the lime to your Corona / Shotgun in your Tacoma, the Audrey to your Hank / She's got a little style and a Hollywood smile / But believe me, honey, good as money in the bank / I'm everything she is and everything she ain't," Whitters sings brightly over banjo plucks, drumbeats, acoustic guitar strums and bass and fiddle lines.
While no noticeable handclaps were in sight, the singer and her band made sure to include it as production tracks in this televised performance. After all, it's hard to argue that "Everything She Ain't" would be the same without those signature claps.
Whitters also delivered the feel-good singalong track against a backdrop that featured purple, pink, and blue gradients, which transitioned seamlessly through various parts of her bouncy performance.
"Everything She Ain't" is Whitters' debut song on country radio and the lead single off her latest album, Raised. The critically-acclaimed 17-track LP, which chronicles Whitters' midwestern upbringing and roots, was picked by Taste of Country as the Best Country Album of 2022.
"Everything She Ain't" is currently No. 34 and rising on the Mediabase Country chart and No. 29 on Billboard's Hot Country Songs chart. The ebullient number has also amassed nearly 50 million streams on Spotify alone and surpassed 100 million global streams across various streaming services.
Whitters will launch her headlining Raised Tour next month, before hitting the road with superstars Shania Twain and Eric Church later this year. The Songs & Daughters/Big Loud recording artist will also take the stage at several major music festivals, including Country Thunder, Two Step Inn Festival, Winstock Festival and Country Jam 2023.
Fans can find a full list of tour dates and get tickets on Whitters' official website.
Country Music's 30 Most Powerful Women Ever: