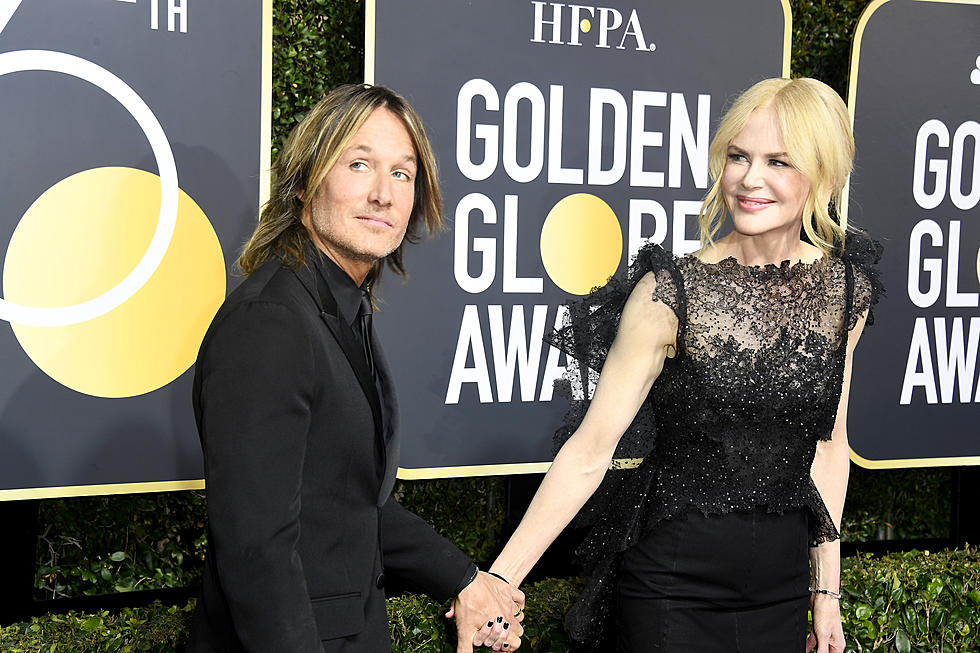 Keith Urban & Nicole Kidman Turn 2018 Golden Globes Into Date Night [PICTURES]
Getty Images
Keith Urban and Nicole Kidman attended the 2018 Golden Globes together on Sunday night (Jan. 7). Together, the celebrity couple walked the red carpet pre-show -- and fans got to see both the actress and her country star husband onstage during the awards show's live telecast.
Both Urban and Kidman sported all-black ensembles at the 2018 Golden Globes, part of the Time's Up movement, a response to the rash of allegations against numerous men in the entertainment industry. As part of the movement, hundreds of women in the entertainment industry have pledged to fight sexual harassment, both in Hollywood and in other workplaces.
Kidman was nominated at the 2018 Golden Globes for Best Performance By an Actress in a Limited Series or Motion Picture Made for Television, for her role in HBO's Big Little Lies, and viewers got to see her win and accept that award on Sunday night. She beat out one of her Big Little Lies co-stars, Reese Witherspoon, as well as Jessica Biel, Jessica Lange and Susan Sarandon, to take home the trophy.
"This character I played represents something that is the center of our conversation right now: abuse … Let's keep the convo alive," Kidman said during her acceptance speech. To her husband, she added, "When my cheek is against yours, everything melts, away and that is love. It's true. I love you so much."
Urban, meanwhile, helped present the Best Original Song award during the 2018 Golden Globes. He and his co-presenter, Kelly Clarkson, introduced the category's winner by harmonizing on the line "And the Golden Globe goes to ..."
"We've now officially sung on the Golden Globes," Clarkson said after the finished. The trophy went to "This Is Me" from The Greatest Showman.
Keith Urban + Nicole Kidman's Most Adorable Moments
Unforgettable Keith Urban Moments