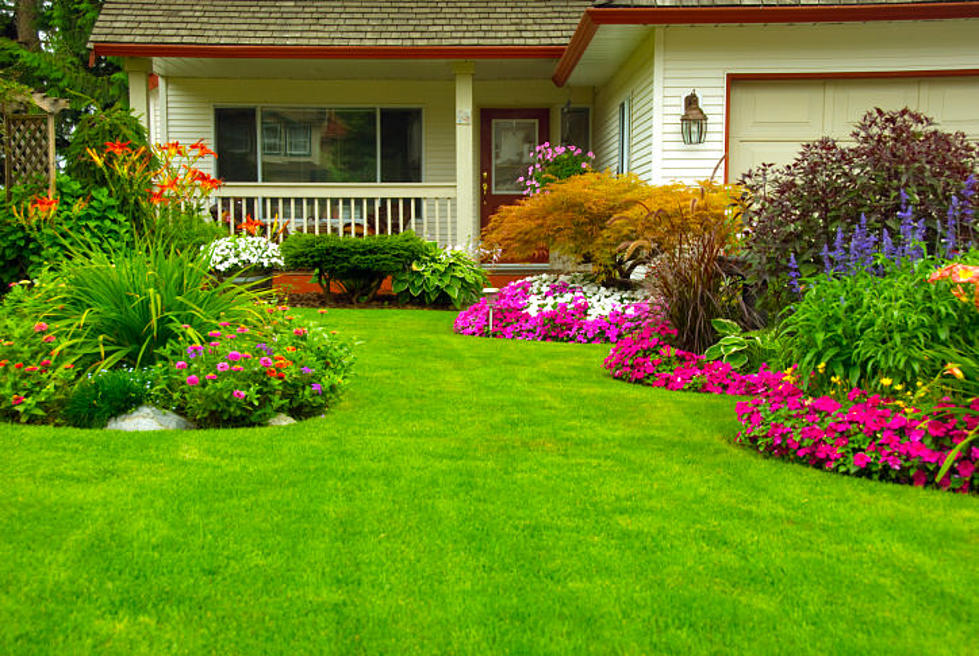 Lawton's 'Yard of the Month' Contest is Back
can72
LETA (Lawton Enhancement Trust Authority) just announced the return of the "Yard of the Month" contest. It's your shot at scoring not only a $100 gift card to Bedrock Nursery but just as important, bragging rights!
SCROLL DOWN TO LEARN MORE ABOUT LAWTON'S YARD OF THE MONTH CONTEST
You can nominate your neighbors, friends, and family for the "Yard of the Month" award, and every month throughout the Spring/Summer a new winner will be voted on by we the people on the site, and announced.
Time to get to work. LETA has announced the return of the "Yard of the Month" contest!
I know of several deserving people for this award whose lawns and landscaping are beyond incredible, they're immaculate. Now that Spring is officially here and we're starting to see warmer temperatures outdoors it's time to get back in the yard and get things looking good. You could win "Yard of the Month!"
FIND OUT HOW TO NOMINATE AND VOTE FOR "YARD OF THE MONTH" BELOW
I spent most of the weekend in the yard mowing, weed eating, and raking up what little leaves I had left in the yard from Winter. I enjoy taking care of the lawn and landscaping, I'm not that good at it, but it's relaxing and the end result is something you can be proud of. I'm a long way away from winning "Yard of the Month."
Nominate your neighbors, family, and friends for the "Yard of the Month" contest!
So be on the lookout for yards that you can nominate for the YOM award. To nominate someone all you have to do is take a quick picture or two and submit them by emailing publicaffairs@lawtonok.gov and filling out a nomination form at beautifullawton.com. You'll also be able to see who is nominated and cast your vote for "Yard of the Month"  at the official Beautiful Lawton website. Nominate and vote for your favorites monthly!
Look inside this Lawton, OK. 1.5 million dollar mansion
Take a quick virtual tour of this massive 1.5-million-dollar mansion in Lawton, OK. It's one of the largest, most luxurious, and most expensive homes on the market right now. It's truly a one-of-a-kind property that boasts 4 bedrooms, 5 bathrooms, and 5,900 square feet on 2 acres. It's located at
350 North West Hillary Road in Lawton, OK.
and for
$1,500,000
it could all be yours! This impressive home is one of the most epic estates on
Zillow.com
. It's currently listed by
Barry Ezerski
of
RE/MAX Professionals
.
Scroll through the photo gallery below and take a peek inside this 1.5-million-dollar mansion for sale in Lawton, Oklahoma.
Fun Kid Friendly Oklahoma Vacation Destinations
There is a ton of stuff to do in Oklahoma that you and the kids will love, you just have to know where to find that stuff and have the gumption to hop off the couch and go do some of it.
Take a tour of this epic Oklahoma 6.5 million dollar country club mansion
This EPIC-ESTATE is located at
3226 East 62nd Street in Tulsa, OK.
and is listed by
Stuart Gallagher
of
Coldwell Banker Select
. It's a HUGE 9,115 square foot 3 story home that was originally built back in 2010. It features 4 bedrooms, 7 bathrooms, a 5 car garage, and is centered on 2.11 acres. It's a one-of-a-kind Palatial Estate that's located right next to the
Southern Hills Country Club
right on the golf course's 12th tee box.
Check out the photo gallery below to take a quick virtual tour and see what $6,500,000 could buy you.
25 hilarious Oklahoma personalized tags DENIED by the DMV
A great way to personalize your vehicle is with a custom license plate. There are some pretty creative and funny tags running around the Sooner State. Some are easy to get, others will have you scratching your head trying to figure it out what it says. Personalized plates are very popular and we're seeing more of them on the road every day. However, there are some rules and restrictions when it comes to what you can and can't put on your plate. If it's considered obscene, vulgar, demeaning, or includes any mention of drugs, alcohol, or illegal activities it will be DENIED. Check out the photo gallery below of some of the most hilarious tags that were rejected by the Oklahoma Department of Motor Vehicles. WARNING: some of these could be considered offensive so if you're easily offended proceed with caution. You have been officially warned.