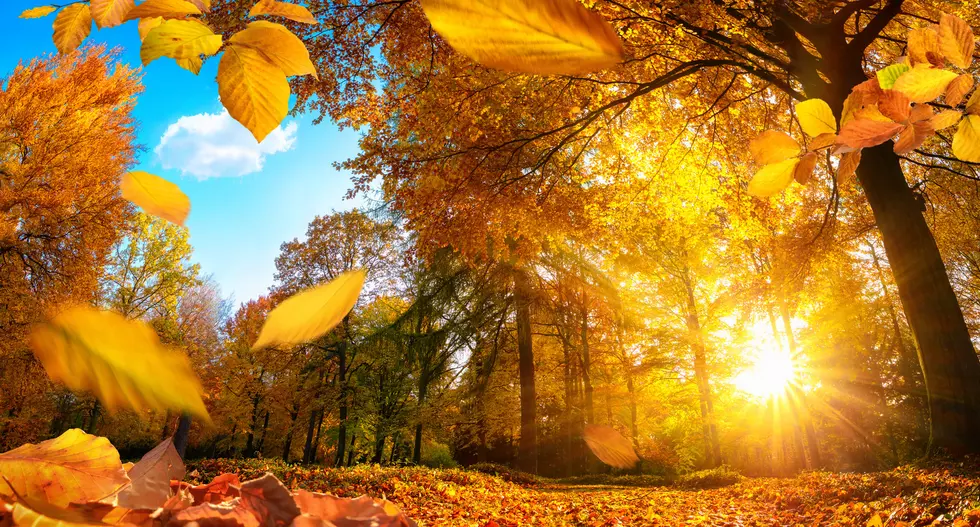 If You're Looking for Fall Colors Take This Oklahoma Scenic Drive
Smileus
If you're looking for fall colors this Oklahoma scenic drive is the place to go. Take a trip down this 54-mile winding mountain-top road for fantastic fall foliage and breathtaking views. Now's the time to plan your trip to see the best colors. It's the perfect daycation or quick weekend getaway that the entire family will enjoy.
The Talimena Scenic Drive has some of the most beautiful countryside in the Sooner State and Arkansas. There are plenty of stops along the way and unique sights to take in. The scenic byway starts at the Talimena State Park in Talihina, OK. and runs a little over 50 miles through Eastern Oklahoma and Western Arkansas.
The Talimena Scenic Drive is the place to see fall colors and breathtaking views

Now is the perfect time to take the trip as all the leaves are changing and over the past few days have really become colorful and vibrant. The official Talimena Facebook has TONS of great pictures people have taken over the past couple of days. You can even enter a photo contest for a shot at winning a $720.00 cash prize!  
I've heard from friends and family several times throughout the years about just how beautiful the Talimena National Scenic Drive is, but I've never had the opportunity to make the drive myself. I plan on changing that sometime soon. Maybe as soon as this fall. It would be a great way to kick off the 2023 holiday season!
Hit play on the video below for a virtual trip along the Talimena Scenic Drive
Most people think you have to travel to the Northeast U.S. to places like Maine, Vermont, New York, Massachusetts, or New Hampshire to see fall colors. Sure, those places are known for their colorful fall leaves, but the Sooner State has its fair share too. Not only that the Talimena Scenic Drive has lots of unique places to stop, shop and eat along the way. So it's more than just a scenic autumn drive, a lot more.
Time is running out to see the best fall colors. Soon the temperatures will be too cold and the trees will lose all their leaves. You can visit the official Talimena Scenic Drive website for more information or check them out on Facebook. Check out the photo gallery below of other places to see fall colors in Oklahoma.
Where To See Fall Colors In Oklahoma
Whether it's the feeling you get when you see falls warm colors in the trees, or the comfort of a memory you recall from a younger time in your life, there are places in Oklahoma to see the beauty of autumn.
Gallery Credit: Kelso
Five epic & unusual Oklahoma Airbnbs you should check out
Take a break from the boring and ordinary and make your next overnight stay more spectacular and memorable. These rentals are a lot more than just a place to stay, all of them could easily be a vacation destination and experience all on their own! If you're planning a staycation or vacation in Oklahoma you should definitely check out these epic and unusual
Airbnb
rentals versus booking just a plain old room at a hotel or motel. You could make your accommodations a part of the experience itself by staying at any of these amazing places in the Sooner State.
Scroll through the photo gallery below to check them out.
Eleven Things Oklahoman's Eat When It's Cold
When it comes to the favorite foods in Oklahoma, most of them revolve around a grill. Whether it's steak, burgers, dogs, BBQ, beer can chicken, etc... If it can be grilled, it will be an instant favorite across all palates in this state. But what do Okies survive on when it's cold enough to require the wearing of pants and a hoodie? Here's the quick list of things every Oklahoma home should be pumping out when the endless Summer finally ends.
Gallery Credit: Kelso
Take a look inside this epic 1960s retro motel in Oklahoma!
It's the ultimate retro vintage motel stay in the Sooner State! If you've ever wanted to step back in time and experience the "good old days" once again, or maybe for the very first time, you're in luck. Take a break from the usual, boring, and mundane hotel room by booking a stay at this 60s-style motel in Oklahoma City, OK.
The Classen Inn
is one of the most unique and colorful motels in the state, if not the entire nation. It was originally built back in 1963 and has been completely remodeled, refurbished, and reimagined. If you're looking for a place to stay while on vacation, staycation, or on a weekend getaway why not make your accommodations a part of the vacation fun by staying at the Classen Inn in OKC.
You can click here to book your stay.
Scroll through the photo gallery below to take a virtual tour of this EPIC 1960s retro motel!