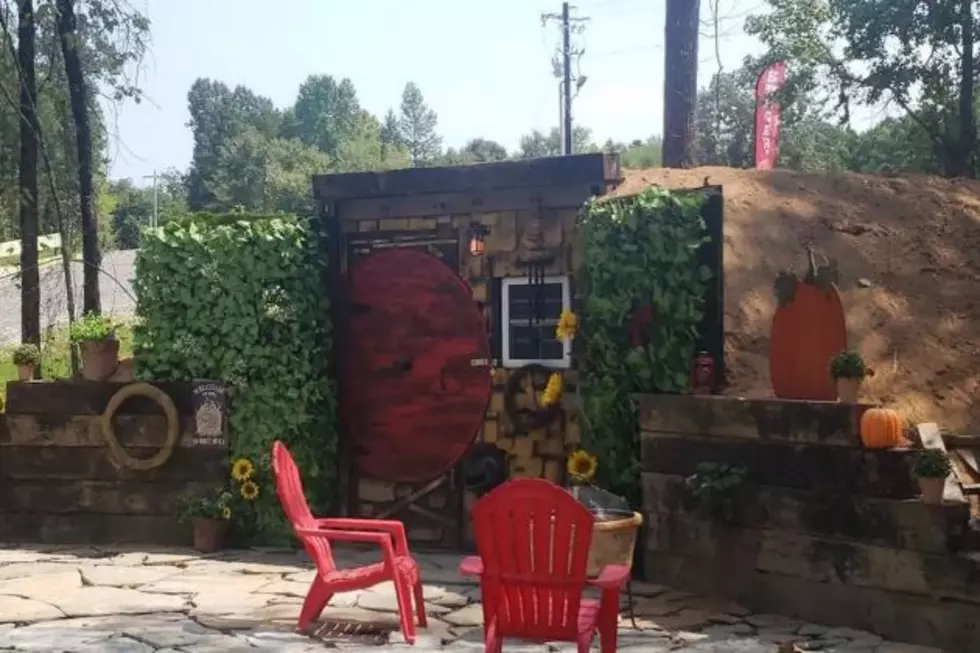 The Hobbit House is Oklahoma's Most Epic & Unusual Airbnb Rental in the Sooner State
Airbnb.com- Hochatown Ok HOBBIT HOUSE at Hotel Enchanted
How would you like to stay overnight in a hobbit house? Well, you can do just that with this amazing Airbnb in Oklahoma. Kick back, relax, unwind and enjoy yourself hobbit style! This has to be one of, if not the most, epic and unique rentals in the Sooner State. If you're a fan of J.R.R. Tolkien it's an absolute must-experience!
SCROLL DOWN TO SEE THE HOBBIT HOUSE PHOTO GALLERY
Being a HUGE fan of The Hobbit, Lord of the Rings, and all things Middle Earth I have to take a journey "There and Back Again" to check this out for myself. It would make for the perfect staycation or weekend getaway destination. If you know anything about hobbits and their homes, you know it's all about comfort!
"In a hole in the ground there lived a hobbit. Not a nasty, dirty, wet hole, filled with the ends of worms and an oozy smell, nor yet a dry, bare, sandy hole with nothing in it to sit down on or to eat: it was a hobbit-hole, and that means comfort." - J.R.R. Tolkien The Hobbit.

So where exactly is this hobbit house? You'll find it in Hochatown in Broken Bow, OK. It's a part of a small village that includes small shops, and outdoor activities. There's even a donut shop on site for a second breakfast or elevensies. Talk about convenience! Being in Broken Bow the outdoor spaces are amazing with incredible views and tons of things to see and do. Check out the photo gallery below of the Hobbit House:
Five epic & unusual Oklahoma Airbnbs you should check out
Take a break from the boring and ordinary and make your next overnight stay more spectacular and memorable. These rentals are a lot more than just a place to stay, all of them could easily be a vacation destination and experience all on their own! If you're planning a staycation or vacation in Oklahoma you should definitely check out these epic and unusual
Airbnb
rentals versus booking just a plain old room at a hotel or motel. You could make your accommodations a part of the experience itself by staying at any of these amazing places in the Sooner State.
Scroll through the photo gallery below to check them out.
Take a look inside this epic 1960s retro motel in Oklahoma!
It's the ultimate retro vintage motel stay in the Sooner State! If you've ever wanted to step back in time and experience the "good old days" once again, or maybe for the very first time, you're in luck. Take a break from the usual, boring, and mundane hotel room by booking a stay at this 60s-style motel in Oklahoma City, OK.
The Classen Inn
is one of the most unique and colorful motels in the state, if not the entire nation. It was originally built back in 1963 and has been completely remodeled, refurbished, and reimagined. If you're looking for a place to stay while on vacation, staycation, or on a weekend getaway why not make your accommodations a part of the vacation fun by staying at the Classen Inn in OKC.
You can click here to book your stay.
Scroll through the photo gallery below to take a virtual tour of this EPIC 1960s retro motel!
The Silo is one Oklahoma's most epic & unusual Airbnbs
Check out
the Silo at Lake Tenkiller
. It has to be one of the most unusual and beautiful Airbnb rentals in Oklahoma. It's a 3 bedroom, 1.5 bath home located at Lake Tenkiller and yes it's a silo. It can comfortably sleep up to 6 people and comes with all the best creature comforts including a fire pit out back where you can kick back, relax and take in the view. Not only is this one of the most unusual rentals available on Airbnb in Oklahoma it's also one of the highest-rated. It currently boasts a solid 5 out of 5 stars and everyone who has stayed there have been very complimentary about how wonderful it is. This place looks amazing!
Gallery Credit: Don "Critter" Brown
Take a virtual tour of the top 5 most luxurious & expensive Airbnb rentals in and around Lawton, Fort Sill
If you're looking for a place to stay for your next staycation. Or maybe you're considering coming to the Lawton, Fort Sill for vacation, military graduation, business, reunion, or family get-together you'll definitely want to check out these incredible Airbnbs. You could make your accommodations a part of the experience itself! Even if you're in town on business instead of pleasure staying at any of these homes would be a welcomed break from the same old, same old. These are some of the most luxurious and expensive Airbnbs in and around Lawton, Fort Sill. Some are in town others are in the mountains, Medicine Park, and Elgin, OK.
Gallery Credit: Don "Critter" Brown