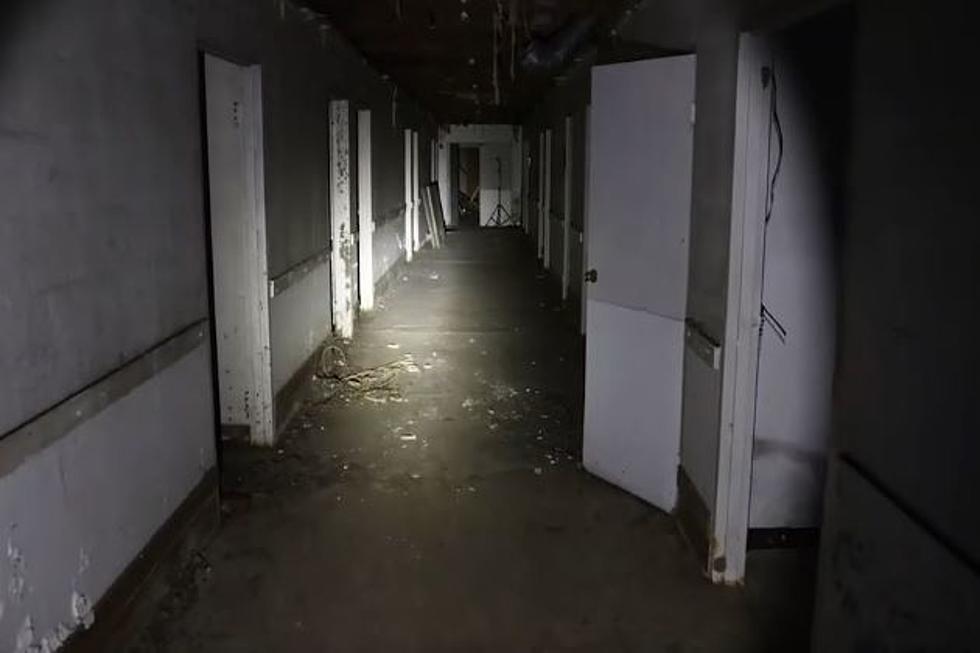 This Oklahoma Abandoned Asylum is One of the Most Active Haunts in the Sooner State
YouTube.com- Ghost Geeks
Originally built back in 1954 this now abandoned Oklahoma asylum has a terrifying and tragic past that some say still haunts the grounds to this very day. It's one of, if not the most active hauntings in the Sooner State.
SCROLL DOWN TO LEARN MORE ABOUT OKLAHOMA'S MOST ACTIVE HAUNTING
So where is this dreadful place and what's the story behind it? It's the Broken Bow Asylum located at 805 N. Bock Street in Broken Bow, OK. Known throughout the state and even the Nation for its paranormal activity.
Watch the video below to learn about the haunting history of the Broken Bow Asylum
As mentioned above the Broken Bow Asylum was built back in 1954. It was originally used as a nursing home but has seen several uses and purposes throughout the years including the treatment of mentally ill patients.
OVER 500+ PEOPLE HAVE DIED AT THE BROKEN BOW ASYLUM THROUGHOUT THE YEARS

As time went on more and more of the facticity was used to house and care for some of the most severally disturbed and chronically mentally ill patients. This place wasn't just a nursing home and asylum though.
The Broken Bow Asylum is located at

805 North Bock Street in Broken Bow, Oklahoma
Eventually, the mental health hospital if that's what you want to call it closed down. Then in the 1990s, it was used as a halfway house and juvenile home for children and teens. More despair and tragedies followed.
CHECK OUT OKLAHOMA'S MOST TERRIFYING TOWNS & CREEPY CITIES BELOW
During its years as a nursing home, asylum, trauma center, and halfway house it's said that over 500 people died there. It even served as a makeshift morgue for a while. This place has a complete collection of creepy.
Watch paranormal investigators roam the halls and rooms of the Broken Bow Asylum
The Broken Bow Asylum was also used as a trauma center for a while. Throughout the years each wing of the asylum was utilized for different purposes, most were medical in nature. There's a lot of horrific history here.
SCROLL DOWN FOR THE DREADFUL HAUNTINGS OF DOWNTOWN LAWTON, OK.
The trauma center that was once there was relocated due to paranormal activity. Doctors and staff refused to stay after experiencing frightening encounters with shadow figures and even full-bodied apparitions/ghosts.
The Broken Bow Asylum was also used as a haunted attraction in the past
One of the wings of the Broken Bow Asylum was even used as a church for a short while. Like the trauma center before it, there were too many unexplained phenomena and reports of spirits wandering about.
THE BROKEN BOW ASYLUM HAS EVERY TYPE OF PARANORMAL ACTIVITY
The Broken Bow Asylum runs the full gamut of paranormal and even supernatural activity. There are strange noises, disembodied voices, severe temperature variants, shadow figures, and reports of actual ghosts.
Hit play on the video below to watch ghost hunters investigate the Broken Bow Asylum
It's a very popular destination for ghost hunters and paranormal investigators. It was even featured on Death Walker with Nick Groff on Discovery +. YouTube.com has several videos of paranormal investigations there.
KEEP SCROLLING FOR MORE SOONER STATE HAUNTINGS AND GHOST STORIES
The Broken Bow Asylum is one of the Sooner State's spookiest places. From what we've heard it's currently being sold or has already been sold to a new owner. At this time we aren't too sure what it will be used for. If you're into the paranormal and supernatural Oklahoma has a ton of haunted places, urban legends, mythical monsters, and frightening folklore. It seems that just about everywhere you go in the Sooner State you'll find ghosts and terrifying tales. Click here if you dare for even more Oklahoma hauntings and scary stories!
Top 10 terrifying towns & creepy cities in Oklahoma
While Oklahoma is well known for its beauty and friendly people there are a few places in the Sooner State you'll want to avoid. These are the most terrifying towns and scary cities in the state. It's not that they're bad places, or plagued with crime and other negative factors. The towns and cities below have one single thing in common. They all have active paranormal and supernatural phenomenons. From ghost stories to urban legends and tragic tales. A lot of these places are well known to those who live in Oklahoma and even all over the nation. If you're looking to get scared or do a little ghost hunting you can start with the list below.
The Dreadful Downtown Hauntings of Lawton, OK.
When it comes to ghost tales and hauntings Lawton, Fort Sill has more than a few scary stories to tell. The most active hauntings and paranormal/supernatural occurrences that have been reported seem to be centered around downtown Lawton. If you've lived here a while I'm sure you've heard a few of these terrifying tales yourself. If not check out the photo gallery below of the dreadful downtown hauntings of Lawton, OK.
Lake Altus-Lugert and SWOK's Underwater Ghost Town
Like most rare things, conditions have to be just right to see one of Oklahoma's hidden gems. In years of good and average rainfall, the lost town of Lugert stays buried beneath the waves... but in dry years, especially those stricken by drought, you can walk around this pre-statehood townsite while enjoying one of Oklahoma's prettiest areas, Quartz Mountain State Park.
The top 10 Oklahoma scream parks & haunted attractions
From truly terrifying to kid-friendly and everything in between. Oklahoma has some of the biggest, best and scariest haunted attractions and scream parks in the country. If you're looking for some fall family fun check out these amazing attractions for a frighteningly good time! If haunted houses aren't your thing you could always
hit the pumpkin patches & corn mazes by clicking here
.
In alphabetical order here are your top 10 "best" or "scariest" Oklahoma haunted attractions & scream parks to check out this Halloween if you dare: