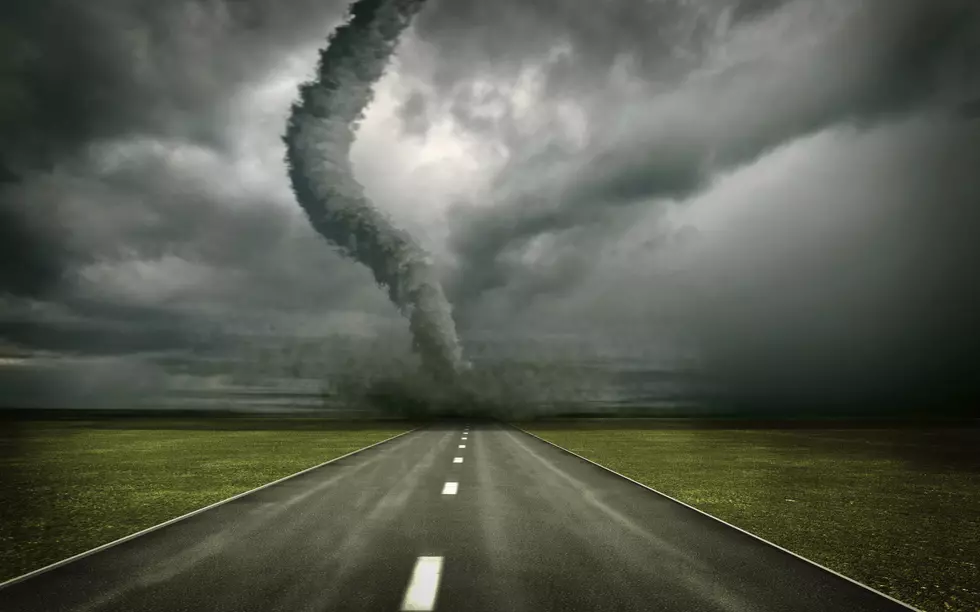 Get Ready Oklahoma for the 'Twister' Sequel
victor zastol`skiy
It's been talked about for what seems like forever and now it's looking like it's actually going to happen. Get ready for the follow-up to 'Twister.' Without a doubt, this is one of the most anticipated movie sequels to hit the silver screen. It was officially confirmed earlier this week that we're finally getting another Twister movie!
SCROLL DOWN TO WATCH A VIDEO THAT ANNOUNCES THE TWISTER SEQUEL
I stumbled across a news story from NBC Today that broke the news. You can click here to check out the article. I'm a little late to the party having just found out about all this, either way, I'm just excited to hear that a sequel is being made. This is something the fans have always wanted but never thought would happen.
Hit play on the video below to learn more about the upcoming sequel to 'Twister'
Having just been officially confirmed that a sequel is being made details are pretty thin right now. At this time we're unsure who all will be in the new movie and if we'll be seeing any of the old characters return, I'm hoping so. According to Today, the sequel is being done by Universal Pictures, Amblin Entertainment, and Warner Bros. No word yet on who will be producing and directing the new film. We do have a possible plot.
From what it's sounding like the sequel will be about the daughter of Dr. Joanne "Jo" Harding (Helen Hunt) who has become a storm chaser and weather expert, just like her mom. Now keep in mind that's not 100% confirmed but insiders are suggesting that's the direction the new movie could take, sounds good to me. Hopefully, we'll get to see some of the original cast return including Helen Hunt, how cool would that be?
Looking forward to the sequel, in the meantime watch the official trailer for 'Twister' below
Of course the BIG QUESTION everyone wants to know is "Are they going to film the sequel in Oklahoma?" I really don't see how you couldn't. The original Twister had filming locations in Guthrie, Stillwater, Wakita, Norman, and other places across the state. It makes sense that the sequel would also be shot in the Sooner State as well. I mean after all, when you say tornado or twister most people's first thought is Oklahoma.
Did you know there's a Twister Museum in Wakita, OK? They have all kinds of memorabilia and and artifacts from the movie including an actual Dorthy that was used in the movie! The museum also has several of the vehicles that were seen in the film. While you're in Wakita you can also visit some of the locations where the movie was shot, like the lot where Aunt Meg's house once stood. If you're a Twister fan you have to go.
The top 10 Oklahoma pumpkin patches & corn mazes
If you're looking for a place to go for a little fall family fun you're in luck! Oklahoma is home to some of the biggest and best pumpkin patches and corn mazes in the U.S. People from all over travel to the Sooner State every fall to visit these incredible farms. Not only do they offer pumpkin patches along with corn and hay mazes, they also have all kinds of other activities like petting zoos, rides, arts & crafts, food, games, haunted attractions, and a whole lot more. So no matter what your idea of fall fun is, you can find it all in one place!
Top 10 most terrifying towns & scary cities in Oklahoma
While Oklahoma is well known for its beauty and friendly people there are a few places in the Sooner State you'll want to avoid. These are the most terrifying towns and scary cities in the state. It's not that they're bad places, or plagued with crime and other negative factors. The towns and cities below have one single thing in common. They all have active paranormal and supernatural phenomenons. From ghost stories to urban legends and tragic tales. A lot of these places are well known to those who live in Oklahoma and even all over the nation. If you're looking to get scared or do a little ghost hunting you can start with the list below.
The top 10 Oklahoma scream parks & haunted attractions
From truly terrifying to kid-friendly and everything in between. Oklahoma has some of the biggest, best and scariest haunted attractions and scream parks in the country. If you're looking for some fall family fun check out these amazing attractions for a frighteningly good time! If haunted houses aren't your thing you could always
hit the pumpkin patches & corn mazes by clicking here
.
In alphabetical order here are your top 10 "best" or "scariest" Oklahoma haunted attractions & scream parks to check out this Halloween if you dare:
See How The Ten Most Dangerous Cities In Oklahoma Rank
While some of Oklahoma's most dangerous cities may not be a total shocker, there are some real surprises on this Top Ten list.