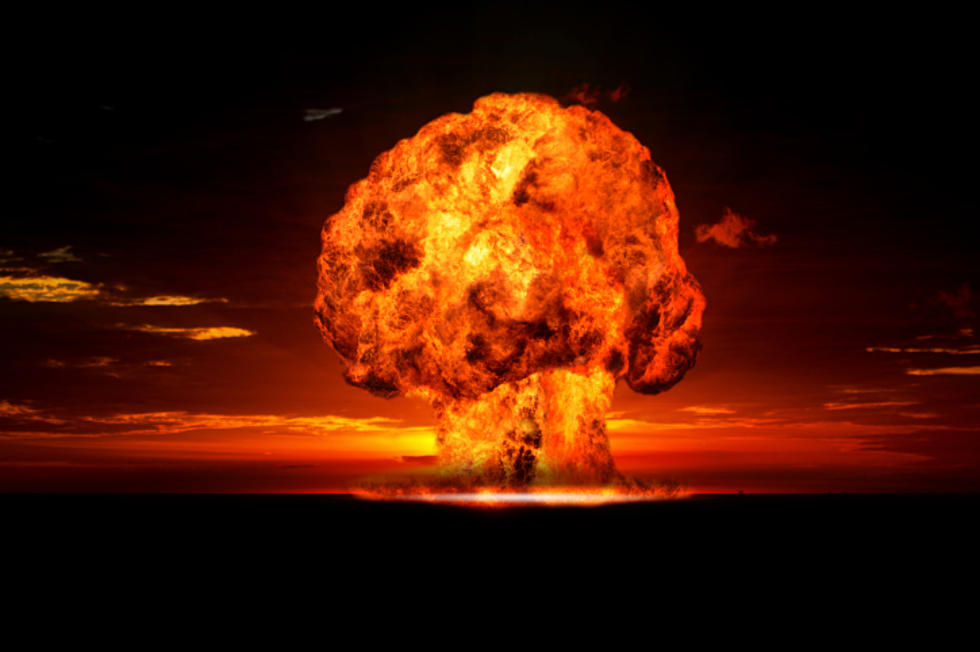 Oklahoma Won't Be Spared From WW3 Nuclear Threats
curraheeshutter
As things in Europe and the Middle East continue to spiral out of control, World War 3 is the keyword being shared across all media at the moment.
While most people in Oklahoma feel pretty solidly safe from any aggressor's threats, that's not the picture our own government painted for us. The rural states across the breadbasket of America are the designated areas where our enemies are supposed to drop their bombs.
Let me share this weird history with you.
Back in the 1950s, the Cold War really escalated when the Soviet Union started testing nuclear weapons. They launched a very basic but scary "the world's first" artificial satellite--Sputnik, and developed the first missile on Earth that could really reach out and touch someone.
It was called the ICBM - AKA - Intercontinental Ballistic Missile. If you have Boomer parents, they probably have dramatic stories to tell about that point in time.
At that point, the American government determined that the best way to protect the masses was to sacrifice the few. Classic chess strategy.
In order to protect the big cities like Los Angeles, New York, San Francisco, etc... AKA - the places where the losses would be unimaginably large, our leaders started building retaliatory threats to communism out in the middle of nowhere.
America quickly developed our own ICBM--called the Atlas Rocket--and stuffed them into secret military installations all over the plains states. There were a dozen in Southwest Oklahoma at one point, and they weren't that secret.
Not only did everyone in these communities know about the missile silos, the government slipped the information to our enemies in order to control the chaos that could ensue if and when the nuclear birds took flight.
After all, a nuclear strike on Hollis, Oklahoma would be a terrible loss in the form of 2500 people... but in comparison to the 2.5million people of LA, it was an acceptable gamble.
The missile silos are all gone now, but there are still plenty of targets in the Sooner State that even FEMA recognizes as sensitive and potentially devastating.
The military installations are a given...
Fort Sill
Altus Air Force Base
Tinker Air Force Base
Vance Air Force Base
the few munitions plants
...but there are a handful of other potentially crimpling targets in the Sooner State as well.
Obviously, Tulsa is surrounded by oil and gas targets because it was once the oil capital of the world. If you've ever driven through T-Town, you've probably seen or smelled the refineries. I-244 actually drives right through the middle of one Tulsa refinery.
If you look around the map, oil and gas are a top priority in terms of striking targets to incapacitate America's ability to make war.
Nearly straight west of Tulsa is the town of Cushing--AKA-- the pipeline crossroads of the world. It doesn't matter if the oil is Canadian or from oil-producing states like Oklahoma, Texas, New Mexico, Wyoming, Colorado, Illinois, etc... if it flows to or from the Gulf Coast, out west, or to the eastern United States, it goes through Cushing.
Just north of Cushing, in Ponca City, is Oklahoma's largest refinery--responsible for producing +/-40% of Oklahoma's total oil and gas products daily. It was also once the largest oil and gas storage facility (tank farm) in the world.
It's much of the same around the rest of the map, including a handful of power stations responsible for generating Oklahoma's electricity.
What are the actual odds Oklahoma would catch a nuclear strike?
While the odds may be low, they're not zero.
The first targets to catch flack would most likely be America's ICBM missile installations in Montana, Wyoming, and North Dakota.
Next would be the US Military's ability to communicate and organize. The Pentagon in DC, NORAD, Strategic Command, and VHF transmitting sites would be targeted before Oklahoma followed by naval submarine bases and our few stealth and long-range nuclear bomber bases.
It would honestly be the worst-case scenario of war to consider Oklahoma a legitimate nuclear threat from Russia. We're pretty far down that list, but if the administration continues down this current path to all-out WW3, you might add iodine tablets to your grocery list.
What To Know When Moving To Oklahoma
Against popular in-state belief, Oklahoma is currently growing. In fact, the Sooner State has been steadily growing for the last thirty-ish years. We haven't had a population dip since the mid-90s.
As of 2023, native-born and adopted Okies now make up a wolfpack of over 4 million people, and if trends continue, we'll just keep adding new residents to the mix. Whether Americans are coming to Oklahoma for a more cost-effective lifestyle or just for work, here are a few things they can expect when they get here.
Gallery Credit: Kelso
Where Should Buc-ee's Build Their First Oklahoma Location?
With Buc-ee's being back on the expansion bandwagon, Oklahomans are feeling like we're due for our first location... but where should the beaver conglomerate start in the Sooner State?
After compiling information from social media, here's a quick rundown on the locations Okies think would be a perfect fit for 24/7 hot brisket on the board.
Gallery Credit: Kelso
Oklahoma's Prettiest Small Towns
Since the late '90s, there has been a trend across the Sooner State to restore aging downtown areas and preserve the history of every town. Nearly thirty years later, efforts are being recognized in the form of tourism. Whether it's a day trip or something a little longer, here are the prettiest small towns in Oklahoma worth having a meal in and snapping some cool pics.
Gallery Credit: Kelso