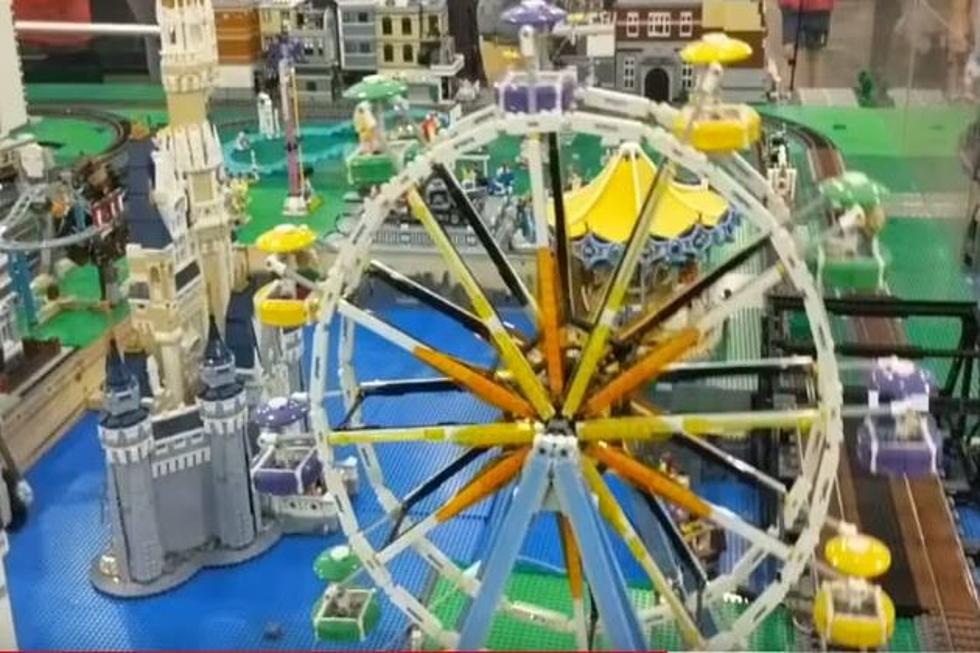 The Brick Universe Lego Convention is Coming to Oklahoma City, OK. Next Weekend!
YouTube.com- Lost
Get ready for the biggest and best Lego convention around. Brick Universe is coming to Oklahoma City, OK. to the OKC Convention Center next weekend Saturday, March 12th and Sunday, March 13th (03-12-22 & 03-13-22). It'll be 2 full days of incredible Lego displays, professional Lego artists, vendors, and of course tons and tons of Legos to build just about anything you can dream up and create.
You'll see all kinds of attractions and special displays from some of the world's best and most well-known Lego artists. From famous landmarks like Mount Rushmore, the Manhattan Bridge to amazing works of art and mosaics all in one place. Click here to see some of the attractions and displays at Brick Universe OKC.
Hit play on the video below for a taste of what's to come. This is from a few years ago in 2019 when Brick Universe was in OKC but it will give you a good idea of what you can expect.
Tickets are on sale now for just $14.99, kids 3 and under are FREE! Click here to order online at the official Brick Universe website. Your ticket will get you in for a full 3 hours at the convention so you can look, build and buy all you want. It's going to be fun for the entire family so don't miss it. Get your tickets while you can.
There are 2 different time slots you can choose from on either day. You can go from 10:00-am to 1:00-pm or 1:00-pm to 4:00-pm on Saturday, March 12th (03-12-22). Then on Sunday, March 13th (03-13-22) you can choose from 10:00-am to 1:00-pm or 1:00-pm to 4:00-pm. If you're needing more information you can always visit the official Brick Universe website for all the details. I know where I'll be next weekend...
Funny, Crazy & Unusual Street Names Found in Oklahoma
One thing's for sure, Oklahoma has a ton of funny, unusual, and downright crazy street names. Across the Sooner State in every town, city, and rural community you'll find hilarious streets and roads with some of the most bizarre names you can think of. When they were named, more than likely years ago, I'm sure no one thought they would be considered crazy or funny at the time. Well, times have changed! Now some of these street names had to be deliberately named by someone with a great sense of humor. At least in my opinion anyway. Scroll through the photo gallery to check out some of Oklahoma's funniest and craziest street names. If you know of a funny or crazy street or road name in Oklahoma take a quick photo of the sign and submit it to critter@townsquaremedia.com and we'll include it in the photo gallery below.
Tour the most expensive house for sale in Oklahoma!
It's being called the most premier luxury listing in all of Oklahoma on
Zillow.com
. This massive mansion in
Arcadia, OK. at 400 Deep Fork Circle
is listed by
Ty Burnett of 525 Realty Group
. It currently has an asking price of
$5,950,000
making it the most expensive, if not one of the most expensive houses for sale in the entire state. So what will almost six million dollars get you? A lot! This epic 12,020 square foot estate sits on over 2.5 acres and features 7 bedrooms and 9 bathrooms. It comes with its own guest house, resort infinity pool, cabana, and gym. The chef-inspired kitchen features all professional, commercial-grade appliances. There's a THX theater room and entertainment suite complete with its own bar. The master bedroom has a see-through fireplace, huge celebrity-style closets a garden room, and heated marble floors in the master bath. It has a basement a wine cellar and tons of outdoor patio and sitting areas.
Scroll through all the pictures below and take a virtual tour of this one-of-a-kind epic estate located in Arcadia, OK.
Top 10 most terrifying towns & scary cities in Oklahoma
While Oklahoma is well known for its beauty and friendly people there are a few places in the Sooner State you'll want to avoid. These are the most terrifying towns and scary cities in the state. It's not that they're bad places, or plagued with crime and other negative factors. The towns and cities below have one single thing in common. They all have active paranormal and supernatural phenomenons. From ghost stories to urban legends and tragic tales. A lot of these places are well known to those who live in Oklahoma and even all over the nation. If you're looking to get scared or do a little ghost hunting you can start with the list below.
Check out this Amazing Castle for Sale in Oklahoma
You could be the king or queen of this castle in Tahlequah, OK. It's an amazing home that features a 2 story 4 bedroom, 2.5 bath house along with a 2 story chapel on the property. There are lots of gardens, outdoor scenery, patios, a gazebo, and there's even a waterfall. It's the ultimate kingdom and it could all be yours for just $750,000. So are you interested? If so contact
Sherri Sanders of McGraw Realtors
for all the details.