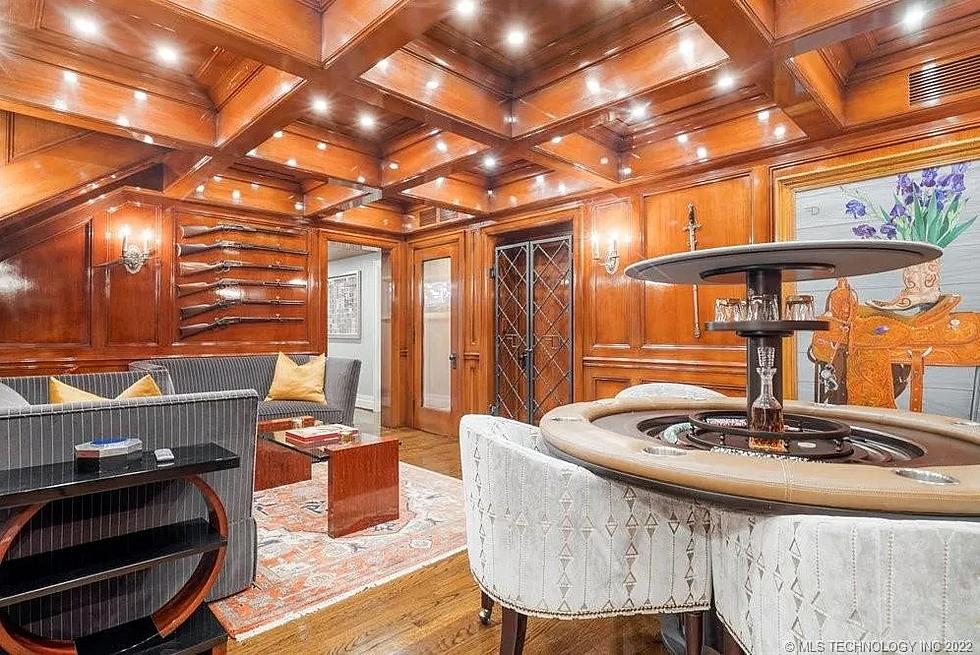 Tulsa, Oklahoma's Most Expensive House has an Incredible Man Cave
Curt Roberts, McGraw REALTORS, Realtor.com
The most expensive home for sale in Tulsa, Oklahoma offers much more than meets the eye. Instead of being a typical newly built McMansion, it's actually a very old home with a remarkable story.
Welcome to the McBirney Mansion. Located on almost three acres of prime land along the Arkansas River in the historical district right outside of Downtown Tulsa.
It started life as the family home of the McBirney family back in 1928, and while it's on the market again as a home, it's been several different things over the years.
At one time or another, this massive home has been a /bed & breakfast, event center, law office, outpatient treatment center of Tulsa Regional Medical Center, and more. When a former airline president made plans to convert this historical home into a hotel, another family was able to purchase the property before the plan went into effect.
What exists there now is an impressive sprawl of exorbitance.
There are seven bedrooms and three bathrooms from the original build, but the attic space was converted to include three additional bedrooms and a bathroom as well. The living rooms are nice and the music room is a bit excessive, but the real star is the amazing man cave space.
If you read about the most expensive home in Oklahoma City, you'll notice stark differences in how these mansions are put together. The OKC home is full of wild and somewhat tacky-fad finishes while this Tulsa home is classicly designed in a way that will never go out of style. You'll see both to compare below.
Tulsa, Oklahoma's Most Expensive House
You'd be surprised how normal the bedrooms and bathrooms are in a house that lists for $8.5million... but the real spectacles to see here are the entertainment areas. The living rooms, the bar, and the incredible man cave.
Look inside this EPIC $5,495,000 Oklahoma Estate
It's being called the premier luxury listing in all of Oklahoma on
Zillow.com
. This massive mansion in
Arcadia, OK. at 400 Deep Fork Circle
is listed by
Ty Burnett of Engel & Voelkers Edmond
. It currently has an asking price of
$5,495,000
making it one of the most expensive houses for sale in the Sooner State. This epic 12,020 square foot estate sits on over 2.5 acres and features 7 bedrooms and 9 bathrooms. It comes with its own guest house, resort infinity pool, cabana, and gym. The chef-inspired kitchen features all professional, commercial-grade appliances. There's a THX theater room and entertainment suite complete with its own bar. The master bedroom has a see-through fireplace, huge celebrity-style closets a garden room, and heated marble floors in the master bath. It has a basement a wine cellar and tons of outdoor patio and sitting areas.
Scroll through the pictures below and take a virtual tour of this epic estate in Arcadia, OK.
Oklahoma's Best Barbeque Joints, In No Particular Order...
I doubt there's a single topic debated more passionately in Oklahoma than who makes the best BBQ. While they all smoke meat, there are some huge differences in how that process is done. Type of wood, length of cook, foil vs paper wrap, and even the hot topics of seasoning and binders come into play. What you like others may not, and vice versa. Since we can't just pick a top five or ten, here are the Oklahoma barbeque joints that have the biggest fans.
13 Food Shortages Expected in 2023
As if the egg debacle of late isn't bad enough, experts are predicting even more food shortages and sky-high pricing as supply is about to catch up with inflation. Both weather and war are to blame for most items, and it's hard to estimate what the outcome will be.