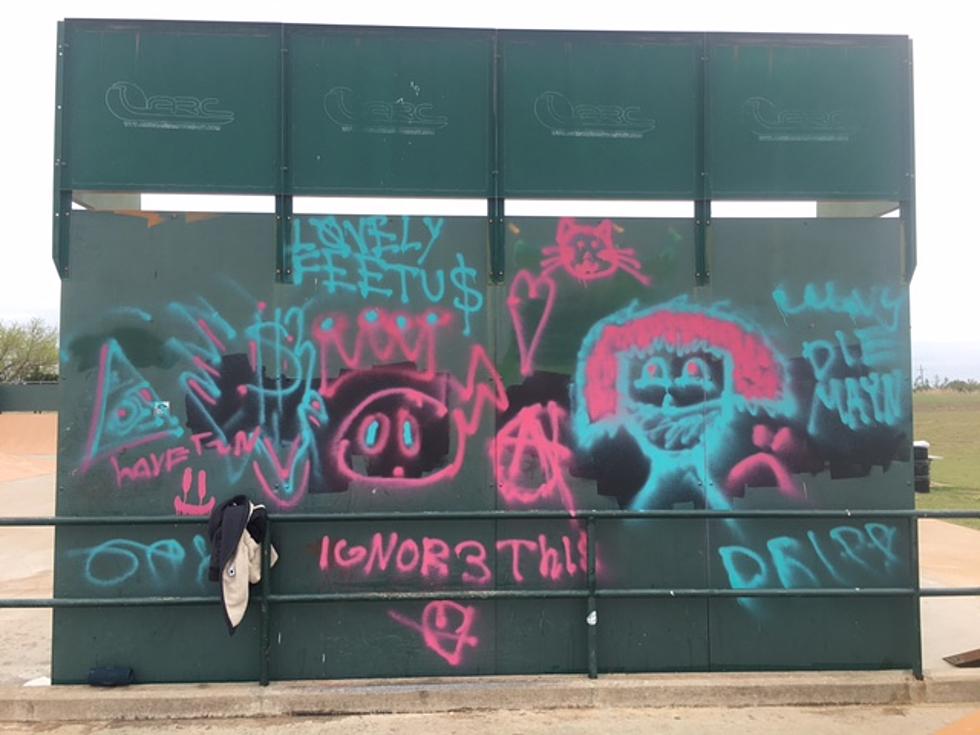 Vandals Spray Paint Graffiti at Lawton Skate Park
TSM Lawton: Critter
This is why we can't have nice things. Recently vandals spray painted a bunch of graffiti on the ramps at the Lawton Skate Park, and not the good kind of graffiti either. We drove by today to see just how bad it was and get some pictures. The skate park is located in McMahon Park near the intersection of 38th Street and Lee Blvd at 2-58 SE Warwick Way. As soon as we pulled in you could see all the graffiti on the back of ramps. A bunch of light blue and pink spray paint was used to deface the ramps with tags and poorly painted designs.

The Lawton Police Department is still investigating in the hopes of catching the persons or person responsible. I think if they're caught the punishment should be to completely re-paint the entire skate park and repair all the damage that was done.  More than likely it was kids or teenagers, but you never know. Hopefully those involved will be rounded up soon. It's really sad that people feel the need to do these types of things. It's sadder still that the park was just recently painted and fixed up over the past couple of years by local non-profit agencies and volunteers. Only to see their hard work and efforts be destroyed by vandals.
While we were there surveying the damage we also noticed that a lot of the fencing around the skate park is down or missing. I'm sure they'll repair that in order to to better secure the property when it's closed. Of course vandals could just jump or cut the fence, but having something there to help prevent entry is better than nothing at all. If you've never been to the Lawton Skate Park you should definitely check it out. It's open 9:00am to 6:00pm Monday through Saturday and Sunday's from 9:00am until 7:15pm. Even if you don't skateboard or rollerblade yourself, it's a lot of fun watching others and a lot of them are really good!
CHECK IT OUT: 100 sports records and the stories behind them