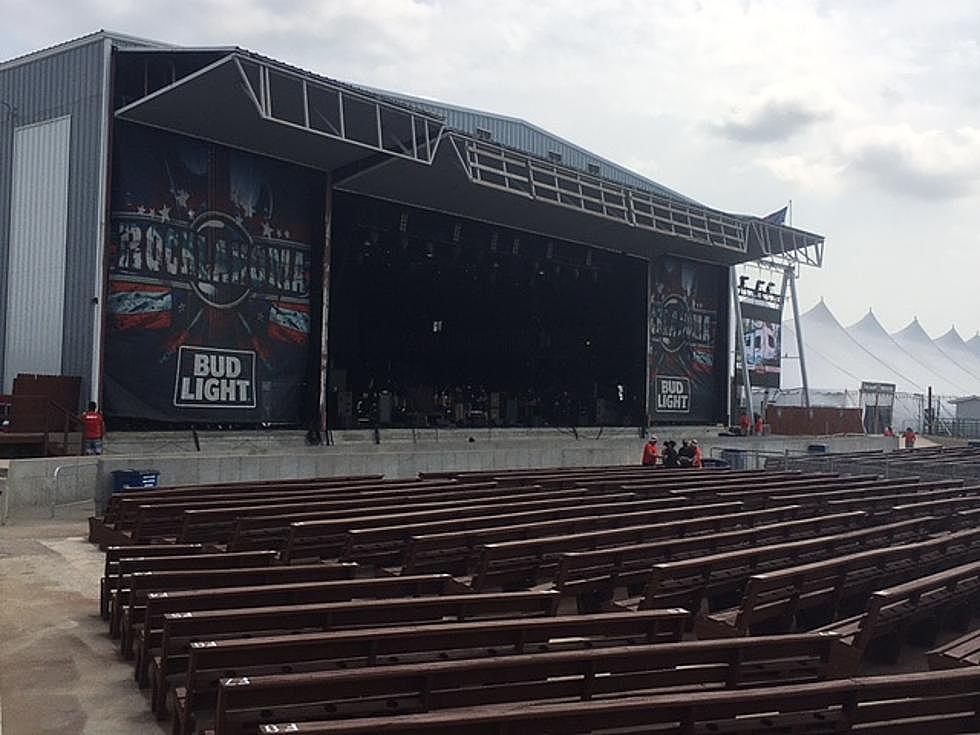 Win a Pair of FREE TICKETS to Oklahoma's Biggest Rock Festival- Rocklahoma 2022!
TSM Lawton: Critter
'Life, liberty & the pursuit of rock!' The MEGA three-day, three-stage live music festival 'Rocklahoma' returns to the 'Catch The Fever Festival Fairgrounds' in Pryor, OK. This Labor Day weekend (09-02-22 – 09-04-22) Friday, September 2nd through Sunday, September 4th, 2022 and we've got your shot at scoring tickets!
SCROLL DOWN TO SEE HOW YOU CAN WIN FREE TICKETS TO ROCKLAHOMA 2022
I can't think of a better way to spend the Labor Day weekend than one giant party complete with live music, camping, friends, family, and all the usual shenanigans and good times that take place at Rocklahoma every year. There's nothing quite like this festival. It's a lot more than just a three-day concert, it's a reunion.
Once you've been you'll always want to go back again and again. Usually, Rocklahoma takes place in May over Memorial Day weekend but they moved it a few years ago to September on Labor Day weekend. I think it's a good move, plus this way there's less chance for Mother Nature to interfere with severe weather.
Check out this year's three-day, three-stage line-up for Rocklahoma 2022 below
Z94 the 'Concert Connection' and AEG Presents have your chance at winning a FREE PAIR of 3-day tickets/passes to Rocklahoma 2022! We have tickets to the biggest concert events and festivals of the summer! Want to be first in line to score a FREE PAIR OF TICKETS? All you have to do is text in to win!

SEE BELOW FOR DETAILS ON HOW TO WIN FREE TICKETS TO ROCKLAHOMA 2022
Use the FREE Z94 mobile app to send us a quick text. Message 'ROK22' and you'll be entered into the drawing for a FREE PAIR of 3-day passes to Rocklahoma 2022. If you don't already have the Z94 app, what are you waiting for? Grab it ASAP. You can click here for the download and details or search Z94 in the App Store or Google Play. You can't win unless you enter and you can't enter if you don't have the Z94 mobile app!
Can't wait to win? General admission, reserve tickets, V.I.P packages, and campground passes for this year's festival are on sale now! Visit the official site Rocklahoma.com!
See the Most Epic & Unusual Oklahoma Airbnb Rentals!
Take a break from the boring and ordinary and make your next overnight stay more spectacular and memorable. These rentals are a lot more than just a place to stay, all of them could easily be a vacation destination and experience all on their own! If you're planning a staycation or vacation in Oklahoma you should definitely check out these epic and unusual
Airbnb
rentals versus booking just a plain old room at a hotel or motel. You could make your accommodations a part of the experience itself by staying at any of these amazing places in the Sooner State.
Scroll through the photo gallery below to check them out.
Oklahoma Diner's, Drive-In's, and Dive's Guy Fieri Raved About On TV
We all know Guy Fieri is the self-proclaimed Mayor of Flavortown, and as such, we generally trust his discerning palate to guide us to the best food any place has to offer. At least the places he tends to go often offer up some really good eats, and in looking at this list, having eaten at most of these places a handful of times, he's not wrong. Here are the Oklahoma original restaurants that have been featured on Triple-D.
Getaway, Relax, Unplug & Unwind at Oklahoma's Premier & Most Luxurious "Glampgrounds" Located in Lawton, OK.
Funny, Crazy & Unusual Street Names Found in Oklahoma
One thing's for sure, Oklahoma has a ton of funny, unusual, and downright crazy street names. Across the Sooner State in every town, city, and rural community you'll find hilarious streets and roads with some of the most bizarre names you can think of. When they were named, more than likely years ago, I'm sure no one thought they would be considered crazy or funny at the time. Well, times have changed! Now some of these street names had to be deliberately named by someone with a great sense of humor. At least in my opinion anyway. Scroll through the photo gallery to check out some of Oklahoma's funniest and craziest street names. If you know of a funny or crazy street or road name in Oklahoma take a quick photo of the sign and submit it to critter@townsquaremedia.com and we'll include it in the photo gallery below.