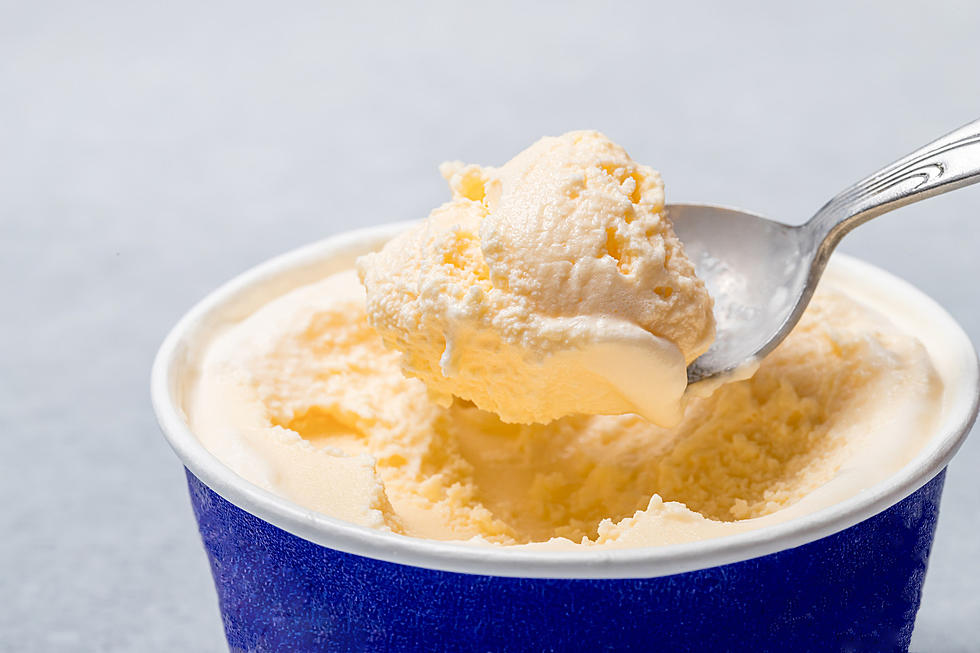 Blue Bell Ice Cream is Introducing a New Flavor in Oklahoma
flyingv43
Despite Mother Nature's moodiness and all the crazy winter weather we've seen lately, spring and summer are on the way! I'm really looking forward to the warmer temperatures and getting outdoors, spending time on the patio/porch grilling, and hanging out. I miss being out there and all the cookouts and get-togethers.
If you haven't heard the glorious news yet Blue Bell Ice Cream is releasing a new flavor in Oklahoma for a limited time. Nothing says spring or summer like Blue Bell Ice Cream! So what's this new flavor? Get ready for 'Peachy Peach' ice cream. I'm a HUGE FAN of peach ice cream so I can't wait to get my hands on some!
If the name sounds familiar that's because it's available at Blue Bell creameries and parlors but hasn't been available in stores before. You'll be able to get a 1/2 gallon or pint of 'Peachy Peach' ice cream at local and area grocery stores starting today (03-10-22). It's described on their official website as "A creamy peach ice cream with chunks of sweetened peaches."  I can't wait to give it a taste for myself.
I'll be stopping by the store on the way to the house after work today to see if I can find it. You can click here to find a store near you that carries Blue Bell and has the new 'Peachy Peach' ice cream. According to the website, there are several places in and around Lawton, Fort Sill that have the new flavor in stock.
While I prefer to make homemade peach ice cream the Blue Bell 'Peachy Peach' sounds amazing! I don't think I've ever had the chance to try it before. I've never been to a Blue Bell Ice Cream parlor or creamery where it's served, I didn't even know they had them. One of these days I'll have to make a road trip and visit one.
Not too sure how long 'Peachy Peach' ice cream will be available in stores, it's for a limited time from what I've seen and heard. I'm pretty sure that it will be around throughout the spring and summer months. I'll have to eat as much of it as I can, while I can. Stay up to date with Blue Bell on their official Facebook page.
Fun & Kid Friendly Oklahoma Vacation Destinations
Far too often, some bored Karen whose only personality trait is complaining about everything will say something along the lines of "There's nothing to do in Oklahoma..." That's simply not true. There is a ton of stuff to do in Oklahoma that you and the kids will love, you just have to know where to find that stuff and have the gumption to hop off the couch and go do some of it.
The best Lawton, Fort Sill Facebook pages & groups to join, follow & be a part of.
If you just moved here, welcome to Lawton, Fort Sill we're glad you're here. It can be difficult moving and starting up in a new place. Trying to make friends, find things to do, get more information about the town itself, and just get acquainted with all the goings-on. We're here to try and help you out with a list of the best Lawton, Fort Sill Facebook pages and groups you should join, follow and be a part of.
If Oklahoma Was A Candle, What Would It Smell Like?
I think it's fair to say that each place you can visit has a distinctive smell. That being said, I don't think you can just easily cram Oklahoma into just one candle. There are so many different places that are diverse and unique. It's a loaded question beyond what most people can answer. Instead, here are a few different candles to represent the places I've lived and traveled to in Oklahoma.
Where to Find the many murals by Justin Hackney's Spreading PAINT in Lawton, Fort Sill.
If you've driven around town you've probably seen all the murals we have in Lawton, Fort Sill. If you take the time to look you'll notice that they're everywhere. We're lucky to have so many talented artists that share their work with us regularly by painting murals. One name you've probably heard before is Justin Hackney and
Spreading PAINT
. His work of masterful murals can be found all over town. He's done some of the very best and has painted everything from rock stars to celebrities and everything in between. He has a style all his own and has painted murals in full color, vivid transposed negative style, and in black and white. Be on the lookout for his latest mural masterpiece he's going to keep painting them so long as people want them and there's wall space. Looking forward to seeing his next one! Check out the gallery below of Justin Hackney's Spreading PAINT murals and where to find them. We'll continue to add to the gallery as he paints them.